Dave DeSimone, longtime leader of the local wine scene, recently ended a two-year stint running a wonderfully traditional French restaurant in a difficult location at the south end of the 10th Street Bridge. But he's not done pairing food with wine, not by a long shot. 
His new venture, Open Bottle Bistro, brings a more eclectic approach to a more congenial location on Ellsworth Avenue. DeSimone isn't the first to attempt a wine-and-small-plates format in this space over the past dozen years, and it's no wonder. The location is demographically favorable, and the space consists of a pair of pleasing, intimate dining areas: a small indoor dining room lined with a bar made for meeting, and a delightful back patio, tucked amongst a jumble of small buildings yet lush with plants and fountains. This is one of our city's sweetest outdoor dining situations, and on a mild summer evening, it was irresistible.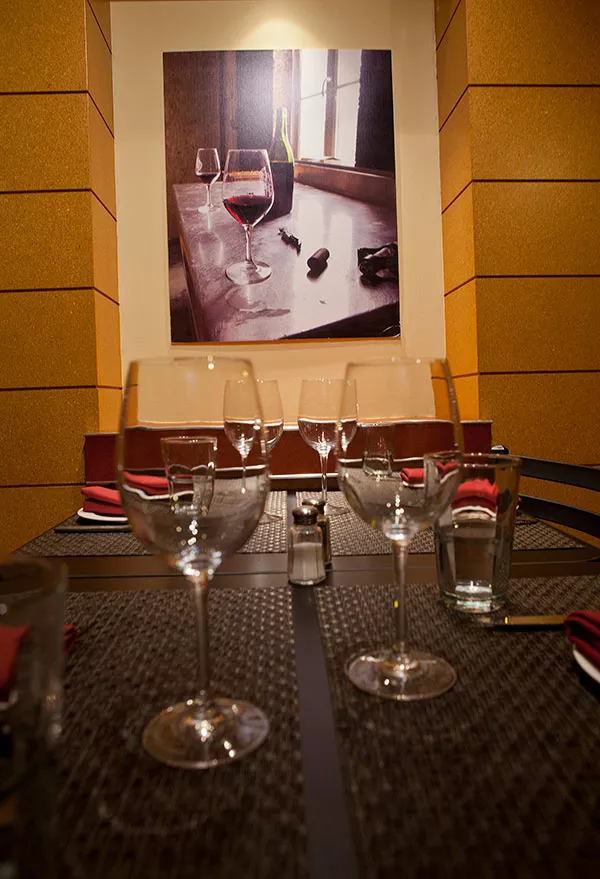 Open Bottle moves the focus on wine upfront in its name and its menu, which has a wine list easily equal to that of the small plates and entrees. But the food is by no means an afterthought. This is a serious menu, focused on the western Mediterranean and ranging from nibbles to substantial salads, appetizers meant for sharing and full dinner plates.
It's also a menu that is refreshingly light on clichés. Only a few of its offerings are standard tapas, and many of the familiar-seeming dishes offer intriguing variations, such as ham-wrapped asparagus with smoked salmon, or chorizo sautéed to crispness with raisins, pine nuts and spinach, a combination which seemed to touch every taste bud in our mouths.
A clever presentation of traditional tapas components were "pinchos," short skewers of tasty trios. There were three choices and the option to mix and match; next time, we'd probably double up on the well-balanced Genoa salami, Piavé cheese and green olive skewer, and skip the Serrano ham with melon — an excellent start — and shrimp, the vibrant saffron gold of which imparted no flavor. The third option, mild white anchovy with cornichon and chorizo, was boldly extra-savory.
Another trio, this time of bean-based spreads, lacked the variety of the skewers. Hummus was unmistakable, but the white bean and fava bean "pâtés" were hard to distinguish; seasoning could have been used more effectively to highlight the subtle natural differences between the earthy white beans and the more vegetal favas. However, this dish gets full credit for the crostini, carefully balanced between brittle edges and chewy crumb.
The aforementioned ham and smoked salmon with asparagus spears was available as a small appetizer or as a bigger salad over greens. The latter made for a great summer meal: Crispy, paper-thin slices of Serrano ham played with savor off the sweeter, richer salmon, all wrapped around just-tender spears. Tuna Carpaccio was less successful, its impossibly thin slices of sashimi-grade tuna tragically drowned by citrusy ponzu. A better approach would have been a drizzle of a reduction, or, failing that, a sauce dish for dipping.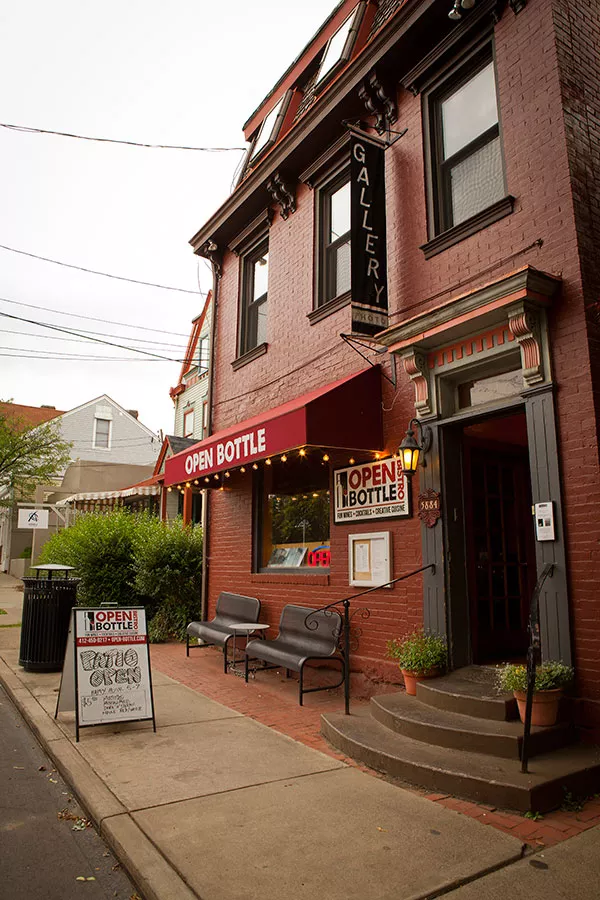 Two classics, escargots Bourguignonne and steak tartare, showed the kitchen hasn't lost its French chops. The former featured tender snails in a vibrantly green, pesto-esque parsley butter emboldened by garlic and subtly perfumed with Pernod: magnifique. The tartare, made with chopped filet mignon and dressed traditionally with capers, egg yolk, shallot and chives, was also superb; the beef was tender and mild, but not so meek as to disappear beneath its accompaniments.
In the Niçoise salad, the seared ahi tuna filet on top was a nice thought, but imperfectly butchered — there was a stringy edge — and the mustard "vinaigrette" earned those quotations marks by being too creamy in texture and insufficiently tangy in flavor. A good Niçoise is a tenuous balance among some very big flavors, and this one, alas, fell off the mark.
Service was unusually prompt; perhaps the focus on appetizer-like dishes allows the kitchen to turn orders around quickly, or perhaps the bistro concept dictates that wine drinkers have some ballast with their beverage. Either way, we enjoyed the seemingly non-stop parade of pleasures brought to our table at a pace which (not incidentally) kept us ordering more wine.
Open Bottle's best dishes were as good as we could wish for, its setting and service were delightful, and its menu composition made for a lively meal. Not all was perfect, but its goal — to pair wonderful wine with equally wonderful dining — seems well within reach.