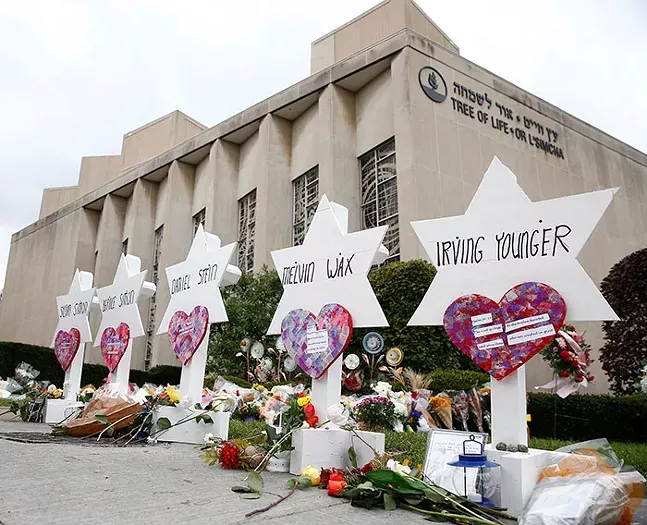 A little over a week ago, Pittsburgh observed the one-year anniversary of the shooting at Tree of Life Synagogue in Squirrel Hill.

It is nearly impossible, at this time, to talk about Jewishness in Pittsburgh without mentioning the 11 Jewish elders who were murdered by a white supremacist in their house of worship last year. The violence of that day has deeply traumatized our Jewish communities in Pittsburgh and reverberated through the diaspora across the world. Those reverberations will continue over long distances and many, many years.
We know this because as Jews, we are not strangers to inherited trauma. Many of our grandparents or great grandparents escaped the Jewish Holocaust. Some of their parents fled pogroms in Eastern Europe and Russia. "Never forget" has been a part of our vocabulary for as long as many of us can remember. We are a people who have had the memories of persecution and violence passed down like ghost stories, legends, cautionary tales. There was pain, tragedy, and fear in Pittsburgh and Squirrel Hill before October 27, 2018. In the aftermath, Pittsburgh's Jews have been thrust into a national conversation about the rise of global antisemitism.
Tonight, Chatham University will host an evening with Bari Weiss, a New York Times op-ed writer who is Jewish and grew up in Squirrel Hill, and who is a notably amplified voice in that conversation. Last fall, Weiss became something of a national icon for Pittsburgh's Jewish community when an op-ed she authored immediately following the shooting went viral. Tonight, she will be speaking about her experience in the spotlight and her new book, How to Fight Anti-Semitism.

We have a few thoughts we would like to offer to community members, especially our fellow Jewish community members, who are interested in hearing what Weiss has to say.
We would like to offer that we have some common ground with Weiss. We agree that the rise of antisemitism is cause for not only grave concern but also resistance and action. We agree that the wave of fascist, far-right politics sweeping our nation and the world is intrinsically linked to the rise of antisemitism. We agree that antisemitism exists across the political spectrum. We agree that "an attack on a minority is an attack on you," as Weiss puts it in her book.
However, we diverge, sharply, on other points that Weiss lays out in How to Fight Anti-Semitism. We question Weiss when she asks her readers to believe that progressive and radical leftist movements are casting Jews in the role of white supremacists, and that the far-left is just as much to blame, if not more, as the far-right for the rise of antisemitism. We question Weiss when she rejects intersectionality and identity politics and blames these ideas for creating a reverse hierarchy where the voices of those once most oppressed are valued the most.

We question her use of this same rhetoric to pit Jews against the far-left, which she claims has rejected Jewish voices. We question Weiss when she reiterates time and time again that the "good" Jew has unquestioning, unwavering faith in the Israeli government. We question Weiss's fundamental understanding of antisemitism as a form of oppression and how it functions as a racialized ideology. We question Weiss's tendency to fall back on collective Holocaust trauma without fully explaining herself. We question Weiss' analysis of the Middle East, which is tinged with Islamaphobic tropes and a good deal of misinformation presented as fact. We question Weiss and we hope that you and moderator Mark Nordenberg will too.
We question Weiss precisely because we ourselves, as proud Jews, feel the trauma of recent antisemitism acutely, and we know that dissociating ourselves from and scapegoating other marginalized communities only further harms us. We know that true safety for Jews will not come from aligning ourselves with leaders, institutions, and ideologies that accept us conditionally. Our safety will not come from weaponizing our pain against Muslims, Black and brown people, and many others. We know that our safety will not come at the expense of the safety and self-determination of Palestinian people, nor will it come from the suppression of valid criticism of the Israeli government.
We are focused on building a local movement whose number one priority is safety through solidarity and liberation for all marginalized communities. We host workshops on the fundamentals of antisemitism, white supremacy, and the occupation. We work in local coalitions to plan marches, racial justice trainings, and other events. We push ourselves to show up for other communities, and we ask other communities to show up for us . We know that we have more trust to build and that we as Jews have a role to play in the service of collective liberation.
We are Pittsburghers, many of us with Jewish families who have lived here for generations. We invite all Pittsburghers, Jews and non-Jews, including Bari Weiss, to engage with us about how antisemitism is affecting our city and our country. We encourage our communities to have uncomfortable but critical conversations about Israel/Palestine.
If the calls of "never again means never again for all of us" and "our solidarity will defeat white nationalism" at last week's Jewish-led protest against Trump resonated with you, we encourage you to think about what this means in practice, especially in a city that a recent report found to be among the worst in the country for Black people, on the lands of Seneca and Osage people who were forced out and killed by white settlers in the 1700s, in the center of a region that is a past and present hotbed for white nationalist, racist, queerphobic, transphobic, Islamophobic, and anti-immigrant sentiments. We would like to do the work to make our city the most livable "for all of us" with you. Some of us have been doing this work for some time already, and for others the shooting was a wake-up call. We want to acknowledge that the reasons we all arrive at this work are important and we invite you all, no matter your experience level, to help build out and up our growing solidarity movement.
We, as Jews, are in a critical moment. In moments like these, it can feel easy and comfortable to let our fear overtake us: fear of being attacked, misunderstood, misrepresented, and re-traumatized. Fear will separate us from each other and move us further from a future of peace and freedom for all. In moments like these, we urge you to choose compassion and to lean into uncertainty with open minds and open hearts. We urge you to turn outwards, not inwards. We encourage you to join us in making change in this moment, because as our namesake quote asks, "If not now, when?"
With hopeful resilience,
IfNotNow Pittsburgh