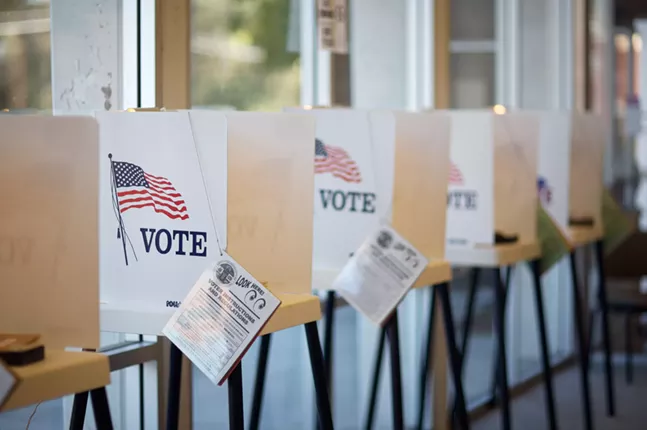 On Sept. 9, Gov. Tom Wolf (D-York)
announced
that Pennsylvania will launch online absentee voter registration. The application site will go live on Sept. 16, which is the first day voters can apply for an absentee ballot for the Nov. 5 election.
Previously, the absentee ballot process required voters to fill out an application and hand-deliver or mail it to their county election office. In Pittsburgh, this is the Allegheny County Office Building in Downtown. For many voters who need to apply for an absentee ballot, this should expedite the process. Completed ballots, however, must still be mailed in or hand-delivered to the county election.
"Applying for an absentee ballot online will make the process faster and more accessible for thousands of voters," said Wolf in a press release. "This builds on the option to register to vote online which Pennsylvania launched four years ago and it will provide an easier way for people to exercise their right to vote."
The press release also noted that since online voter registration launched, 1.4 million voter registrations, or changes to registrations, have been made online in the commonwealth.
How do you do, fellow kids? Next week you'll be able to submit a request for an absentee ballot on the world wide web. Democracy is 🔥and we stan increased ballot access: https://t.co/r824nT6xZM pic.twitter.com/9fYv2DMZKY

— Rep. Sara Innamorato (@RepInnamorato) September 9, 2019
While the change will make it slightly easier and faster for voters to prepare for an absentee ballot, there are still many hurdles in the Pennsylvania Election Code, which was established in 1937, that make the voting via absentee ballot cumbersome in Pennsylvania.
Pennsylvania has some of the earliest absentee
ballot deadlines
in the country; the deadline to apply for an absentee ballot is by 5 p.m. on the Tuesday before election day (Oct. 29, 2019) and the deadline to submit an absentee ballot is by 5 p.m. on the Friday before election day (Nov. 1, 2019). For comparison, in New York, absentee applications can be delivered in person the day before election day, and an absentee ballot must be postmarked the day before the election.
In November 2018, the ACLU of Pennsylvania filed a constitutional
challenge
to Pennsylvania's absentee laws on behalf of absentee voters who submitted applications by the deadline but received ballots too late. The lawsuit argues that "voters are disenfranchised by the deadline in violation of the Pennsylvania Constitution's guarantee of 'free and equal' elections." The state court heard the first arguments of the case in June 2019.
Absentee ballots in Pennsylvania
also require cause, like being out of town on Election Day. Pennsylvanians cannot use absentee ballots just because it's a more convenient method of voting.
When the online absentee system is launched, voters who want to use it must have a PennDOT driver's license or ID number, although there are plans to update the system by 2020 for those who don't have a PennDOT ID.