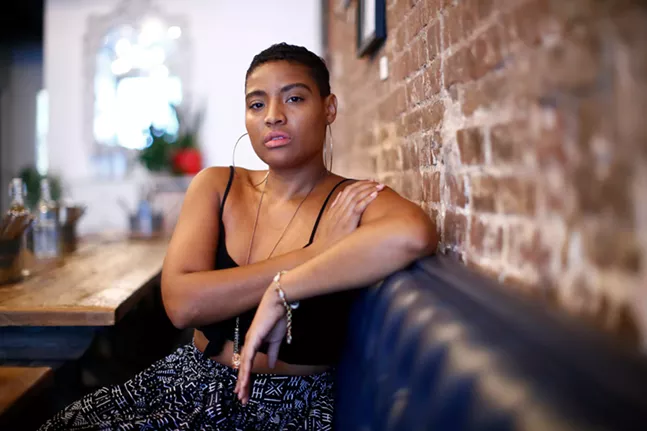 One800 - Pittsburgh City Limits
Pittsburgh has been talking about
Pittsburgh City Limits
, an album featuring 19 local artists in the hip hop, rap, and soul genres, since June when production trio
One800
tweeted out an image introducing something called The Pittsburgh Sessions.
"Over the next few months, we will be working with all of the artists in the city that have inspired us, and with their help, we will create a Pittsburgh-exclusive album," the image read. "One800 will take each artist through their own full-day session creating new music that will be featured on the project. We will then take a month to mix, arrange, and curate a unique album that will showcase the city's talented artists like never before."
Today, the project dropped and features artists
Benji.
,
Clara Kent
, Sierra Sellers, livefromthecity, PK Delay,
NVSV
, Pet Zebra, My Favorite Color, and Choo Jackson, among others.
In "Trust," Deej takes a sun-soaked twist on Fat Joe and Ashanti's "What's Luv?" Mars Jackson tells us it's OK to want more in the appropriately titled, "More." And Issac Lewis questions the world's upheaval in "Harmony." It's a collection of one-off songs, showing what Pittsburgh musicians can do in a limited amount of time.
Flower Crown - "High Fantasy"
As 2019 draws to a close, Flower Crown has quite a few accomplishments to be proud of: the dream-pop band transitioned to a full band ensemble, put out a second album,
Sundries
, contributed to a compilation, played some road gigs, and even was curated by Spotify and Bandcamp staffs through playlists (Spotify Fresh Finds, Six Strings) and editorial mentions (Bandcamp New & Notable).
"Our second album
Sundries
was everything and more than we could have hoped for," says Connor Murray of Crafted Sounds, Flower Crown's label. "This year was filled with so many memorable experiences, so we felt that it would only be proper to wrap up 2019 on a good note by recording and releasing the single 'High Fantasy.'"
Flower Crown headed to Mr. Smalls Studio in October to cook up the track with Nate Campisi, building on the lush, atmospheric pop captured in
Sundries
with streaking guitar and reverb-drenched harmonies. The single will be celebrated at
Spirit
, Dec. 13, with local bands Side Sleeper and Century III.
Standard Broadcast - "Here We Go Again"
Standard Broadcast wrote "Here We Go Again" shortly after the Tree of Life shooting last year, but was hesitant to put it out too soon.
"Our former guitarist, Adam Mor, wrote the music for this song," says Nathan Jay, Standard Broadcast vocalist and pianist. "He was new to Pittsburgh, just moving here a year prior from Israel, so that shooting had an even greater impact on him and he asked me to write lyrics in the vein of that tragedy."
The track was titled "Here We Go Again," due to the initial reaction many have when first hearing of another mass shooting. It starts off as a retrospective before moving toward a sense of hope at the end.
"Here We Go Again drops Sat., Dec. 14, accompanied by a
release show
at Mr. Smalls Theatre along with Essential Machine. It's the first track Standard Broadcast will release since signing with Pittsburgh label,
Devil Inside Records
in August.
More...
Swither - Swither
GFTF - A Call to Innocence
The Damaged Pies - Silent Movies and Talking Pictures