While "hole in the wall" has its appeal, elevating the food at humble establishments above all other concerns, restaurateurs and diners know that a great dining room can enhance the entire dining experience. Traditional fine dining offered one formula, with candlelight, crisp white table linens and obsequious servers in black tie. But modern tastes are more colorful, casual and quirky. For a great dining room, there is no canonical approach.
At One Thirty One East, one of a flurry of stylish new businesses on Main Street in Carnegie, the answer seems to lie in gorgeous color, a little bit of sparkle and plenty of elbow room. We understand the impulse to maximize square footage, but we appreciate a privacy buffer between our table and the next. One Thirty One accommodates this with a spacing that feels generous, even luxurious. Especially in the season of voluminous outerwear, it was great not to have to crab-step between our table and our neighbors'. We also appreciated the restrained but sophisticated color scheme, the deep slate blue walls with white trim and shimmering accents reminiscent of a snowy, starry night.
It was an elegant atmosphere in which to contemplate our menus, full of dishes billed as "world fusion freestyle." This seemed to translate into a recombined panoply of global flavors and ingredients, especially those from Asia and the Mediterranean, with an emphasis on the housemade. And if each dish seemed to have two or three ingredients too many, they did appear confidently combined.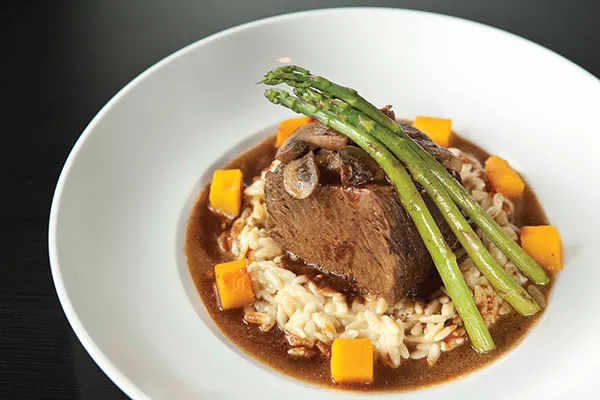 The crispness in crispy Brussels sprouts came not from pan-fried leaves, but from "fried wontons" (actually crunchy fried noodles) topping this decidedly Asian-inflected version of this au courant dish. Zingy ginger, sweet soy and a tiny bit of sinus-clearing wasabi added sweetness and savor to the vegetable's distinctive flavor, muting without obliterating it.
Crispness really came into play with the flatbread, which was thin and cracker-like, with light toppings so as not to overload. We ordered a vegetarian version with caramelized onion, apple, pear, arugula, asiago and Maytag bleu cheese. In this wonderfully autumnal combo, sweet fruit and onion played off peppery, just-wilted arugula and bold bleu, with the asiago providing a base that was sharper and nuttier than more traditional mozzarella.
 Salty gravy too often overwhelms poutine, both in texture and in flavor. But One Thirty One's lamb gravy was mild yet flavorful, and thin enough to coat the bed of classic golden-brown fries that are the base of this dish without smothering them.
Hanger steak, the simplest entrée on the menu, was a real testament to the kitchen's prowess. This cut, while full of beefy flavor, can tend toward chewiness or bits of gristle, but One Thirty One's rosy pink rendition was nearly as tender as tenderloin, with a great crust and robust flavor. Bordelaise sauce added a hint of richness. Rosemary-and-sea-salt fries weren't especially herbal, but as with the poutine, good, crispy-creamy fries carried this concoction.
A double-cut kurobota pork chop was glorious. The server told us the chef recommended medium, to which Jason reluctantly assented, but the chop did in fact retain some pink, and the associated juiciness. It was topped with "crispy pork belly" — not a fatty slab with thin crust, but something closer to very thick-cut bacon, without bacon's smoky flavor, which would have competed with the chop's. Meanwhile, the simple pan sauce made a wonderful coating for substantial little cavatelli. We don't think "root vegetables" should really mean celery and carrots, but the wintry vegetable duo was a good enough complement.
Paella was the only disappointment of our meal. Instead of the traditional skillet full of seafood and saffron rice, we received a small plate of the same. Though initially taken aback by the presentation, the portion size, scaled for a single diner, was fine. More at issue were the weak flavor and small, gritty mussels. Angelique, who'd ordered this dish, looked longingly at the substantial meats on the table, lavished with seasoning and bursting with flavor, and wished she'd chosen differently.
For dessert, housemade vanilla ice cream had a grainy texture, but the flourless chocolate torte had thrown off its usual density for an airiness more reminiscent of a mousse, while still tasting intensely chocolatey.
Despite our early trepidation about a menu boasting so many ingredients, One Thirty One East presented a confident tour of global flavors, intriguingly combined, in a coolly elegant setting.