click to enlarge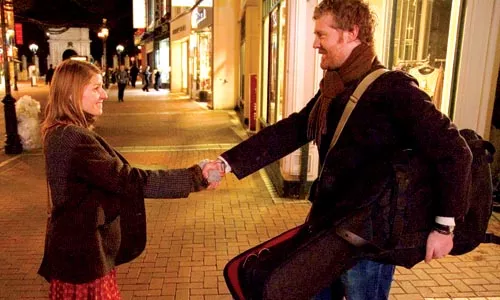 In John Carney's not-quite-a-musical, not-quite-a-romance Once, a guy and a girl meet on a Dublin street. The unnamed guy -- when not working in his dad's vacuum-cleaner repair shop -- busks there, playing his battered guitar and singing. The young woman is drawn to his anguished pop-folk tune of misplaced love. During a brief banter, it's discovered that she has a busted vacuum.

So she returns the next day, vacuum in tow, and in a few exchanges, the pair are lightly sketched out: She's a recent émigré from Eastern Europe, with some musical gifts of her own; he's back home treading water and pining for a lost love, now in London.

In a scene that sets the tone for this small, disarming gem of a film, the pair drops into a music store, where they collaborate on a song -- tentatively at first, then with growing delight. From the quiet first verse through a fully realized, emotionally laden final chorus to a bittersweet coda, it's a snapshot of the film's trajectory and themes.

As the two spend a week or so together in Once, there's as many songs sung as conversation held. Yet the musical interludes are integral, occurring naturally within the narrative, as well as transcendent, as innocuous scenes reinforce how music informs these individuals' souls.

Because the story relies on an intense but unspoken connection through music, writer-director Carney gambled on hiring musicians rather than actors. Glen Hansard, of the Irish band The Frames, portrays the genially scruffy songwriter, while Czech newcomer Marketa Irglova plays the sweet-voiced young immigrant and pianist; the two also wrote the film's songs. Each performer ably coveys a lonely wistfulness as well as the quiet thrill of discovery in a kindred spirit.

Not surprisingly, given the film's tiny budget, Carney adopts an on-the-fly style, using handheld cameras and shooting in available (and often murky) light in Dublin's streets and semi-shabby homes. Likewise the non-actors come across as real and likable people. The result is an effortless bit of naturalism, where we feel as if we're lingering just outside the frame watching people we know.

And if Once isn't quite a musical, nor is it a typical romance. Your heartstrings will be tugged, but the film's vibe hews closer to how life really is. It's a glimpse of how life's vagaries can gel so perfectly -- even if it's just a brief moment during a longer journey. Once was an audience favorite at this year's Sundance festival, and with good reason: It's the antithesis of boy-meets-girl Hollywood piffle -- so full of contrivance and fantasy endings -- that thoroughly earns its touching and sentimental conclusion.

Squirrel Hill