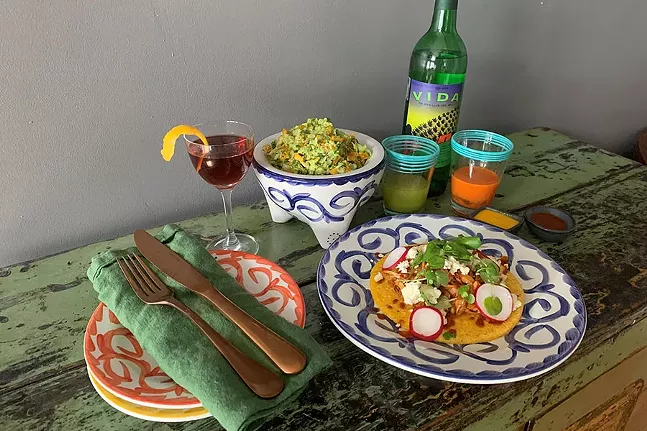 Decades ago, jazz music was the soul of Pittsburgh. The city teemed with little dives hosting world-renowned musicians. Every night, clubs were packed with crowds of listeners, dancing to the beats of Billy Strayhorn or Ray Brown.
But over the years, jazz lost many of its venue. Urban redevelopment and demolition destroyed much of the Hill District and the vibrant jazz lineup on Wiley Ave. Relocation and a shifting tastes changed the scene, leaving bands and clubs to fall into the shadows.
Today, venues are scattered across neighborhoods, presenting a slim bill of musicians compared to the city's rich history. Josh Ross, Aimee Marshall, and John Shanon are joining the ranks of Pittsburghers committed to reviving jazz in the city. Their restaurant, Con Alma, opens soon on Ellsworth Ave. in Shadyside.
The concept for Con Alma was born from the documentary,
We Knew What We Had: The Greatest Jazz Story Never Told
, which chronicles Pittsburgh's contribution to jazz. Inspired by the film's story, music, and the city's past, Ross and Marshall introduced a third talent, acclaimed guitarist Shannon, to help make their restaurant dream a reality. The trio built Con Alma around the relationship between music and food.
Ross, the head chef, designed a menu derived from Latin American cuisines and sprinkled with Asian flavors. Dishes are natural progressions from his experience in other city kitchens, pulling inspiration from restaurants like Molinaro and Pirata. Ross brings a menu brimming with traditional plates (ceviche,
ropa vieja
, guacamole, and empanadas) and promises plenty of vegetarian items. For jazz brunch on Sunday, he will create an add-on list of features.
Drinks follow similar influences, showcasing a list of tequila and mezcal curated by Marshall. She plans to pay homage to jazz roots with classic cocktails such as sidecars and daiquiris, and puts a Latin-twist on cold brew for brunch. Wine goes back to old-world Italian, hand-picked to pair with Ross' menu.
And finally, Shannon, world-renown guitarist, will lead the house band, Nosmo King Trio, who plan to headline every weekday show. On the weekends, Shannon will handpick and book other acts, showcasing the melting pot of jazz started, and still found, in Pittsburgh.
The restaurant is small, only seating 45 inside and another 40 on the patio in warmer weather. When it's up and running, the restaurant will be open late. Ross predicts a laid-back feel in the early hours and a club vibe as the night goes on.
As of right now, Ross, Marshall, and Shannon are planning to officially open Con Alma mid-April, with a few soft-opening lunches in the meantime.
"Jazz has always been a huge part of Pittsburgh, and it fell off a bit," said Ross. "It's not gone, we just want to have a solid home for it and pay homage to what Pittsburgh used to be and what it still can be."