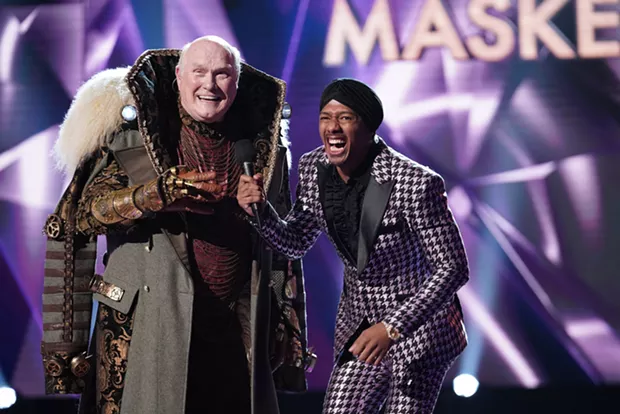 Three episodes in and
The Masked Singer
still feels like a fever dream, or what
The Voice
might look like after accidentally ingesting weed cookies you thought were normal cookies.
If you haven't been keeping up, the singing competition features 12 celebrity contestants singing mediocre covers of mediocre songs. The catch is that the celebrities' identities are disguised under elaborate animal costumes and voice changing effects. Their identity is only revealed when they are eliminated.
The
first contestant
eliminated was Steeler Antonio Brown as the hippo, and second was stoner Tommy Chong as the pineapple. Somehow, in the third episode, the revealed celebrity is also (or once was) a Steeler.
The cast is divided, with only half performing each episode. Episode three features bleak performances of hits by Nina Simone, Florida Georgia Line, Britney Spears, One Republic, and Gavin DeGraw. It's the kind of playlist you might hear at a TGI Fridays.
The judges continue to be the insane lineup of Jenny McCarthy-Wahlberg (she is married to Donnie), Ken Jeong, Nicole Scherzinger, and Robin Thicke. But for reasons unknown, this episode also features guest judge Joel McHale, who has never been less enthused.
Host Nick Cannon's ensemble is a creation beyond my wildest dreams: a shiny purple houndstooth suit, a ruffled shirt, and a turban.
The star of the episode was the deer, who got to go home a mere three weeks in. The swaggering, masculine stag sang a wheezing version of "Get Your Shine On" by Florida Georgia Line. His identity clues involved car commercials and something about a horse. The deer was chosen for elimination and had to take off his deer head, which was additionally adorned with a gas mask.
To be honest, the buildup is thrilling. The head isn't removed immediately, but slowly, like a sloth taking off a bike helmet. He reveals a sweaty and gleeful Terry Bradshaw, current Fox sports analyst and former Steelers quarterback.
Bradshaw is 70 and exhausted. He celebrates his elimination by singing the rest of "Shine On" sans deer head/gas mask. Did you know Terry Bradshaw has recorded five albums? Nicole Scherzinger sure didn't. Personally, all I know about Terry Bradshaw is that I mishear his name as Carrie Bradshaw.
There are so many famous athletes, both active and retired, who would grab at a chance in the spotlight, yet at least two of the 12 contestants on
The Masked Singer
are Steelers. I would ask why, but the theme of this show is "sure, why not?"
The most confusing aspect, aside from everything, is that a prize is never stated. Obviously, famous people don't need to be awarded more money, but it's completely un-American to compete in a reality show without something shiny at the end of the tunnel.
At one point, monster says "I thought about how much this opportunity means to me." What exactly is the opportunity here? Singing "I Don't Want To Be" in front of animated flames?
Celebrity identity guesses:
The lion's clues involved a montage of women and vague protests and "using her voice." The judges said, "oh, female empowerment?" I think Emily Ratajkowski. She loves protests.

The peacock is showy and has performed in Vegas. Donnie Osmond seems highly likely, but I'll also throw in Barry Manilow and Howie Mandel.

Unicorn could be Tori Spelling or Denise Richards. Her voice is terrible and Robin Thicke described the rendition of "Oops...I did it again" as a "Britney Spears-type record."

The monster seems like T-Pain, but Cee-Lo or Seal are also solid choices.