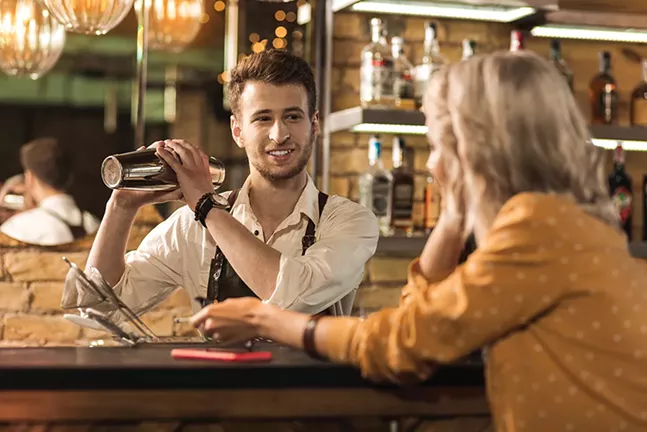 Here are your friendly bartender's "tips to win" when ordering drinks at your local watering hole.
When you walk in the door, be aware of what type of bar you are in. Not every bar on the planet has the correct ingredients to make a proper Old Fashioned or a that Tutti Fruity-baloney you had while vacationing in Mexico. In order to receive the best drink possible, go with what makes sense for the atmosphere.
Once seated, ask for a cocktail menu and pay attention to the ingredients. Is pink passionfruit puree one of them? Maybe they can make your Tutti Fruity-dreams come true. If not, you probably should pick something else.
The cocktail menu opens the door for possibilities in your drink order. Read ingredients carefully, and don't automatically be turned off because of the liquor-base. Most people know their basic limits. (First-timers should stick to the easy stuff: rum and vodka.) I cannot drink whiskey- or bourbon-based drinks. For years I also never attempted to drink gin because of one bad night involving shots at a house party.
A bartender friend of mine opened my eyes to the world of gin, and now I enjoy it. It's the complementing ingredients that make a drink. If 90 percent of the ingredients seem awesome, the drink is most likely awesome. Ask the bartender which ones she prefers; most staffers will engage and tell you more about the flavor profiles of each drink.
If there isn't a cocktail menu available and you are still feeling unsure, that person behind the bar has a wealth of knowledge. After a few simple questions, a bartender should be able to whip together something that will satisfy. Want something sweet? Maybe try the simple Bay Breeze or a Sex on the Beach. Something without pop? Maybe an "Adult" Vitamin Water or a Tom Collins.
Shots are a different animal. There seems to be a new shot invented every day, and it's impossible to keep up. If a customer has no clue what to order, most staffers tend to go with crowd pleasers or a "shot of the day." Basically, this is the shot for which customers have been asking over and over again. If you try to order a Four Horseman for someone's 21st birthday, do not be surprised if you get a water instead.
Orders of something random or a drink we've never heard of helps us keep bartenders on our toes. Although, we may never have heard of a "Bear Fight" or "Cranberry Cookie," but we'd love to add it to our arsenal. If ordering something the bartender hasn't heard of, know what's in it. You might just have created the "shot of the day."
Tweet us your favorite drinks @pghcitypaper.