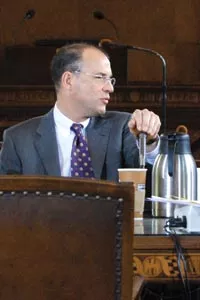 From the very first time City Councilor Bruce Kraus got an allowance, he spent it on 45 records. Since then, he's never passed a record shop without stopping to browse.
He purchased his first record, the single of Petula Clark's "Downtown," sometime in 1963 or 1964 for 88 cents at Gold Coast Records. He can still smell the tubes on the record player heating up. And he can recall how to put the 45 spindle on the turntable.
"I must have played that record 100 times," recalls the District 3 councilor. "Until my brother came down and smashed it."
In his career, Kraus has been a lot of things -- interior designer, president of the South Side Chamber of Commerce, head of the city's graffiti task force and city councilor. But walk past his office in the City-County building after hours, and you might hear the sounds of Sinatra, Tony Bennett or Dolly Parton wafting from his Bose music system, revealing the grip music holds on Kraus, a former DJ and record collector.
Reared on "hillbilly" music, the songs of Eddie Arnold, Elvis Presley, Patsy Cline, Skeeter Davis and Ray Price surrounded a young Kraus at family functions. But his true love can be found in the streets of Detroit.
"My passion has always been Motown. When I was growing up it was called soul music," he says. "And it touched my soul. It was the best written, well-choreographed music as far as I'm concerned."
Kraus began acquiring records at a young age, and his collection ballooned in the early 1980s, during the so-called "Second British Invasion." A bartending gig at Crossover Lounge on Western Avenue segued into a shot at DJ that eventually clicked. "I told them I wanted a crack at it," Kraus says. "The first night was horrible."
He had befriended a record promoter who often dropped albums off, and played British imports and songs he believes "epitomizes the 1980s" like Tina Turner's "What's Love Got to Do With It" and "Girls Just Wanna Have Fun" by Cyndi Lauper.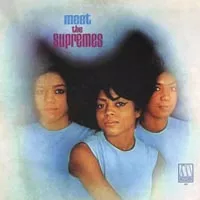 The DJs had to buy and supply their own records, and Kraus' collection grew to include 1980s mainstays like Psychedelic Furs, Van Halen, the Pointer Sisters and Culture Club. If he had extra money, he'd travel to Dupont Circle in Washington, D.C., to go record shopping.
"Some people in the morning, they reach for coffee and cigarette," he says. "I'd reach for a record."
Eventually though, logistics gave way to pragmatics, and Kraus sold the bulk of his record collection. Now, a 465-gigabyte portable hard drive contains the audio files that he either converts from vinyl, or downloads off CDs or sites like iTunes and Rhapsody.
Two large sets of white shelves flank a wall in the front room of his South Side home. Tucked neatly in rows on the top shelves of one are brown leather boxes, containing CDs in plastic sleeves. The 2,000 CDs still pale in comparison to his original collection. From Andrea Bocelli to The Who, Kraus says his current compilation is roughly two-thirds of the collection that was once on vinyl.
"I started thinking in terms of my own mortality and didn't want anyone to come in and go through my record collection and say, 'Oh my God. Why did he have this?'" Kraus reflects.
But he will always keep a few boxes of 1980s albums stored away in his attic.
He was never one for just collecting -- records have to be mint, he says, but they're for playing. Kraus has a few gems in his collection though, including a 1962 copy of Meet the Supremes that has sold for more than $600 on an eBay auction.
Kraus is more than just a leisure listener -- he also knows his stuff. As tunes from Jack Johnson, George Michael, Stevie Wonder, Susan Boyle, Loretta Lynn, Marvin Gaye and others popped up on his iTunes, Kraus offered a little music history to go with. And he's quick to answer questions that usually stump the casual music fan: The six-minute version of "Ain't No Mountain High Enough," by Marvin Gaye and Tammi Terrell, is his all-time favorite song, and Jane Olivor's "First Night," which he got in 1976, is his favorite album of all time.
"Every time I listen to that album," he says, "it's a new experience."