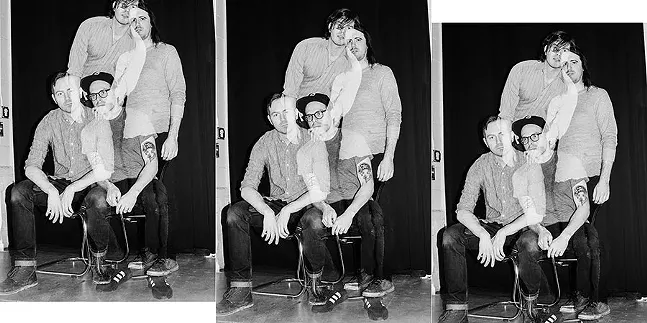 It was in late June of 2019 when Pittsburgh-bred The Gotobeds were given a trophy recognizing their salesmanship in Kalamazoo, Mich.

This wasn't their first. That award joined previous accolades the members received in Brooklyn and Columbus recognizing their bowling and oratory prowess, respectively. The awards displayed in their Allentown rehearsal space came by way of the band's tour rider, which specifies they receive a trophy at each gig. It's not the sort of item that one would expect to see requested by a touring band, but most bands are not The Gotobeds.
Drummer Cary Belback, guitarist Tom Payne, bassist Gavin Jensen, and vocalist Eli Kasan do have reason to celebrate, with the release of their third album, Debt Begins At 30 in May 2019.
The band's second release for Sup Pop was inspired in part by the mixtape aspect of It'll Be Cool by the influential cult band Silkworm, as well as the band's appreciation of hip hop. Taking cues from the latter, Debt Begins At 30 features additional guests on each song, including help from local poets Jason Baldinger and Scott MacIntyre, as well as Pavement percussionist/vocalist/horse racing enthusiast Bob Nastanovich.


While writing the album, the band relied on trust built while working on the two previous records. "Most of what we learned was that our instincts were right about how we make records," says Kasan. "For the earlier ones, we purposely left them slipshod and rough around the edges."
The Gotobeds spent more time than usual working on demos for the album, striving for "perfect live takes" before heading to Chicago to record the final tracks. "We're rock and roll in the Bo Diddley way where it's spontaneous, out-of-tune, and ugly. That's the charm of it," says Kasan.
The result is a cohesive effort that reflects where this band is now as musicians and as people — playing by their own rules and having fun in the process. Whether it's the splash-in-the-face happiness of "Twin Cities," the post-punk gem "On Loan," or the arena-rock riffing of "Bleached Midnight," the band's experimentations are thoughtful and true to their ethos.
Lyrically, Jensen states that the band is not shy about tackling issues like income inequality and the struggles of the working poor in America today, and, as he says, "the lie of capitalism. It's the story we are raised on. I think people are getting pissed off about it, and it's finally reaching critical mass."
One of the songs from Debt Begins At 30 that best reflects the band's growth is the aptly named "Poor People are Revolting Everywhere" — a nod to the title of their first album. "A lot of people don't have options … It's about living in America, right now. It's about not having options," Kasan says.
The Gotobeds are also well aware of the realities of the music industry, understanding that they cannot live off of music alone. But it's a benefit that they feel allows them to produce the music they want.
"We're not a professional band. We never wanted to be career musicians," says Payne. "I guess we would be if we wrote that million-dollar song, but that's not really what we're trying to do."
Having the full freedom to create the music they want to make without being forced to create that "hit" is one reason they love being a part of the Sub Pop family. "How depressing would it be to crest and to be chasing that idea?" says Kasan.
The Gotobeds are now showcasing the new music to audiences throughout North America and hit their hometown in Pittsburgh on Thu., Oct. 17.