There are few things metalheads enjoy more than parsing the particulars of genres and subgenres, and when Christian Mistress is on the turntable, it's hard to describe the band without invoking the new wave of British heavy metal.
And it's not just because the band channels the gritty, triumphant sound of bands like Judas Priest and Motorhead: Christian Mistress has a deep connection to punk and DIY culture, both of which were integral to the development of the NWOHM genre in the late 1970s and early '80s.
But the band's singer, Christine Davis, doesn't care much for musical labels. It's not that she disagrees with the categorization; she's just coming from another place.
"For me as a musician, I've never been in a band and said, 'We're going to do this style, and [that's] all it's going to be and fuck everything else,'" she says.
Around 15 years ago, she started singing and playing unconventional instruments —like distorted clarinet — in heavy bands in her hometown of Portland, Ore. "There weren't many metal bands in Portland to play with, and it's kind of the opposite now," she says. "There was no metal scene, just lots of punks."
Eventually she moved to Olympia, Wash., and there helped form Christian Mistress in 2008. The energy in Olympia was similar to Portland, she says, in terms of how open fellow musicians were to multiple influences.
"[Christian Mistress] used heavy metal as a platform to showcase and enjoy the music that we're able to play," she says. "I come from a more punk-rock background than my other bandmates, but we're still a punk band. That's how we think of ourselves, because we don't really subscribe to doing what other people want us to do."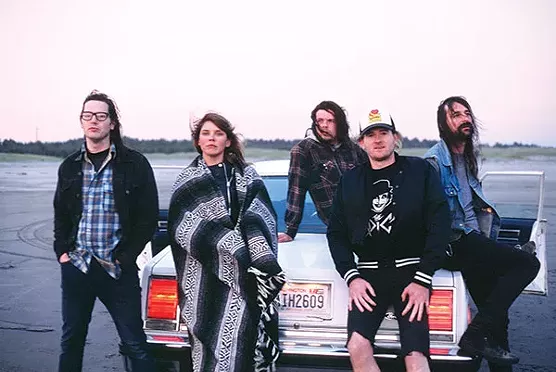 Christian Mistress recorded its debut, Agony and Opium, for $500. That release received some well-deserved attention on its own, but got an extra boost when Gylve "Fenriz" Nagell, one half of the influential black-metal band Darkthrone (and a tastemaker in his own right) started tossing the name Christian Mistress out in interviews. "What's not to like?" Fenriz asked Stereogum in a 2010 interview. "They play heavy metal the old way, the exact way we enjoy it ourselves. Also, they have balls enough to turn the heaviest fuzz off when they play leads, other bands do it the opposite way."
The follow-up, 2012's Possession, was released in a whirlwind: Davis says the band recorded it quickly while fielding several offers from various record labels (they eventually signed to Relapse Records). "We went from zero to 100 and I think we just weren't sure how to deal with it," she recalls. "[We were] dealing with all this legal business at a time that we would have preferred to be focusing on the music. It's not like we were complaining, we just needed to reassess how we spent our time as a band, and regroup."
For To Your Death, which comes out Sept. 18, the band took things slow in a way that was both intentional and unavoidable. The members were physically distant during the writing process: Davis moved back to Portland, and would drive to Seattle to meet up with guitarist Oscar Sparbel and bassist Jonny Wulf. Those two eventually joined her in Oregon, and then — along with drummer Reuben Storey and guitarist Tim Diedrich — made a few more transitions across the Pacific Northwest. "I think it adds to the gratitude [that comes with] being able to play music together," Davis says. "I mean, we still did it pretty much every week, but it always felt like such an epic journey to get to one another."
At first glean, Possession — with its vaguely witchy artwork and song titles like "Pentagram and Crucifix" — had the trappings of the '70s-inspired, female-fronted occult rock that was cropping up like magic mushrooms all over the heavy-music scene. But that wasn't an entirely accurate assessment — Christian Mistress always rocked a little too hard to fit that category. Lately the band has upped the heavy-metal ante. Where Possession was a hooded cloak, To Your Death is a studded jacket. Or, as Davis puts it, "This record feels like driving through the city under neon lights." Throughout the recording process, the members held to the mental image of a diamond. "We talked about this a lot: accepting all the facets of a diamond and how there are shiny parts and dark parts, [we let that] guide the vibe of the record."
To Your Death is packed with catchy tunes, and muscle-y guitar harmonies. But Davis' vocals, which land somewhere between powerhouse Ann Wilson and Paul Di'Anno — Iron Maiden's original, much punker singer — take the band to another level. Her first experiences singing for an audience were impressively metal: When Davis was a kid, her mom signed her up for a children's choir which sang complex, multi-harmony Eastern European folk songs. "I was this little kid singing these creepy vocal harmonies with other kids," Davis says with a laugh. "That's how I learned to listen to other people, musically."
From there, it was a short jump to the music Davis is making now. But no matter how much attention Christian Mistress receives, Davis' goals remain less tangible.
"I feel like we've made it when, at the end of the day, we're all still best friends," she says. "This music feels vital and true to my deepest guts every time, I never feel bummed on it. That's a measure of success, completely."