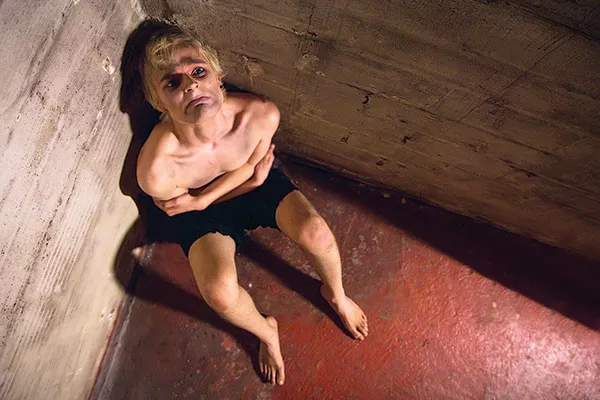 Sado-masochism, homo-eroticism and juvenile puns: It must be time for another world premiere from the Rage of the Stage Players. Add anti-Semitism and dystopian steampunk for Oliver Twisted, which is lightly "inspired by characters from the novel Oliver Twist, by Charles Dickens," according to company founder/co-executive producer James Michael Shoberg.
Amazingly in its 12th year, ROTS remains true to its core mission of "darker" adult-oriented theater with large, scantily (but colorfully) clad casts chewing on both the scenery and the vision of Mr. Shoberg. In Twisted, he portrays a pedophilic Fagin as well as writes and directs, among other production duties.
Even if you didn't slog through the Dickens original in school, and somehow avoided the various movie and musical versions, you've probably absorbed the story by literary osmosis. Poor but honest (and boring) orphan. Powerful but dishonest officials. Unspeakable slums. Charming but doomed urchins. Nasty people get comeuppance. Our hero, though still dull, triumphs.
Twisted is not so very different, but with heaps of horrors and far more attractive rags. The title character is a lovely but indifferent Nick Kempin. Devin Hunt adopts a more heroic stance as the Artful Dodger, Vincent Anthony Bombara oozes sleaze as Sikes, and Brian Seymour fulfills the dashingly re-imagined Fang. But dominating the show is the glass-green-eyed Fagin, with the best lines, the best gestures, the best polish.
A ROTS/Shoberg production is about a bunch of people not merely following a plot, but rather fulfilling an aesthetic — more pageantry than poetry. Alas, such style needs a smooth grace lying just below the surface to keep all the pieces afloat. Twisted fills, even overfills, the intimate space of the McKeesport Little Theatre, but the flow and the fun are stymied by clunky blackouts and unseemly pauses. At two-and-a-half hours, it's definitely too long.
Popular legend proclaims that Dickens' books are so cumbersomely verbose because he was paid by the word. That's not really so, though the sentiment applies for Oliver Twisted: Audiences pay 10 cents per minute.