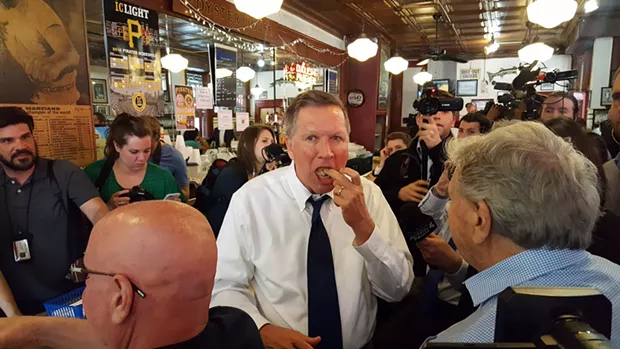 Ohio Gov. John Kasich stopped in Pittsburgh earlier today with a visit to the Original Oyster House in Downtown's Market Square. When the Mckees Rocks native arrived, he ate a fish sandwich at the bar, campaigned to have his picture added to the wall of the 140-year-old institution and commented on Pittsburgh Steelers quarterback Ben Roethlisberger
"I think he says he's banged up more than he is," Kasich said of Roethlisberger.
The candidate for the Republican presidential nomination spent his time in the establishment being photographed by the press, answering questions from television reporters and bantering with restaurant staff.
Video by Ashley Murray
"Look at all of those people on the wall. I have never taken a picture that I've wanted on a wall," said Kasich. "If I take a picture I want you to put it on that wall."
"You have to be president to get on the wall," answered Oyster House owner Louis Grippo.
Before Kasich arrived, a crowd of nearly 100 lined the sidewalks in Market Square outside of the Oyster House. Among them was Amy Egyed who went to school with Kasich's brother and was carrying her school's yearbook.
"They come from very good, strong moral values. He wants to get things back to the way they need to be — for the people, by the people," Egyed said of Kasich and his brother. "If you're the president of the country, you're supposed to take care of this country. Let's fix and take care of our own people."
And there were Kasich supporters inside as well, including Carnegie resident Sasha, a hospital worker who took a half day off from work to see Kasich in person.
"Between Trump and him, he's more down to earth," said Sasha, who didn't want to provide her last name. "I don't see any racism. He says you can't just deport thousands of people."
Despite Kasich's current standing in third place among candidates for the Republican presidential nomination, Sasha said she still thinks he has a shot.
"I think once it gets to the convention things are going to change," said Sasha. "People are going to realize Trump's not realistic."
In his remarks to the media following his meal, Kasich also delved into the Republican National Convention where the Republican nominee could be selected if current front runner Donald Trump doesn't have enough delegates when the final votes are cast.
"We really want to get a few delegates. It's all about the delegates now that everyone has figured out we're going to have a contested convention," said Kasich. "Everybody says well shouldn't the nominee be the person with the most plurality. Well, we have rules."
Before leaving for Maryland, the next stop on his campaign trail, Kasich ended his remarks to reporters reflecting on his Western Pa. upbringing.
"It's been a heck of a ride for me in my lifetime," Kasich said. "So much of me is what you can find right here on the streets of Pittsburgh."