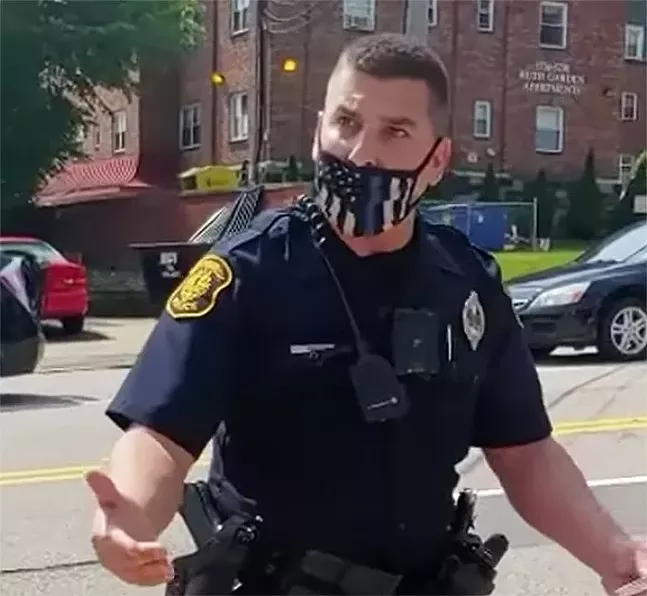 According to public salary information for the City of Pittsburgh, Paul Abel Jr., a police officer currently under investigation for potential misconduct for
an aggressive arrest he conducted near the Squirrel Hill farmers' market
, made $156,106 in total compensation last year.
That makes him among the most highly-compensated city employees last year. Abel took home $73,601 in base pay (aka his salary) and $47,221 in premium overtime, holiday, and special events pay.
On Sept. 6, Abel was working a special event duty at the Squirrel Hill farmers' market when a patron asked Abel why he was wearing a mask designed with the Thin Blue Line, the symbol of the Blue Lives Matter movement. The man, Michael Holc, confronted Abel, then Abel told Holc to move, and shortly thereafter, Abel then arrested Holc, eventually charging him with six misdemeanors.
According to the video of the arrest, Holc says, "I didn't do anything," as Abel is grabbing him by the shoulder. Then, Abel pulls out his taser, grabs Holc by the collar, and shouts, "Turn around and put your hands behind your back! Now!"
"OK, OK. My hands are behind my back, sir. I have not done anything. She has it on camera right here," says Holc.
"I don't care," shouts Abel, as he places handcuffs on the man.
Pittsburgh Public Safety officials say Holc was told to exit the line as he continued to press Abel about his Thin Blue Line mask, and then after police say Holc refused to show ID, Abel placed him under arrest.
The arrest is currently under investigation by the city's Office of Municipal Investigations, and videos have been sent to the
Citizens Police Review Board
. Abel also has a checkered past that includes more than a dozen complaints of
alleged misconduct
. In 2008, he was charged with assault for allegedly pistol whipping a man in the South Side, which led to his gun going off and injuring that man. Abel was cleared of those charges by Allegheny County Common Pleas Judge Jeffrey Manning. Abel was suspended, but was
reinstated thanks to arbitration
.
Last year, Abel was also
accused of wrongfully arresting a man
, and that incident was also sent to the Citizens Police Review Board.
Even so, he has long been one of the city's highest paid employees. According to the
Pittsburgh Business Times
, Abel was the
ninth highest-paid city of Pittsburgh employee in 2012
with a compensation of $145,490. This was just a few years after he was reinstated.
This also isn't the first time that a Pittsburgh Police officer who has been in hot water has been highly compensated. In 2016,
Sgt. Stephen Matakovich
punched a teenager at Heinz Field during an arrest captured on video, and he was eventually charged and sentenced. But in 2015, Matakovich earned $190,644 and was the seventh-highest paid city employee, according to TribLive. Matakovich earned $103,949 in premium earnings that year. Also, Sgt. George Kristoff, who is under investigation and was placed on paid leave for apparently
sharing racist memes
, made $109,341 in total compensation in 2019.
Act 111 of Pennsylvania says that police and firefighters are not allowed to strike, and so, their union contracts and other disputes with municipalities go to binding arbitration.
In June, Pittsburgh Mayor Bill Peduto
asked the General Assembly to amend Act 111
"to limit the scope of bargaining over disciplinary procedures or specifically limit a labor arbitrator's authority to modify disciplinary penalties." But, the Republican-led General Assembly hasn't been itching to amend the law, and police unions say they would want to amend the law so they could create the ability to strike.
And while Abel compensation is high (it's bigger than
Peduto's and city solicitor Yvonne Hilton's salaries
), it still doesn't crack the top 50 of highest paid public safety employees.
Abel has the 75th highest compensation among Public Safety employees in 2019. Nine employees made more than $200,000 last year, including one police officer. Many of the large earners among the police and public safety employees are sometimes doubling their salaries by earning a lot of premium pay.
About 130 public safety employees earned more than $50,000 in premium pay in 2019. For several employees, their premium earnings were higher than their base salaries. Peduto has said in the past that he wants to
cut down on overtime pay
by hiring more full-time staff, considering that premium pay is typically around 1.5 times that of base pay.
But, premium pay compensation has remained high over Peduto's term. In 2014, the city spent $42.1 million in premium pay. In 2016, premium pay totaled $44.4 million. And in 2019, it receded a bit, but still totaled over $43.4 million.
Through all this, any attempt to restrict premium pay for police officers has been met fiercely by the Fraternal Order of Police Lodge #1, the union representing Pittsburgh Police officers. In 2016, Pittsburgh
ended premium pay
for Pittsburgh Police officers who were suspended, which contributed to a
dust-up between Peduto and the FOP over contract negotiations
.
Eventually, the city and the FOP finalized a new contract this year, but the FOP was unhappy with the level of pay raises.
But, not all police officers in the area earn as much as Abel, and compensation can vary widely.
Rookie officers for the Pittsburgh Police earn a base salary of around $47,000, while some suburban departments pay their lowest-paid, full-time officers between $63,000 in Mt. Lebanon to $71,000 in Whitehall. But, according to the
Pittsburgh Post-Gazette
, some part-time officers in many hard-pressed municipalities make
less than $15 an hour
.
Pittsburgh City Council is currently in the process of holding
public hearings about the city's operating budget
, with a special emphasis on handling future cuts due to the coronavirus pandemic.
The full list of Pittsburgh Public Safety employee salaries is shown below.