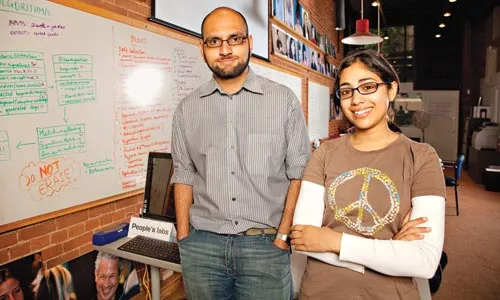 When Ayan Kishore began talking with a group of unemployed who had joined the Bail Out the People Movement's tent city during last year's G-20 summit, he didn't expect to hear one of the reasons many cited for their joblessness.
Choice.
About 25 percent of those interviewed by Kishore and a team of volunteers had been laid off. But the rest "were unemployed because they were dissatisfied with their previous job and in general had sort of lost ... any job being able to provide satisfaction," says Kishore, a Carnegie Mellon University graduate and co-founder of Oakland-based creative incubator People's Labs. "The big thing we heard? People said they didn't care that much about money."
The G-20 sampling may have been small, and not wholly representative of the unemployment situation faced by all those in the tent city, but it stood out to Kishore. And consider this: In January, a national survey by the private research group the Conference Board shows that only 45 percent of those surveyed are satisfied with their jobs, down from 61.1 percent in 1987 when the study was started.
"We've got a workforce today that seems pretty much dissatisfied, and it's not just because of the economy," observes Lynn Franco, director of the consumer-research center at the Conference Board.
"If you look at today's baby boomers and where they were at in the 1980s, they had a 60 percent or so satisfaction rate," Franco adds. "Now it's in the mid-40s. And the under-25 age group is at a 35 percent satisfaction rate. Fast forward 20 years from now and where are they going to be?" Dissatisfaction tends to lead to less productivity, she points out. "What does that do for the U.S. economy?"
What's more, Kishore found that online job-seekers tended to ignore government-sponsored employment centers like CareerLink to find jobs and training. Roughly three-quarters of people surveyed at the tent city reported that they used sites like Monster, CareerBuilder and primarily Craigslist to search for jobs.
Even then, though, many felt online employment-search websites were "overwhelming," says Maria Fei, a graduating CMU student and a volunteer with the G-20 research project. "In a sea of thousands of other applicants, there is so much uncertainty. I think a lot of people are frustrated. [Y]ou can use the Internet but there is so much info, you can't parse through it all."
With those challenges in mind -- and with additional research from the Small Business Administration and CareerLink in hand -- Kishore and People's Labs co-founder and CMU graduate student Geeta Shroff set out to tailor social networking to those looking for jobs. The research spurred the creation of Careerimp, which Kishore and Shroff hope will match jobseekers with employers more organically.
They envision Careerimp as an online community for jobseekers to "find other people like them, and also find employers that are relevant to them."
The system would work much like online dating sites: Users would input personal and professional information. Behavioral info would be gleaned from personality surveys, and users could see how many applied for a job, or talk to former employees who once held that position or each other.
Based on those findings, employers and jobseekers "who would naturally fit well together" would be recommended to one another, Kishore says. Kishore also believes the platform would benefit smaller businesses -- the first target of Careerimp -- to help them gain exposure.
Kishore and Shroff have already found a good fit for their own computer-engineering talents. They formed their company in January 2009 with the goal of starting an idea-incubator that allows people to research a social problem -- topics ranging from unemployment and homelessness to poverty and women's rights -- study it, then put potential solutions into action with support from the Labs. Careerimp is the project that is furthest along, but more are in the pipeline, including some based in India.
"We were really touched by the recession," Shroff says. While traveling in India, she saw firsthand the abject poverty some villages faced daily. Such realizations motivated her to put her background in computer science to use.
This summer, Careerimp plans to launch its first product, a résumé optimizer which allows users to input their work information. It then formulates a résumé to match any given job description, while whittling down the job information and matching it with human-resources filter words. Kishore plans to keep the product free for jobseekers -- he understands they lack income -- but plans to sell it to area universities, libraries and job centers.
The timing couldn't be better, as the economy tries to limp out of recession.
Allegheny County has an 8.2 percent unemployment rate, on par with the state's rate of 8.9 percent, according the Center of Workforce Information and Analysis. The national unemployment rate held at 9.7 percent, or about 15 million people, in March. And according to a recent Gallup poll, 20.3 percent of the U.S. workforce was underemployed.
That's enough for Bail Out the People, the tent-city organizers, to continue planning marches (including one May 8 in Washington, D.C.) and calling for a new Works Progress Administration public-jobs program like the one created in 1935 by President Franklin Roosevelt. Such moves are necessary when unemployment is at a "crisis level," BOTP organizer Cheryl LaBash says.
People's Labs has set more modest goals -- at least for now. The pair are starting locally, but hope to expand the social enterprise around the country and globally, spurring ideas for socio-economic development to do the most good.
"What drives us is the user and what they want," Shroff says. "We want to challenge the community around the world."