In the final minutes of Amir Bar-Lev's Happy Valley — a new documentary about the Penn State child-molestation scandal — the voice of Matt Jordan, a Penn State film professor, can be heard over footage of a throng of wild Penn State fans cheering for their team.
The scene takes place during the first home football game of the 2012 season, following the conviction of the team's former defensive coordinator Jerry Sandusky on 40 counts of child molestation that summer. Also in that time, several members of the university's administration had been fired and charged criminally; long-time coach Joe Paterno was fired and died three months later of cancer; students rioted; the NCAA hit the school with a massive punishment; and a new coach, Bill O'Brien, was installed in Happy Valley.
"For a year-and-a-half, people didn't know what to do around here," Jordan explains as dramatic music begins to play behind him. "The screaming crowd, what does it do with all that energy? It's looking for its next symbol to attach all that energy to. And now that there is one available — like a magnet — it's going to go there.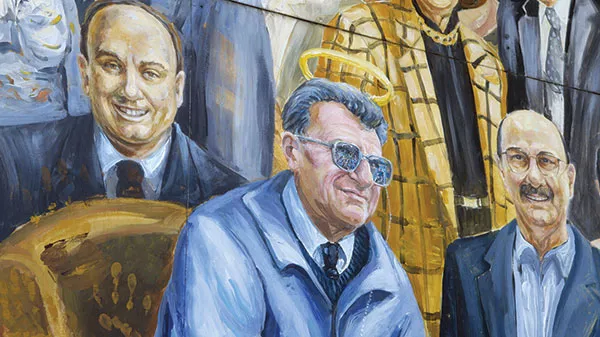 "You'd think they'd be less ready to anoint a new king after all that happened. We all want to think we live in a better world than we do, so people avoid taking a deep look at something that's troubling, and it's pretty easy to do when there's a big, shiny, loud spectacle. It's like a conjurer's trick."
As accurately as that statement describes what happened at Penn State University, it also describes what has happened at other times and is happening right now in the big-money world of college sports. It's also why I can say with almost certainty that what happened at Penn State — a scandal being covered up to save the sports program — will happen again somewhere else. Giving athletics a free pass is an institutional problem and Penn State is not the only institution that suffers from it.
The NCAA has a long tradition of hypocritical policies and of trying to pretend that the bad things that have happened in its organization never actually happened. Look at the Penn State scandal — Paterno was stripped of 111 wins between 1998 and 2011. That meant he was no longer the winningest coach in college football, and no longer held one of the NCAA's most prestigious records. And it's not the first time the NCAA tried to re-write history; many teams have been forced to vacate wins for various rule infractions.
In 2010, the NCAA ruled that former USC running back Reggie Bush received gifts while at the school. They stripped him of his Heisman trophy and removed his name from the record book. It's a convenient, tidy way to rewrite history without actually correcting core behaviors.
It's true. Look around college football today. Florida State quarterback Jameis Winston, one of the game's most recognizable stars, has been at the center of several behavioral and allegedly criminal issues since his college career began just last year. A sophomore, Winston has been accused of sexual assault and shoplifting, in addition to behavioral issues. In a game last weekend, for example, he pushed a referee twice. And in that time, through all those accusations, Winston has missed exactly one game, after he stood on a table in FSU's student center and yelled obscenities; it should be noted that that suspension came from the school, not the NCAA.
He's not likely to miss any games going forward. Penn State's Jordan sums it up best in Happy Valley: "How can the NCAA be shocked by the reverence of football when that is the thing their advertising campaign promotes? The NCAA makes 500 million a year because of the reverence of football."
If you have a chance next week, check out Happy Valley for yourself. But don't worry if you miss it, because on some campus somewhere in this country, the sequel is probably already being written.