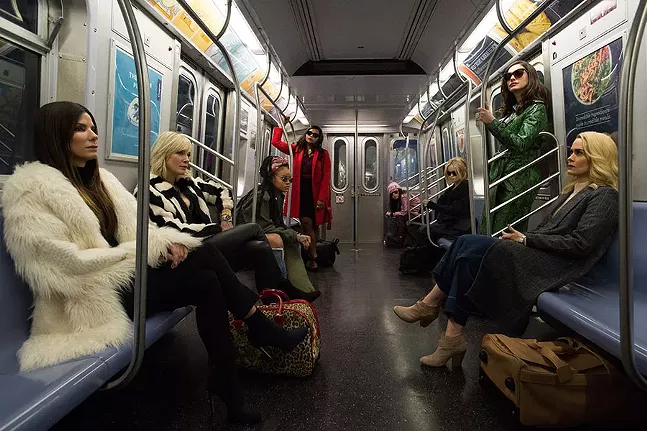 Gender-swapped remakes and reboots are not necessary and don't advance the culture of gender equality on screen or behind the scenes.
As hungry as I am for more women's stories on screen, I don't have to like every bone that's thrown to us. There's a moment midway through
Ocean's 8
, the all-female continuation of the very male
Ocean's
trilogy, where the characters address the fact that the cast pulling off a massive jewelry heist is entirely female.
"A him gets noticed, a her gets ignored," says Debbie Ocean (Sandra Bullock), noting that crime is a rare case where women's invisibility is an advantage. It's a good joke that hurts a little if you think about it too hard. Women can do anything men can, including pull off mass burglary and look good doing it. The movie is the logical extreme of commodified female empowerment. It's a reminder that movie studios can say they stand for gender equality on the surface while actually hindering its advancements behind the scenes, and audiences will still throw money at them. And I won't blame them, because
Ocean's 8
is extremely fun.
Debbie (sister of George Clooney's Danny Ocean of the earlier franchise) is eager to get back in the heist game after five years in jail, having spent her time behind bars perfecting a plan to steal a diamond necklace worth millions of dollars. The necklace has been locked in a vault for 50 years, but this isn't a problem because they will steal it off the neck of starlet Daphne Kluger (Anne Hathaway) at the Met ball. Debbie's first contact out of jail is best friend Lou (Cate Blanchett), a leather-pants-wearing nightclub owner and motorcycle rider.
Knowing the expertise needed to pull the whole thing off, a team of women is quickly assembled.
They get Rose (Helena Bonham Carter), a fashion designer on the run from the IRS. They grab Amita (Mindy Kaling), a skilled jeweler and Met Ball enthusiast, and Constance (Awkwafina), a charismatic card swindler with an expert sleight of hand. Tammy (Sarah Paulson) is a former criminal turned housewife, turned bored housewife who misses crime, and Nine Ball (Rihanna), a chill hacker often smoking fat joints.
Everyone is perfectly cast, playing a heightened, skewed version of their real-life selves. Bullock and Blanchett have such great chemistry that, despite every elaborate and far-fetched scheme they plan, the only unbelievable part of the movie is that they are not a couple. Only Bonham Carter feels like she's not pulling her weight and seems bored playing yet another kooky lady in funny hats. When joining the heist team, one of the women says they wanted in because they never really had female friendships. It puts a funhouse mirror up to every discussion of the importance of women and female friendships on screen, without condescending the topic. It feels current and modern without an obvious desperation to connect to the youth.
Mostly, the movie doesn't say anything deeper than "wouldn't it be fun if a bunch of women in amazing outfits stole a shitload of diamonds right under Anna Wintour's nose," and it doesn't need to. Every time a man has tried to talk to me about
Ocean's 11
, my eyes start to glaze over, because how many movies about men committing crimes am I supposed to care about? At least this time, I know I'm the exact target audience.
There is another line, as the women are prepping for the heist at hand, and leader Debbie tells the group that somewhere out there is a little girl dreaming of becoming a criminal. At the very least, there are little girls out there dreaming of seeing themselves on screen, in a black stealth outfit, having the time of their lives.