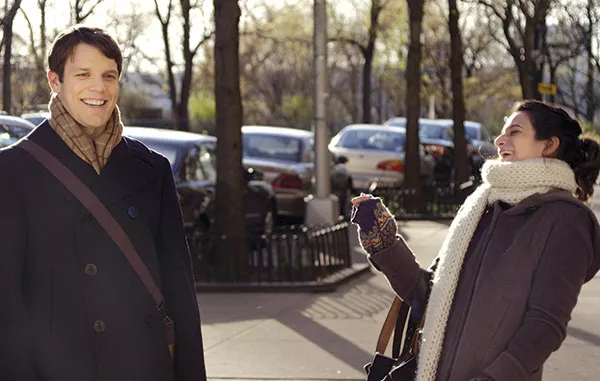 In Gillian Robespierre's sweet, offbeat rom-com Obvious Child, aspiring standup comedian Donna (Jenny Slate) is unceremoniously cut loose by her boyfriend in the nightclub's unisex toilet. ("Stop looking at your phone while you're dumping me.") Later that night, Donna meets Max (Jake Lacy), who's not really her type — he's wearing Topsiders in winter. Still, they enjoy a drunken hook-up during which Donna gets pregnant, and later she has an abortion. Because that happens.
But this hot-button issue is the catalyst for the film's larger narrative, a sometimes raunchy, rough-edged but heartwarming coming-of-age story about a bright but unfocused twentysomething. It's a journey that involves parents, friends, work, romantic relationships and, yes, Planned Parenthood. The punny title comes from the bouncy Paul Simon tune, and refers not only to the pregnancy but also to Donna's transitional state, as much a girl as woman. Set among chattering bohos of Williamsburg, Brooklyn, comparisons to Girls will be inevitable, but Robespierre's characters are warmer and more normally flawed.
Onscreen this summer, we will see men fight aliens, be James Brown and pretend to be cops. Entertaining, if highly unusual events, but finally, there's a no-drama, frequently funny and subversively informative film about a common fact of modern American life: Lots of women have safe, legal abortions.
While not a polemic, Obvious Child breaks the taboo of simply talking about abortion in a matter-of-fact manner, which in its own way is a political act; Donna understands this power of acknowledgement, and speaks openly about her decision with her bestie (Gaby Hoffman), her mom (Polly Draper) — who has her own unique historical perspective — and even her nightclub audience.
Unplanned pregnancies are standard fodder in films and television stories, and in the more self-consciously "modern" tales, abortion is presented as an option — before being rejected. (TV's Friday Night Lights was the rare recent exception.) Sure, pro-lifers will hate this film, but let them spend the summer adding up all the zillions of other onscreen "deaths," before watching Knocked Up again. (Same set-up, decidedly less-typical outcome.) Folks who want to see amusing and provocative movies about relevant real-life topics can start here.