One Day in Town
Home to the universities and hospitals that replaced steel mills as the city's main job-creators, Oakland encapsulates Pittsburgh's past and future. Filled with college students from the University of Pittsburgh, Carnegie Mellon and Carlow universities during the academic year (but more tranquil during the summer), Oakland has a college-town-within-a-city vibe.
Start at the Carnegie Library (4400 Forbes Ave., 412-622-3114), the flagship branch of the region's library system, nestled between Schenley Park and the University of Pittsburgh. A gift from steel tycoon Andrew Carnegie and opened in 1895, the building has some incredible architectural features, including the names of Carnegie's favorite thinkers engraved under its upper windows.
Next door you'll find the conjoined Carnegie Museums of Art and Natural History (4400 Forbes Ave., 412-622-3212). The art museum, one of the first in the world to prominently feature contemporary work, includes everything from sculpture and architectural casts to photography, including a collection of thousands of images from legendary Pittsburgh photographer Charles "Teenie" Harris. The family-friendly natural-history museum exhibits an impressive collection of original fossils (yep, they have a T. Rex) that immerse you in the lives of the creatures that roamed the earth 65 million years ago. A single admission gets you into either museum, so be sure to leave plenty of time to explore.
When you're ready for the outdoors, wander over to Schenley Park, whose 456 acres include a public golf course, swimming pool and playground. The focal point is Flagstaff Hill, where you can join a pickup game of Frisbee, drop by a film during the summer Cinema in the Park series, or just enjoy the view of Oakland from afar.
For dinner, it's worth the hike to North Oakland to Legume (214 N. Craig St., 412-621-2700), a more upscale haunt that will satisfy both conventional and more sophisticated palates. And while it has a bit of a white-tablecloth vibe, feel free to hang for some casual fare or a craft cocktail at the adjoining Butterjoint.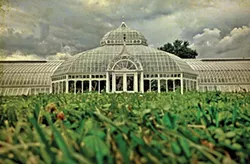 Food
Ali Baba Restaurant. This neighborhood favorite has been dishing up Middle Eastern fare in a warm, casual atmosphere for more than 40 years. 404 S. Craig St., 412-682-2829
All India. With more than 200 items spanning India's varied cuisines, traditionalists and adventurers alike will be happy. 315 N. Craig St., 412-681-6600
Bangal Kabab House & Restaurant. This Indian restaurant offers kebabs, curries and rice dishes, as well as a dazzling array of breads. 320 Atwood St., 412-605-0521
Chick'n Bubbly. This hole-in-the-wall joint might convince you to live on crispy, spicy Korean-style chicken wings and bubble tea. 117 Oakland Ave., 412-863-7741
Conflict Kitchen. It might look like a glorified cart, but Conflict Kitchen has a social-justice bent: The rotating menu is drawn from countries with whom the United States is currently in conflict. 221 Schenley Drive, 412-802-8417
Eat Unique. If you need to feed a group that includes vegetarians, vegans and carnivores, this fresh sandwich spot will satisfy everyone. 305 S. Craig St., 412-683-9993
Fuel & Fuddle. Just what college kids and their visiting parents need: wood-fired pizza, burgers, wings and beer in a fun, gastropub-like setting. 212 Oakland Ave., 412-682-3473
Lucca. This Italian institution features an updated, pan-Italian selection focused on pastas and seafood, with very little in the way of red-sauce standards or the Northern Italian clichés. 317 S. Craig St., 412-682-3310
Lulu's Noodles. This pan-Asian diner is rightfully popular with students. The menu offers a variety of soups, stirfrys and noodle dishes, the prices are economical, and service is fast. 400 S. Craig St., 412-687-7777
Mad Mex. This is the tiny corner spot that started the popular local chain of Cali-Mex-inspired restaurants, replete with its signature kooky menu. 370 Atwood St., 412-681-5656
Red Oak. Stop in for a salad or sandwich, especially if you are in a rush. And yes, the rotating "Blue Plate Special" is always worth it. 3610 Forbes Ave., 412-621-2221
Bars and Clubs
Bootleggers. Karaoke, friendly bartenders, reasonably priced drinks. A good stop on the Oakland bar hop. 403 Semple St., 412-488-2668
Gene's Place. A smoky hole-in-the-wall worth visiting. Cheap drafts often served by the bar-owner and local institution, Gene Nay. 3616 Louisa St., 412-682-2158
Hemingway's Café. Laid-back during the day and full of shot-pitcher-drinking students at night. 3911 Forbes Ave., 412-621-4100
P-Town. Gay dive bar with dancers, cheap drinks and darts. 4740 Baum Blvd., 412-621-0111
Peter's Pub. The closest thing to being in a frat house ... outside of a frat house. Great for beers, 21st birthdays and some dancing. 116 Oakland Ave., 412-681-7465
Uncle Jimmy's. A down-to-earth home-away-from-home with darts, pool and cheap drinks. 418 Semple St., www.unclejimmyspgh.com
Arts and Culture
PICT Classic Theatre. Established stage troupe ranges from Shakespeare to contemporary work from the British Isles, usually in the Stephen Foster Memorial. www.picttheatre.org
Phipps Conservatory and Botanical Gardens. Its seasonal and semi-permanent displays of flora have charmed generations of Pittsburghers; the environmentally conscious institution recently constructed one of the world's figuratively greenest buildings: its Center for Sustainable Landscapes. Schenley Park, 412-622-6914
Pittsburgh Arts & Lectures. Big-name authors — George Saunders, Elizabeth Gilbert, James McBride — are the main draw on a year-round slate of talks. 4400 Forbes Ave., 412-622-8866
Pittsburgh Playhouse. Venerable complex houses four respected Point Park University troupes: professional theater company The REP; the Conservatory Theatre Company, showcasing student performers; the Conservatory Dance Co.; and children's-theater outfit Playhouse Jr. 222 Craft Ave., 412-392-8000
Music
Carnegie Music Hall. Part of Oakland's Carnegie Museums, this ornate theater has an intimate feel and plays hosts to a range of notable artists throughout the year. 4400 Forbes Ave., 412-622-3131
Shopping
Bombay Food Market. Perhaps all the Indian restaurants nearby have sparked a desire to try your own hand at the cuisine. Find everything you need — from flours to spices — at this import grocery. 4605 Centre Ave., 412-687-7100
Caliban Book Shop. In the heart of Oakland and with over 40,000 titles, Caliban is the neighborhood's go-to used bookstore. You'll also find rare books, and zines by local authors. 410 S. Craig St., 412-242-9040
Irish Design Center. Treat yourself to an artfully crafted piece of the Auld Country — from Irish woolens (sweaters, caps, car blankets) and pottery to jewelry and knick-knacks. 303 S. Craig St., 412-682-6125
Iron City Bikes. Whether you're looking to tune up an old bike or buy a brand-new one, Iron City's got you covered. 331 S. Bouquet St., 412-681-1310
Nationality Rooms Gift Center. From Russian nesting dolls to love spoons from Wales, this gift shop's ever-changing collection reflects the cultures celebrated in the Cathedral of Learning's nationality rooms. 4200 Fifth Ave., (Cathedral of Learning first floor), 412-624-6000
Phantom of the Attic. In this appropriately named second-floor space, you'll find a range of comics, graphic novels and collectibles; check out its assortment of games across the street. 411 S. Craig St., 412-621-1210
Top Notch Art Supply. From pencils to stretched canvas, Top Notch's almost 10,000-item art-supply inventory is sure to satisfy novice and expert artists alike. 411 S. Craig St. 412-683-4444