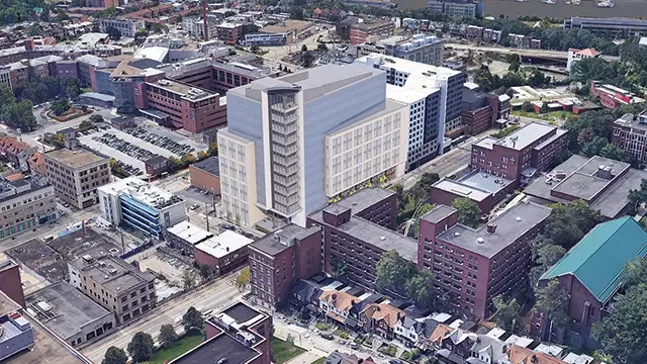 Travel into Central Oakland along Forbes Avenue and see an onslaught of new construction along the historic corridor. An oversized SkyVue building acts as something of a gateway, but not advantageously, as it crowds both the sidewalk and the skyline with its 14-story bulk. Though applauded by key community groups for its needed residential capacity and approved through the dutiful processes of zoning and planning, it's still a discordant collision of ill-considered architectural motifs in cheap materials. None of these processes placed effective demands for real architectural quality.
Can Pittsburgh and Oakland do better?
With a new proposal for a mixed-use office building at Halket Street between Forbes and Fifth in Oakland adjacent to SkyVue, Walnut Capital is promoting design excellence as a desired feature rather than something to be avoided. In a Jan. 23 community meeting organized by Oakland Planning and Development Corporation (OPDC), principal developer Todd Reidbord affirmed, "We believe that we can design a better building, a more attractive building, one that creates more open space, [is] more people-friendly at the lower levels." He was referring to development generally, not one specific example, but observers could hardly ignore the adjacent behemoth.
The catch, not uncommonly for a booming market, is that the developers want three major zoning variances to make the proposed structure work. While current regulations limit buildings to 120 feet in height, Walnut Capital wants to build to 185 feet. Even with a profile that steps back in its upper stories, the building would still be 60 percent bulkier than current regulations allow, with a floor-to-area ratio of 10:1 rather than the current 6:1 limit. Lastly, it would have 100 parking spaces, when current rules stipulate a minimum of 347. The building would have 280,000 square feet of rentable office space in 11 stories of offices (which are typically higher the residential floors), as well as up to 7,000 square feet of small retail storefronts on Fifth Avenue, to be stewarded by OPDC.
Though no tenants announced or signed, Reidbord noted that the vitality of Oakland's Innovation District justifies the planned office capacity. He commented that the reduced parking capacity, which numerous attendees lamented, is less of a concern for the transit and pedestrian intensive corridor. "It's not possible to build parking for everyone who is going to work here. Nor would we want to."
Meeting attendees expressed skepticism. Lifelong Oaklander Carlino Giampolo said, "You should have more compassion for our community. I don't see any benefits for the long-term residents." Others were more specific. Another longtime resident expressed dismay at the loss of historic residential architecture on Fifth Avenue.
Reidbord deflected to the new design, touting additional height as the chance for "a feature tower that will be kind of a landmark, so you know where you are going, but at the same time, it will respect the existing scale."
The three major zoning variances are on the Zoning Board of Adjustment hearing agenda for Feb. 7. Tim Schooley notes in the Pittsburgh Business Times that Walnut Capital has had good luck in getting substantial variances of this kind in its Bakery Square projects.
Still, the building is still at least a year away from starting construction, says Reidbord.
The current designs, by Strada Architecture, reflect a very early stage of the process for zoning purposes only. Says Reidbord, "We'll go back to the planning commission for a totally separate process for the façade, the glass, the open space requirements, the street level retail, all that kind of stuff."
Subsequent stages will determine if the development team and architects are seriously considering best design practices from competitive cities or just paying lip service to whatever drawings will get the project past the necessary review boards.
Is this design, though even taller than SkyVue, better in its slimmer profile? Reidbord believes "it's a more attractive building for the entire community," but he does not have a consensus. Said longtime resident Elana Zaitsoff, "… you threaten us with this ugly building. It's insulting."
The verdict will come from the people who engage in the process and comment publicly on the designs that they see before the building is completed, rather than wondering, after it is done, whether more public input could have made it better.
[Editors note: Zaitsoff tells CP, "Mr. Reidbord said that if they were to build a building not requiring variances, it would perhaps be rectangular and without the setbacks given in the proposed building. THAT is when I said, 'You threaten us with this ugly building. It's insulting.' The 'ugly' reference was to the threatened rectangular building and the insult was the veiled threat of 'give us these variances or we'll give you an ugly building.'"]