The name alone of the borough of Blawnox has an interesting history. Two hundred years ago, it was called Hoboken. But the Blaw Steel Company's acquisition of the Knox Welded and Pressed Steel Company created an entity so mighty, it effectively became synonymous with the town. In 1917, Hoboken became Blawnox in name as well as in workforce, with the "k" dropped for clarity.
The name has been abbreviated even further in the nomenclature of Nox's Tavern and Grille. A sly cartoon fox, incorporated into the logo, not only rhymes, but signifies the mascot of the Fox Chapel school district, which the borough's children attend. The name is punny, too. The establishment's website proclaims, "Welcome to Nox's … where we strive to be 'Nox your ordinary tavern.'"
Nox's strives, and it succeeds. Just one of the ways in which it's not an ordinary tavern: Nox's is owned and run by a pair of women, industry veterans Brittany Schaffer and Jennifer Carrozza, who took over a former corner bar a block off the main drag last year. It's small in size — just one room, plus an enclosed outdoor patio — and clad in corrugated steel, with stainless-steel tabletops for a vibe that's both no-nonsense industrial and frankly modern. Other than that, Nox's isn't working any theme other than good food and drink.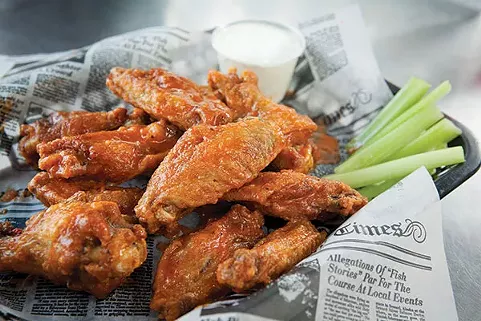 Nox's menu is short and simple, focused on wings and burgers, a.k.a. "steamers" — more on those in a minute — and augmented by monthly specials that are interesting, seasonal and fun. For instance, during November you can enjoy a burger with stuffing and gravy, or the Thank-Roll, an egg roll with Thanksgiving dinner rolled up inside, served, of course, with gravy for dipping.
We thought the Thank-Roll was pretty great. Mashed potatoes and stuffing together approached starch overkill, but bright, firm kernels of corn offered textural variety and the wrapper was beautifully cooked. Our only complaint was that the turkey seemed scant in the filling. But in bites where it played forward, the roll really did taste like a complete dinner, and the gravy was a star. Non-homemade gravies tend to taste strongly of artificial flavor, what honest flavor they have compromised by thickener. Nox's gravy was plenty thick, maybe even too much so, but we loved that its true turkey flavor came through.
Another seasonal sandwich, the turkey melt, highlighted the kind of wonderful lunches and light dinners that can be made with leftover Thanksgiving turkey. Here, bacon upped the savory ante, melted provolone slathered the meat with creamy richness, and sriracha mayo added a welcome jolt of piquancy in this tasty update of a club sandwich.
Pulled pork on a Kaiser roll was another superb sandwich. Some of the pork was finely shredded, but hearty chunks among the shreds were the hallmark of a hand-pulled shoulder. The barbecue sauce was sweet, but had some kick as well, deftly countered by the creamy cole slaw on top.
Burgers at Nox's are called "steamers," like the steamed patties that are treasured traditional specialties at some Connecticut diners. Steaming usually works best with smaller patties, but Nox's are a full eight ounces. Ours was super-juicy, but despite its clean, beefy flavor, we ultimately still missed the charred, seared crust of a griddled burger. On the side, housemade potato chips were thick, hearty and delicious. Such thick chips often burn or are unevenly cooked, but these were uniform and satisfying.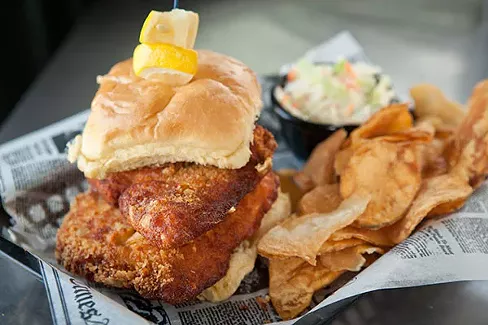 Nox's has a long and interesting list of wing flavors. We went safe with the house sauce, as well as adventurous with the special sage-lemon-honey-butter option. The wings were on the small side, and so not very meaty. But they had a great crispy crust, the better to support the sauces. House sauce would be best described as a lighter version of classic buffalo sauce, not exactly spicy but plenty zingy. The sage-honey-lemon-butter sauce was too heavy on the sweet, syrupy honey for our tastes; bright lemon and aromatic sage were almost canceled out.
Nox's Tavern and Grille is a modern update on the mill workers' corner bar in the former steel town of Blawnox. With its contemporary decor and thoughtful menu of well-prepared sandwiches, steamers and seasonal specials, Nox's earns its pin on the map of local gastropubs.