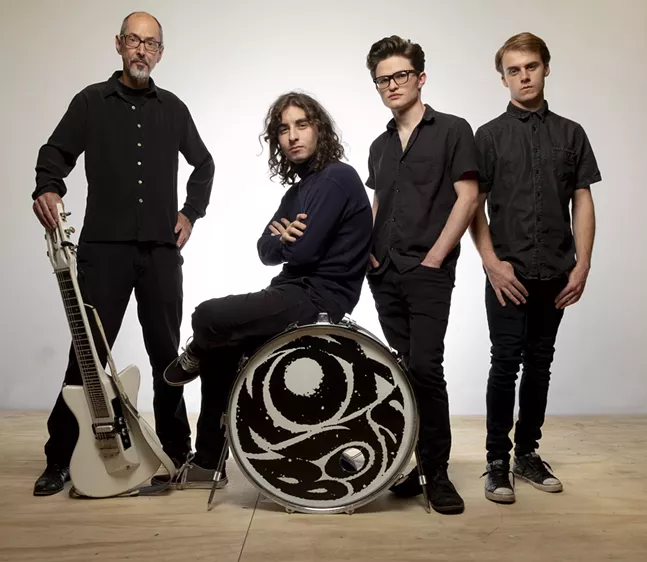 Despite what the title of Nox Boys' newest album, Out of Touch, may suggest, the garage-punk band seems pretty thoughtful, in tune, and aware these days. Here, the band's trademark mix of psychedelia, pop, and punk sounds as mature and sure-footed as it ever has.
Today, three out of the four band members are under the age of 25, and when Nox Boys released its self-titled debut album in 2014, those three members — Zack Keim (guitar/vocals), Zach Stadtlander (bass guitar), Sam Berman (drums) — were still in high school. (Stadtlander left the following year, Mitch McDermott is on bass in the current lineup.) While music from most teenage rock bands is unpolished, flush with harsh switch-ups and slightly off-key notes, Nox Boys brings a sophisticated sound that's full of energy, yet tight.
Out of Touch opens with the title track, "written as an outlet for the frustrations of growing up in today's political climate and circumscribing a pathway of your own," before sliding into "Fire In Her Eyes," a spicy track about a sultry, badass woman. The release mixes psychedelia, pop, and punk elements to make a true garage punk album seemingly plucked from the '60s or '70s.
The nod to the past may partly be thanks to Nox Boys slide-guitar player Bob Powers. A local music veteran, Powers was a frequent sideman to the late Pittsburgh guitar hero Warren King, a member of Diamond Reo, The Silencers, and the Mystic Knights of the Sea.
The album features special guest appearances and production by Gregg Kostelich (The Cynics/Get Hip Records) and was engineered by Pete Drivere (Blue Ash/Deadbeat Poets/Infidels). Most of the songs were done in one take.
On Fri., May 17, Nox Boys celebrate the release of Out of Touch with a party/show at Mr. Smalls Theatre. Pet Clinic, Josh Verbanets, and Max T (Attic Record Store Pittsburgh) join the festivities. As part of the event, the band is teaming up with Spare Change, a music video charity that uses busking to raise funds on behalf of local nonprofit The Education Partnership, which provides school supplies for students and teachers in low-income schools throughout Southwestern, Pa. Spare Change will be releasing the episode this fall, so bring change to be featured in the video.
The 412 is CP's new music section where you can get local band/musician updates and fun, random tidbits of information all in one. These answers are from the whole band.
412
4 Qs About Traveling
How do you pass time when on the road?
Browse Tinder while passing through random rural farm towns.
What's a road-trip essential?
Remote back massager.
Which members sleeps the most when on tour?
Sam.
Who always overpacks?
Zack.
1 Q About Music
Favorite song to listen to in the shower?
"Fur Elise" - Beethoven
2 Qs About Television
Most underrated tv show?
The Twilight Zone.
Show you binge on a sick day?
Curb Your Enthusiasm.