There are so many ways to watch things these days, but watching a movie on the big screen is still the best form, so to help keep track of what's playing, every Friday,
Pittsburgh City Paper
will compile a round-up of new releases and second-run films playing around the city. This only covers films that are new to theaters this week; check out what movies opened last week
here
.
The Manor Theatre
Hustlers
Directed by Lorene Scafaria
A stripper revenge/friendship dramedy about dancers (JLo, Constance Wu) who scam their greedy Wall Street clients after the 2008 market crash. Read our review
here.


The Goldfinch
Directed by John Crowley
Ansel Elgort stars as a young man who loses his mother in a bombing at the Met. He holds on to a surviving painting throughout the chaotic course of his life.
Directed by Rob Epstein and Jeffrey Friedman
The documentary follows the country-rock queen from her early days, throughout her robust career, to her early retirement due to an illness that took away her voice.
Official Secrets
Directed by Gavin Hood
Keira Knightley plays a British whistleblower who leaked info on a U.S. spy operation, based on a true story. Very British cast.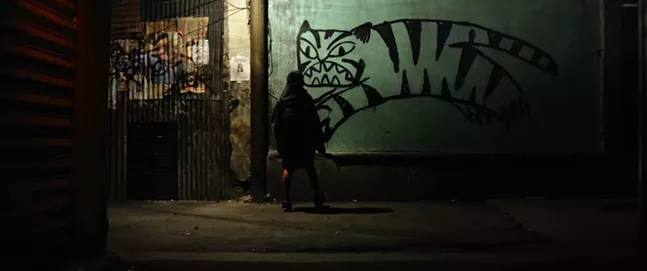 Tigers Are Not Afraid
Directed by Issa López
A horror-fantasy steeped in magical realism that follows a group of young orphans trying to survive the brutality of the Mexican drug war. Read our review
here.


Harris Theater
Putney Swope
Directed by Robert Downey Sr.
Wed., Sept. 18
In the 1969 comedy, the only Black man at an advertising firm is accidentally voted president and turns the company on its head.
Directed by Mamoru Oshii
The original 1995 anime about a cyborg policewoman who hunts a hacker called the Puppet Master. Sorry to disappoint, but this is not the live-action remake where Scarlett Johansson does racism.
The Girl Who Leapt Through Time
Directed by Mamoru Hosoda
A teenager uses her time-traveling abilities to her own advantage, without realizing it's affecting the lives of those around her.
Rangos Giant Cinema
A Clockwork Orange
Directed by Stanley Kubrick
Fri., Sept. 13-Sat., Sept. 14
I think this is a fun comedy about a clock that is orange?