Every Friday,
Pittsburgh City Paper
compiles a round-up of new releases and second-run films playing around the city. This only covers films that are new to theaters this week; check out what movies opened last week
here
.
Since it's October, there are literally dozens of horror/spooky movies playing around the city. They're not all listed here, because we made a horror movie guide ranked by scariness
here
.
First Love
Directed by Takashi Miike
Everyone says you never forget your first love, but that's especially true if you find your first love accidentally, on the street, just as she's become the target of a yakuza heist, and now have to save her and yourself.
Opens at Regent Square Theater, 1035 Braddock Ave., Regent Square. cinema.pfpca.org
Zombieland: Double Tap
Directed by Ruben Fleischer
Ten years ago, the horror-comedy film
Zombieland
, about a rag-tag team of humans fighting off zombies across America, was released with relative success and critical acclaim. In the year 2019, we finally (??) have the sequel. The good (?) news is the original cast is back in full, except now they're 10 years older and living in the now-abandoned White House.
Opens at the Manor Theatre and major theaters.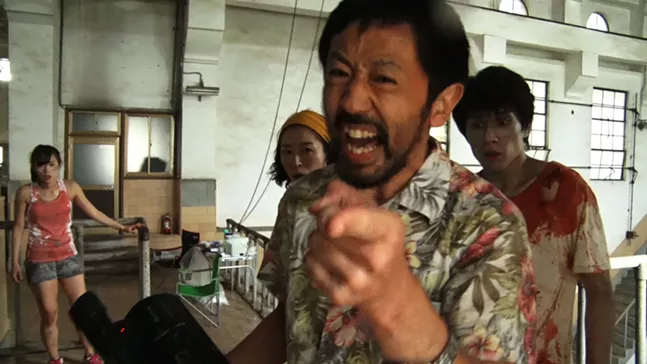 One Cut of the Dead
Directed by Shin'ichirô Ueda
The zombie comedy was made for $25,000 and used non-professional actors. In it, a filmmaker trying to create a zombie film walks off set, leaving the actors to be the targets of a real zombie attack.
Opens at the Parkway Theater, 644 Broadway Ave., McKees Rocks.communityreelartscenter.org
Maleficent: Mistress of Evil
Ah, splendid, another sequel! Honestly I could not decipher the plot of this movie or sum it up in a way that makes sense, but it involves Angelina Jolie as Maleficent and Michelle Pfeiffer as someone named Ingrith. There are also characters named Thistlewit and Lickspittle.
Opens at major theaters.
Midsommar
Directed by Ari Aster
If you missed this haunting cult favorite (literally and figuratively) over the summer, you can still catch it in theaters. The horror film follows a group of grad students who travel to Sweden for a summer festival, which is slowly revealed to be packed with violent and disturbing traditions.
Opens at Row House Cinema, 4115 Butler St., Lawrenceville. rowhousecinema.com