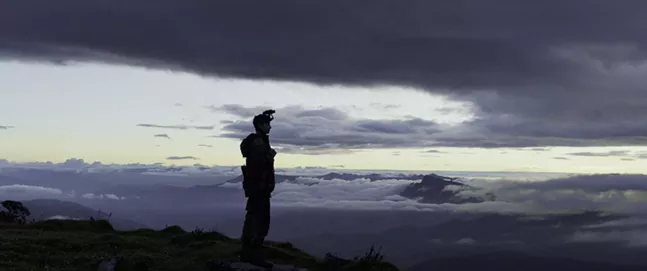 Every Friday,
Pittsburgh City Paper
compiles a round-up of new releases and second-run films playing around the city. This only covers films that are new to theaters this week; check out what movies opened last week
here
.
Since it's October, there are literally dozens of horror/spooky movies playing around the city. They're not all listed here, because we made a horror movie guide ranked by scariness
here
.
Monos
Directed by Alejandro Landes
Starring Julianne Nicholson and Moisés Arias
A group of young guerilla soldiers living on a remote mountain in South America capture and keep watch over an American hostage. They engage in cult-like rituals and have a strong familial bond, but the group is threatened when the hostage tries to escape. The film has been noted for its sweeping cinematography of the jungle landscape.
Opens at the Harris Theater, 809 Liberty Ave., Downtown. cinema.pfpca.org
Gemini Man
Starring Will Smith and Will Smith
Directed by Ang Lee
When a middle-aged hitman is hunted by another assassin, he is shocked to learn his hunter is a younger clone of himself. Will Smith plays both the middle-aged assassin and the young assassin, using some excessive CGI.
Opens at Southside Works Cinema, AMC Waterfront, and other major theaters.
The Addams Family
Directed by Conrad Vernon and Greg Tiernan
Starring Oscar Isaac, Charlize Theron, Finn Wolfhard, Better Midler, and Snoop Dogg??
America's favorite goth family is back for another revival, only this time, in cartoon form. No one really asked for this – actually a lot of people on the internet did ask a mustachioed Oscar Isaac to play Gomez Addams, but they meant in live-action form. It seems unnecessary, but can you really have too much Wednesday?
You can catch The Addams Family at Dependable Drive-In on Sat., Oct. 12 at 7:30 p.m. for their Trunk or Treat event. Visit the website for more info. Also opens at Southside Works Cinema, AMC Waterfront, and other major theaters.
El Camino: A Breaking Bad Movie
Directed by Vince Gilligan
Starring Aaron Paul
In case you forgot,
Breaking Bad
ended in 2013 with its underdog Jesse Pinkman (Aaron Paul) freshly escaped from his life as a captive meth cook for white supremacists. The movie catches up with him in the aftermath as he comes to grips with his past and his future. Walter White is not in it because he is dead.
Streaming on Netflix starting Oct. 11, but it will also screen in theater Oct. 11-13. Southside Works Cinema, 425 Cinema Drive, South Side. clevelandcinemas.com


The Creature of the Black Lagoon 3D

The monster-horror classic follows a group of scientists trying to uncover whether or not mysterious animal remains are sign of a new kind of an undiscovered creature. Though it premiered in 1954, it was originally released in 3D as part of the first wave of the technology's popularity.
Oct. 11-13
.
Rangos Giant Cinema, 1 Allegheny Ave., North Side.
carnegiesciencecenter.org