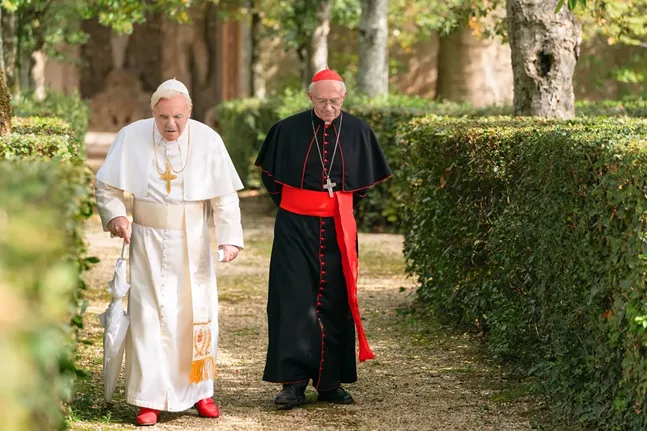 Every Friday,
Pittsburgh City Paper
compiles a round-up of new releases and second-run films playing around the city. This only covers films that are new to theaters this week; check out what movies opened last week
here
.
The Two Popes
Isn't one pope enough? In this biopic, Pope Francis (Jonathan Price) and Pope Benedict (Anthony Hopkins) discuss the future of the Catholic church as the Vatican prepares to change hands. Who knows what they talk about, because the Catholic church is such a frictionless institution. It will also be released on Netflix on Dec. 20.
Now playing at The Manor Theater, 1729 Murray Ave., Squirrel Hill. manorpgh.com
In Fabric
We've all bought clothes that later turn out to be a mistake, but nothing compares to the red gown Sheila (Marianne Jean-Baptiste) purchases in the horror film
In Fabric
. The garment first gives her a rash, then breaks her washing machine, then begins to haunt her entire life. The worst part is, she can't return it!
Now playing at Harris Theater, 809 Liberty Ave., Downtown. cinema.pfpca.com
Richard Jewell
When security guard Richard Jewell discovered a bomb in a backpack at the 1996 Atlanta Olympics, it set off a chain of events beyond his control. He was hailed as a hero, then a suspect, then put through the wringer by various media outlets, despite eventually being proven innocent. In Clint Eastwood's movie, Jewell is rightfully a hero but also slanders the name of real-life journalist Kathy Scruggs by implying she traded sex with an FBI agent for information. Scruggs is dead, so she can't defend herself, but her newspaper has!
Now playing at Southside Works Cinema, AMC Waterfront, and MovieScoop Waterworks Cinema.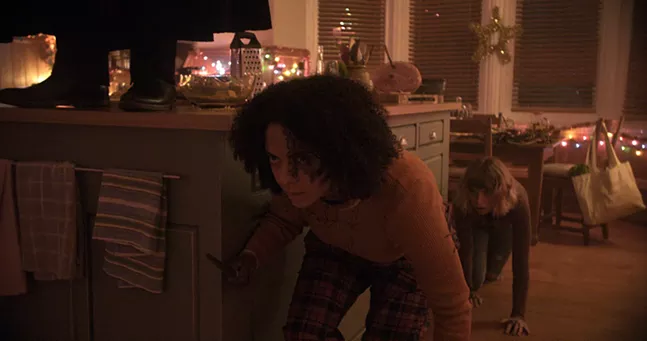 Black Christmas
Every holiday deserves its own horror movie because every holiday is, in a way, a horror.
Black Christmas
, a remake of a 1974 slasher of the same name, involves a group of murdered sorority sisters, and the survivors who fight back.
Now playing at Southside Works Cinema, AMC Waterfront, and MovieScoop Waterworks Cinema.
The Fettermans present
It's a Wonderful Life
Switch up your annual viewing of the Christmas classic by seeing it on the extra-big screen, presented by Lt. Gov. John Fetterman and Second Lady Gisele Fetterman. Personally, I would love to see Fetterman do his best Jimmy Stewart impression.
3 p.m. Sat., Dec. 14. One Allegheny Ave., North Side. carnegiesciencecenter.org
Die Hard
etc.
Did you know that
Die Hard
is actually a Christmas movie? Probably, because fans bring it up every, single year. Catch the action film, along with other alternative holiday favorites like
Krampus
and
The Muppet Christmas Carol
, at Row House Cinema.
4115 Butler St., Lawrenceville. rowhousecinema.com