Every Friday,
Pittsburgh City Paper
compiles a round-up of new releases and second-run films playing around the city. This only covers films that are new to theaters this week; check out what movies opened last week
here
.

Queen and Slim
Love on the run stories are usually about romance of a white couple interrupted/bound by a crime spree. Queen and Slim puts a twist on the genre when a young couple (Daniel Kaluuya and Jodie Smith-Turner) is pulled over by a cop, and shoot him when the situation escalates. Now they're on the run, but it's a symbol for so much more.
Now playing at Southside Works Cinema and AMC Waterfront.
A Beautiful Day in the Neighborhood
This movie built for both lifelong fans of Fred Rogers and his show as much as it's built for non-believers. It stars Tom Hanks as Rogers and Matthew Rhys as a world-weary journalist interviewing Rogers. It could have been corny and overwrought, but instead, it manages to cut the sweetness with enough reality. Read our full review
here
.
Now playing literally everywhere.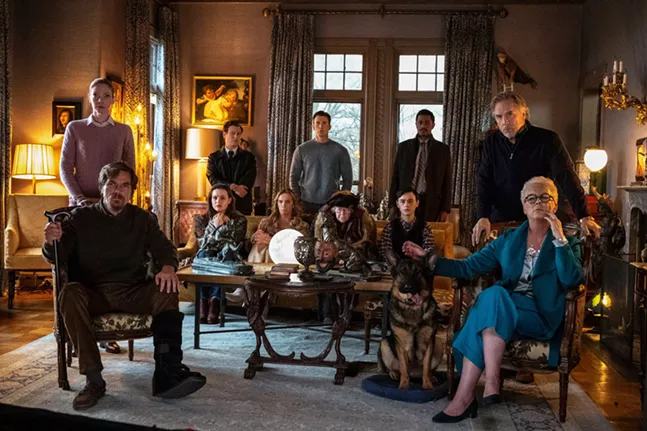 Knives Out
Wealth is not a crime, but it can certainly make people go to illegal measures to protect their greed. Every family member is guilty of this in
Knives Out
, a wildly fun, modern-day murder mystery centered around the mysterious death of crime writer Harlan Thrombey and his descendants. It's truly the perfect family thanksgiving movie. Look out for our full review next week.
Opens everywhere Wed., Nov. 27.
The Irishman
The first thing to know about this movie is that it's three and a half hours long. The second thing to know is that after a short run in theaters, it will be on Netflix Nov. 27. The third is that it stars Robert De Niro, Joe Pesci, and Al Pacino involved in some mob stuff, some crime stuff, and some Jimmy Hoffa stuff.
Now playing at The Manor Theatre and SouthSide Works Cinema.
Frozen 2
Remember the movie
Frozen
? You couldn't forget it if you wanted to! Now there's a sequel, set three years later, as the crew embarks on a journey to save their kingdom ... from global warming! Just kidding. But that should be
Frozen 3: The Melt.
Check out our review
here
.
Now playing everywhere. Sensory-friendly screening at Tull Family Theater on Sat., Nov. 30. 10 a.m. 418 Walnut St., Sewickley.
thetullfamilytheater.org
Clue
Normally the concept of a board game turned into a movie sounds awful, but in the case of the 1985 cult classic
Clue
, it's perfect. The murder-mystery-comedy stars Tim Curry and Madeline Kahn, among others, as the notorious game characters, set in a brooding mansion. It also has three alternate endings, so if you're a super-fan, you can catch them all.
Now playing at Row House Cinema, 4115 Butler St., Lawrenceville. rowhousecinema.com

Have a film event you want featured on this list? Email hlynn@pghcitypaper.com