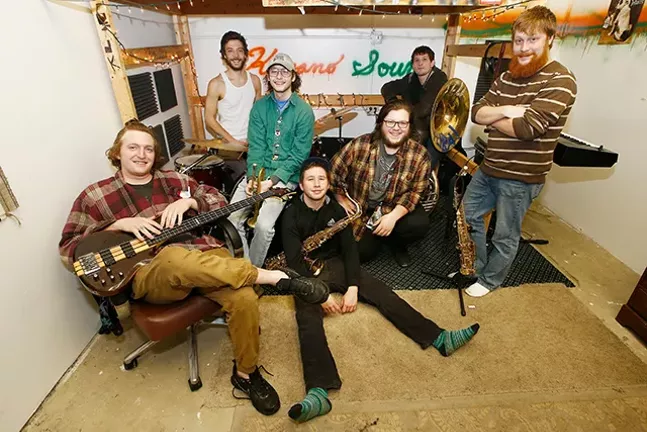 For a new band, Kiwano Sour's music career is building rapidly. Only ten months into its existence, the funk rock band has already performed at well-known venues around the city like the Rex, Mr. Smalls, and Stage at Karma. Kiwano Sour became affiliated with the art collective Three Rivers Circus and opened a studio with jazz-funk band BowTank called Sour Tank Studios. And on Feb. 14, Kiwano Sour is dropping its first EP,
Boogie Funk Daydream
, with an accompanying release show Feb. 16 at
Cattivo
.
"Things are moving super-fast," says Geoff Bland, Kiwano Sour's vocalist
and
founder. "I feel really lucky every single day."
Completed in about four months at Audio Bridge Studios in Cheswick, Pa.,
Boogie Funk Daydream
is a five-song fusion of funk, jazz, and rock, whose track list covers a gamut of styles and emotions, showcasing the band's outlook and growth. Starting with the upbeat "Movin," Bland sings about the stresses of everyday life, and not letting the strain triumph, thanks to passion projects and creative outlets.
"All of my mental health eggs are in one basket," Bland says when talking about Kiwano Sour. Up until college, much of his life revolved around playing music. But attending the University of Pittsburgh, in addition to working a job, sucked up all his free time. "I dropped out of school for mental health reasons and financial issues. Then got a 9-5 job and my evenings were free. I had time for a hobby again."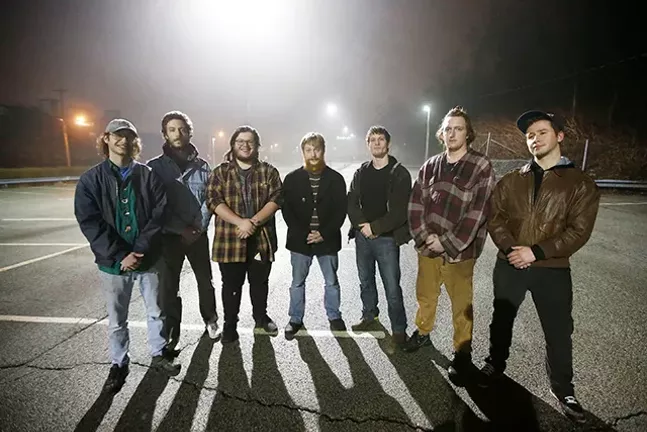 "On My Way," the second track on the EP and most radio-ready, due to its pop-leaning sound, boasts the line, "Joy is an act of defiance," another nod to mental health. Before Kiwano Sour, Bland's musical focus was punk. When he was able to start working on music again, his genre preference shifted.
"I've been struggling with mental health and so are a lot of people in our circle, so I started to see that trying to fight back and be joyous was more defiant than I could have ever been with punk music," says Bland. "It's not about forgetting it or trying to run away, it's about accepting it and knowing you can still have a good time, and saying I'm not going to be
grinded
down."
Slowing the beat down,
Boogie Funk Daydream
's third song "Together," is a hometown track about support and the power of working with one another. "Together" may be the most relevant to Kiwano Sour's identity.
"For us, it's all about the community that we found here," says Bland. "The music scene in Pittsburgh is in a weird place. There's a lot of people
comparatively
to the size of the city trying to do that work, so it's hard to find space to move sometimes. We were lucky enough to find this group of people that are serious about creating something new and building a support network around it. With Three Rivers Circus … we can support each other's shows."
Bass player Sam Kisic is one of the reasons Kiwano Sour has flourished. Kisic has been involved in several bands in the city, resulting in connections with promoters and venues.
"We were sitting in [keyboardist Oliver Fleischmann's] house when we first started out, and I just offhand mentioned, 'We're sounding pretty good now, we should try to get a gig or something.' [Kisic] picks up his phone, calls the Rex Theater, and in like 20 minutes we had a show."
After "Together," the EP moves into a more lighthearted party vibe with "Paid in Gold," the first song the Kiwano Sour ever wrote, created just a few days after forming. The EP ends with "Boogie Stop," bringing it back to the fast, body-gyrating pace of "Movin."
Kiwano Sour already set its sights set on gigs outside of Pittsburgh. But because the members know they owe their fast advancement to the help of people around them, the band is open to talking to local musicians about using their studio for tracking.
"We know it's hard to get recording time in Pittsburgh nowadays," says Bland. "So, we're really leaning on each other and trying to build community."