Childhood friends Jake Bier and Zach Ingoldsby took to the spirit of collaboration early. Now, they are co-owners of the soon-to-open War Streets Brewery, a nanobrewery in the North Side; appropriately, Bier is the brewer.
The brewery is taking shape on the first floor of a 138-year-old firehouse on Arch Street, with a projected mid-spring opening.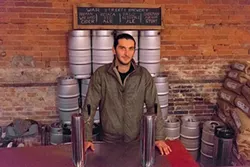 Last month, the two put on Imbibe North Side, a tasting event at the Mattress Factory with two other North Side breweries also planning to open this year — Allegheny City Brewing Co. and Spring Hill Brewing. "I made the event so we could pour beer before we were open," says Bier. "Why not collaborate with everyone on the North Side, introduce ourselves and make it known we're in the same business together and supporting each other." The three breweries, as well as Penn Brewery, have already discussed brewing together to represent the North Side at future beer festivals.
Before Pittsburgh beer-lovers can enjoy future collaborations, War Streets Brewery has a few hurdles to clear, such as waiting for its Brewer's Notice from the Alcohol and Tobacco Trade and Tax Bureau and a brewery license from the Pennsylvania Liquor and Control Board.
On Jan. 31, they launched an Indiegogo crowdfunding campaign to raise $20,000 by April 31. Bier and Ingoldsby hope to receive enough donations to purchase more equipment and upgrade the brewing capacity from an existing 15-gallon system ("I'm basically making one keg at a time," says Bier) to a 93-gallon, or three-barrel, system. Membership rewards range from pint glasses and T-shirts to free beer for life.
Bier is enthusiastic about the brewery's future as a gathering place for the community. He plans on having a bar that hosts live music and events, while being an affordable, dog-friendly place to grab a beer. And keeping it local, the beers — Arch Street amber ale and Palo Alto pale ale — will be named for neighborhood streets.