One Day in Town
Though widely considered a unit, Pittsburgh's North Side actually comprises 18 separate neighborhoods stretching from the Allegheny River into the residential communities in the hills beyond. There's plenty to do, even if you haven't exhausted the possibilities afforded by such large-scale riverfront attractions as two sports stadia, a casino, a concert venue and the Carnegie Science Center.

Speaking of the river, the North Side's signature outdoor activity is Venture Outdoors, which rents recreational craft in season from beneath the Roberto Clemente Bridge, right near baseball's PNC Park. A morning paddle will prepare you for the nearby National Aviary (700 Arch St., 412-323-7235), a top-flight bird zoo with 500 specimens representing some 150 species from around the world, some in rooms where they fly free. From a golden-crested mynah to an Andean condor, find them here, along with popular African-penguin exhibit Penguin Point.
For a little history, wander the adjacent Mexican War Streets, among Pittsburgh's most tightly woven communities, full of lovingly restored Victorian homes. Attractions here include Randyland (1501 Arch St., 412-342-8152), a free courtyard museum of found objects and original art by local character Randy Gilson. Blocks away, visit the internationally known Mattress Factory (500 Sampsonia Way, www.mattress.org), a museum of installation art whose newest acquisition is German artist Hans Peter Kuhn's Acupuncture, which literally alters the neigbhorhood's skyline.
For dinner, try Scratch (1720 Lowrie St., 412-251-0822), a newer joint blending neighborhood ambience with that craft-beer/new American cuisine thing; try the carrot soup and award-winning beef-tongue Reuben.
Drinking culture is big on the North Side: No fewer than three craft breweries were slated to open here within months of press time. While you await those, Wigle Barrelhouse (1055 Spring Garden Ave., www.wiglewhiskey.com), a satellite of the award-winning local distillery, is open evenings for cocktails; on Saturdays in season, enjoy live music outdoors amidst cocktail-themed plantings.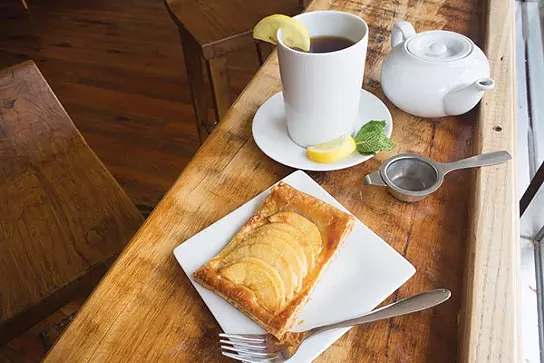 Food

Arnold's Tea Shop and Café. Hot and cold specialty teas, coffee, fresh sandwiches and pastries in a capacious double storefront. 502 E. Ohio St., 412-322-2494
Benjamin's Western Avenue Burger Bar. Barrel-aged cocktails meet custom-blended burgers at this informal but intimate spot. 900 Western Ave., 412-224-2163
Bistro To Go. Soul food and healthy variations are the specialty at this restaurant, known for its outdoor patio and Sunday breakfast buffet. 415 E. Ohio St., 412-231-0218
Carmi Soul Food Restaurant. Smother chicken, fish and grits: You get the picture at this Southern soul-food establishment. 917 Western Ave., 412-231-0100
Commonplace at the Mexican War Streets. Newest location for the popular regional roastery. 1501 Buena Vista St., 724-427-5442
El Burro. Big, flavorful burritos are a staple at this mostly takeout joint, which also serves Mexican Coke. 1108 Federal St., 412-904-3451

James Street Gastropub & Speakeasy. Live music several nights weekly (jazz is the specialty) complements the tasty food and drink menus at this historic pub. 422 Foreland St., 412-904-3335

Legends of the North Shore. Traditional Italian is the specialty at this established restaurant. 500 E. North Ave., 412-321-8000

Lola Bistro. "Contemporary comfort food" (carbonara; Sumatran chicken curry) is the calling card at this cozy neighborhood spot. 1100 Gavleston Ave., 412-322-1106

Max's Allegheny Tavern. A family-style atmosphere is apt for your sauerbraten, potato pancakes and other hearty German specialties. 237 Suismon St., 412-231-1899
Nicky's Thai Kitchen. Top-notch traditional Thai cuisine, with patio seating as weather permits. 854 Western Ave., 412-321-8424
Subba Asian Restaurant. Nepalese, Chinese and Indian food meet at this second-floor spot; you'll ask for mo' momos. 700 Cedar Ave., 412-586-5764
Wilson's Bar B-Q. Southern-style pork ribs, chicken and sides, mostly for takeout, at this neighborhood institution. 700 N. Taylor St., 412-322-7427
Bars & Clubs
Jerome Bettis Grille 36. Steaks, sandwiches, signature cocktails and more are on the menu at the expansive restaurant and sports bar owned by the retired Steelers great. 393 North Shore Drive, 412-224-6287
The Modern Café. The beer selection is good, and the sandwiches might be even better at this welcoming neighborhood joint within walking distance of Heinz Field. 862 Western Ave., 412-321-4550
Monterey Pub. Iconic neighborhood hangout has mahogany booths, a tasty menu and only Irish beers on tap. 1227 Monterey St., 412-322-6535
Park House. The popcorn and peanuts are free, and the clientele are diverse at this tavern, among Pittsburgh's oldest, at this venerable watering hole, where live-music offerings include Wednesday bluegrass jams. 403 E. Ohio St., 412-224-2273
Penn Brewery. From its signature Penn Pilsner to weinerschnitzel on the menu, Pittsburgh's oldest microbrewery has a Germanic theme, and it's housed in a landmark 19th-century brewery. 800 Vinial St., 412-237-9400
Rivertowne North Shore. One of four restaurants in the local chain, featuring extensive pub grub and its own locally brewed Rivertowne beer. 337 North Shore Drive, 412-322-5000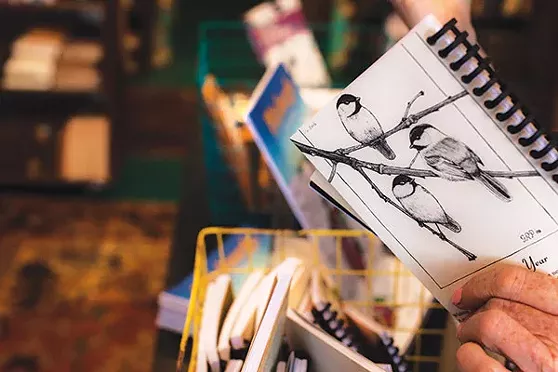 Shopping

Allegheny City Market. This newer specialty grocer with an old-school neighborhood feel has deli sandwiches, fresh produce and much more. 1327 Arch St., 412-321-4021
City Books. Venerable South Side used-book emporium was recently reborn under new ownership, in cozy digs. 908 Galveston Ave., www.citybookspgh.com
Son of Stedeford's Discount Records. Used vinyl, especially the basement stash of jazz and soul, defines this storefront emporium. 515 E. Ohio St., 412-321-8333
Tom Friday's Market. This esteemed neighborhood butcher says it's the only place in town to carry fresh hanging sides of beef. 3639 California Ave., 412-766-4500
Arts & Culture
Allegheny City History Gallery. Married couple Bill and Kim Gandy co-founded and staff this showcase for photos and more from the neighborhood that used to be its own municipality. 433 E. Ohio St.. northsidehistory.org
The Andy Warhol Museum. The famed Pittsburgh-born artist gets a thorough accounting of his life and work in many media in this internationally known seven-story museum. 117 Sandusky St., 412-237-8300
Bicycle Heaven. Claiming to be the nation's largest bicycle museum, this kind of astounding warehouse attraction boasts bikes and memorabilia from the 1800s to the present — and even a bicycle-repair shop. 1800 Preble Ave., 412-734-4034
Carnegie Science Center. Hands-on exhibits teaching physics, chemistry and nature, a sports-themed annex and an Omnimax theater highlight this family venue. 1 Allegheny Ave., 412-237-3400
Children's Museum of Pittsburgh. Please-touch exhibits and interactive artwork fill this popular venue. 10 Children's Way, 412-322-5059
City of Asylum/Pittsburgh. Though it's a hub for literary readings (and soon to have its own café and bookstore), this nonprofit still shelters and supports writers in exile. 300 Sampsonia Way, www.cityofasylum.org
Mattress Factory Museum. Installation art is the specialty of this internationally known museum (which inhabits an actual former mattress factory). 500 Sampsonia Way, 412-231-3169
National Aviary of Pittsburgh. Exotic birds in free-flight rooms, endangered Andean condors, a popular penguin exhibit and more populate this unique bird zoo. 700 Arch St., 412-323-7235
New Hazlett Theater. Touring and local concerts, plays and dance troupes, and the in-house subscription-based performance series, are on the menu at one the city's oldest venues. 6 Allegheny Square East, 412-320-4610
Neu Kirche Contemporary Art Center. An historic former church houses this startup gallery and artmaking space, which also hosts performances. 1000 Madison Ave., 412-322-2224
Photo Antiquities. Photo history from daguerreotypes to vintage cameras occupy the shelves at this extensive second-floor museum. 531 E. Ohio St., 412-231-7881
Randyland. Local character Randy Gilson's singularly colorful museum of found objects and his own art is open to the public. 1501 Arch St., 412-342-8152
Texture Contemporary Ballet. This small but accomplished outfit remains one of the most in-demand on Pittsburgh's contemporary-dance scene. www.textureballet.org
Music
Heinz Field. When it's not a pigskin game day, the stadium offers behemoth tours like Beyoncé, Kenny Chesney and Taylor Swift. 100 Art Rooney Ave., 412-697-7700
Manchester Craftsmen's Guild. Internationally touring jazz acts are the staple at this intimate venue run by the venerable arts group. 1815 Metropolitan St., 412-322-1773
Stage AE. Mid-sized touring acts from Ray LaMontagne to A$AP Ferg fill up this indoor/outdoor venue right near the riverfront. 400 North Shore Drive, 412-229-5483