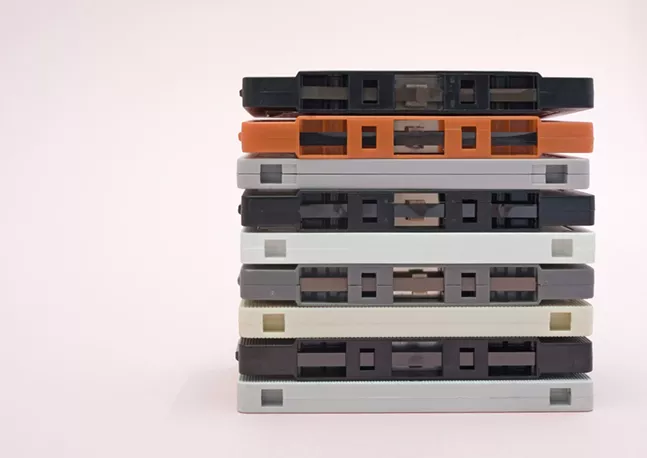 It's no secret that the vinyl resurgence has been on a steady rise. What may come as a surprise, however, is that tape sales are rising too. Cassette album sales are up 23 percent, with 219,000 tapes sold in 2018 compared to 178,000 in 2017, according to
Nielsen Music
.
On Sat., Oct. 12, The Government Center, a record shop on East Ohio Street in Pittsburgh's North Side, celebrates Cassette Store Day, along with tape-focused indie label Crafted Sounds.
"I'm impressed with Josh [Cozby, owner of The Government Center]," says Connor Murray, who runs Crafted Sounds. "There's so many record stores that won't even hold [cassettes] and he has new ones and old ones."
Cassette Store Day (CSD) was started in 2013 by a little label called Burger Records. Like the popular Record Store Day (RSD), CSD features exclusive releases, but without the intensity.
"It's not heavy on official limited stuff," explains Cozby. "There is some of that stuff, but it's more fun and low-key then RSD. Then, you have a whole line where people try to get their hands on stuff so they can go flip it on eBay."
But that can't really be done with cassettes. Tapes degrade in weird and unpredictable ways for a number of reasons, from the inside plastic stretching to electromagnetic interference. Vinyl lasts, however, and with older records going up in value and becoming more collectible, people have started purchasing them in hopes of turning them into antiques.
"That makes [records] less fun because peoples are collecting them not for the music," says Cozby. "With cassettes, it's kind of the opposite of that. They're not collectibles, so you don't really have to take good care of them. ... You can still find them for 10 cents at a thrift store."
On CSD, The Government Center will have bins of cassettes for $1, along with giveaways, live performances, and limited-edition tapes. Cozby says he ordered a bunch of the latter that "sounded cool" or ones he thinks people who shop at his store would think were cool. This includes Blink 182's
Dude Ranch
album covered by Colleen Green, one Cozby is most excited to see.
"The versions are very different, obviously it's a woman singing them instead of little boys," says Cozby. "It adds this interesting weight to some songs that might not seem weighty otherwise."
Although The Government Center is celebrating CSD, the store is not an 'official' CSD location (meaning Cozby didn't register), but he didn't think that mattered. He says he and event organizer Derek January just wanted to recognize the older media format. That's why January reached out to Crafted Sounds.
"We love their label and their roster so we are stoked to have such a strong supporter of cassette culture," says January.
Murray will have
The Zells new album,
No More Heroes,
available for purchase on tape.
January, who has been working at the store since its grand opening, is the main reason the CSD event is happening and says he is excited to see all the "cassette-heads" come out. Right now, cassettes make up only 10 percent of The Government Center's sales.
"I feel like the tape community is very tight-knit, on a very niche level," says Murray, "and I have no idea who in Pittsburgh actually listens to tapes even though I do what I do."
See the performance times at the BYOB event here.