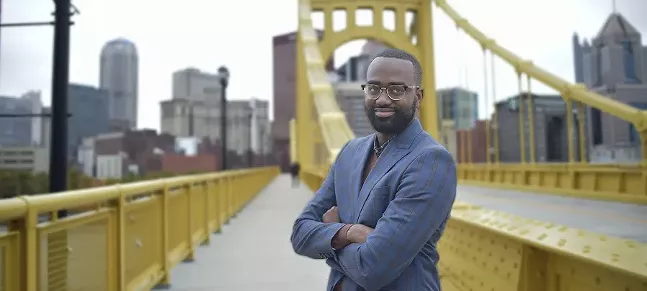 Quincy Kofi
Swatson
, a Pittsburgh social entrepreneur and executive director of The Door Campaign, will run for Pittsburgh City Council's 1st District seat.
Swatson, a North Side native who now lives in Deutschtown with his partner Alycia and their two children, works with a number of local organizations. He serves on the board of Grow Pittsburgh and the local chapter of the NAACP and is the board treasurer of Sustainable Pittsburgh. He also sits on the Three Rivers Allegheny Land Initiative committee tasked with conserving urban land for green space.
"In recent months, I have been profoundly considering how I might best empower people and neighborhoods that have been shut out of the wave of prosperity sweeping our city," said
Swatson
in a press release. "I owe it to the children of our communities to equip them with the spark of hope that they need, the tools and resources that they need to break the cycle of poverty. It is in this light that I have decided to announce my candidacy for Pittsburgh City Council."
The district includes Northview Heights, Summer Hill, Observatory Hill
and
Perry North, Brighton Heights, Marshall-Shadeland, Spring Hill, Spring Garden, Troy Hill, Fineview, and much of the North Side and the Mexican War Streets.
He challenges incumbent Darlene Harris, who has represented the district since 2006.
In 2014,
Swatson
started
The Door Campaign
, an initiative that works to elevate underprivileged Pittsburgh youth by bringing hands-on science, technology, engineering, and math (STEM) education and urban agriculture to classrooms.
For his efforts, Swatson was recently selected for
Pittsburgh Business Times
' 30 under 30,
Pittsburgh Magazine
's 40 Under 40, and Sprout Fund's Legacy Award.
His campaign
focuses
include housing priorities and taxing nonprofits like UPMC. Both issues that have come to a head in recent years as residents have become concerned over the lack of affordable housing. According to his campaign website, Swatson believes housing policies like community
land trusts
and
inclusionary zoning
could help create more affordable units for low-income residents.
He also questions the
legitimacy of UPMC's nonprofit status
given how much power it wields over the city as a major economic driver and employment provider.
Though he has yet to voice his stance on bike infrastructure, it would be interesting to see how
Swatson
differs from Harris, who unsuccessfully ran for Pittsburgh Mayor in 2017 with an anti-bike lane platform (
video of her berating a cyclist
made its rounds during her campaign).
Among his early supporters is Jeff Betten of the Pittsburgh-based music label, Misra Records, who announced his own bid for the 1st District City Council seat last fall. In a post on his campaign Facebook page, Betten endorsed Swatson after dropping out of the running due to professional obligations.
"I've gotten to know Quincy Kofi Swatson pretty well over the past year, and when he agreed to get in the race I wanted to make sure that I threw my support to him as soon as possible in a sign of unity," Betten wrote. "We share the same values, so you can rest assured that our platform will continue to have a voice. I think that he'll be the candidate for the North Side that Darlene Harris can only dream of being!"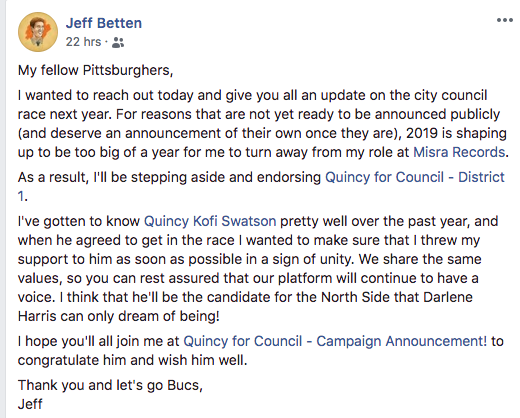 Swatson
will officially announce his candidacy on November 20 at Arnold's Tea during an event featuring special guest speaker Leon Ford, who's
currently running for City Council
against incumbent Ricky Burgess in the 9th District.
6 p.m. 502 E. Ohio St., North Side. quincyforcouncil.com