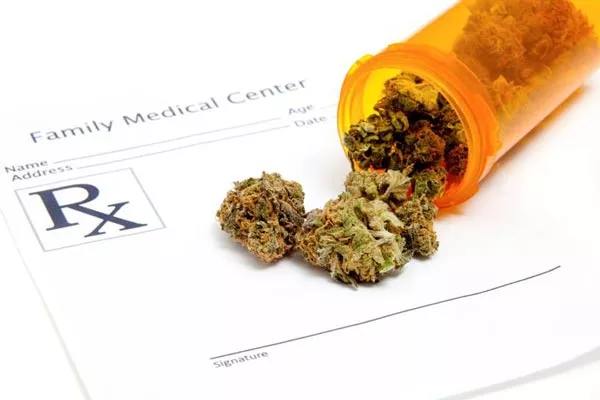 A bipartisan workgroup of Pennsylvania House representatives recommends that, if approved, medical marijuana shouldn't be smoked or sold in edible form, and should be distributed by at least 65 regional dispensaries across the state. It's also recommending that any program be operated by the Pennsylvania Department of Health.
Those are just some of the seven recommendations made by the group, led by Republican state Rep. Kerry Benninghoff, the house majority policy chairman, and sent Sept. 28 to state Rep. Dave Reed, the house majority leader who formed the committee. The group met 10 times between July and September and discussed eight key issues surrounding two proposed pieces of medical-marijuana legislation: a bill that passed the Senate earlier this year as well as in fall 2014, and a much more restrictive House bill that was brought forward after the Senate bill stalled in the House earlier this year.
The bill languished in a House committee chaired by anti-medical-marijuana Republican Matt Baker, who used hundreds of dead weblinks and debunked studies to show why he was opposed to the legislation. The Senate bill was then given to Reed's committee, which laid out a roadmap to legalization, the first steps being the working group's recommendation.
"The tremendous dedication of the members should be praised as each and every meeting was well attended," wrote Benninghoff in the report. "Members came prepared to listen, [and] discuss a complex and emotionally driven issue."
The document lays out the issues that members discussed, which ranged from how the program would be administered, and the licensing structure, to which conditions should be covered under the act and in what form the medication can be consumed.
The full bill — which legislators said at a medical-marijuana rally last week would be released in the near future — can be read here, but among the recommendations:
The Pennsylvania Department of Health would provide governing and licensing authority of a medical-marijuana program in Pennsylvania. The DOH would be advised by a 19-member voluntary oversight board made up of doctors, nurses, pharmacists, medical researchers, law enforcement, district attorneys, drug- and alcohol-treatment specialists and representatives of each legislative caucus.


The Pennsylvania Department of Health would provide governing and licensing authority of a medical-marijuana program in Pennsylvania. The DOH would be advised by a 19-member voluntary oversight board made up of doctors, nurses, pharmacists, medical researchers, law enforcement, district attorneys, drug- and alcohol-treatment specialists and representatives of each legislative caucus.
Licensing should involve a two-license system — one for growing and processing entities and another for dispensaries. The Senate bill called for three separate licenses, and the House bill called for one license only for entities that would grow, process and dispense the medication. The group recommends a fee-based system designed by the DOH for initial licensure and annual license renewal. Legislation also calls for "seed-to-sale security tracking" to prevent "diversion and other unlawful activity."


On the issue of the number of licenses, the Senate bill called for 65 growers' licenses, 65 processors' licenses and 130 dispensary licenses. The House bill allowed for just five licenses, with each license allowing for four dispensaries (20 total). According to the report, this issue was "one of the more controversial topics" the workgroup was asked to address. Some legislators favored a restrictive system "favoring tighter regulation that lessens concerns of product diversion." Those in favor of more dispensaries were concerned with a lack of supply and the ability to get the medication to patients. "The issue of patients or caregivers having to travel long distances to make a purchase was also a concern." The group decided to recommend at least 65 dispensaries for the state "that would be geographically dispersed based on the size of the patient group served by the medical marijuana program." The number was not supported by all members of the group.


When it came to determining qualifying medical conditions that could be treated with medical marijuana, the working group favored a larger number of conditions as proposed by the Senate bill, instead of the more restrictive House bill. Group members spent the most time discussing the inclusion of "chronic pain" and post-traumatic stress disorder. "Concerns were raised about what exactly constitutes chronic pain, and members acknowledged that medical marijuana could be an option for some patients that are currently being prescribed highly addictive and potentially dangerous narcotics," according to the report. "Concerns were also made known regarding the potential for misuse of a medical-marijuana recommendation through this condition." The report goes on to say, "Workgroup members also felt, through a narrow definition, recommending physicians would also have discretion in determining whether a recommendation was a plausible course of treatment for a patient. As a result, the workgroup found it could recommend inclusion of chronic pain, so long as recommendations … included the workgroup's preference that any definition of chronic pain be narrowly written." Similar concerns were made about PTSD, though the committee ultimately included it. The covered conditions recommended were: cancer, ALS, HIV/AIDS, Parkinson's disease, multiple sclerosis, epilepsy and seizures, damage to the nervous tissue of the spinal cord, neuropathies, inflammatory bowel disease, Huntington's disease, post-traumatic stress disorder, glaucoma, Crohn's disease, pain and intractable epilepsy.


Recommendations for delivery methods of medical marijuana were limited to pills, oils, and topical lotions and salves. The committee did not recommend smoking marijuana or commercially produced edibles because "these methods create the greatest risk for diversion as well as contribute to the appearance of recreational use." However, consumers can make their own edible products. The group also recommended real-time tracking of purchases to "prevent and deter the purchase of the product in an excessive amount." The panel did recommend that the DOH be given power to add additional delivery methods, "as research and medical advances develop in the future."


One of the largest sections of the report deals with the establishment of a research component to any medical-marijuana legislation. "It should be noted that, while organizations representing physicians in Pa. oppose medical-marijuana legislation and prefer action by the FDA to reschedule the drug to allow for further clinical studies, those representatives support the concept of a robust research component should any legislation advance in Pa.," the report states. "Legislation should authorize the state to apply for and receive federal waivers to collect patient and clinical data as part of a research program funded by taxes and fees collected from the state's medical-marijuana program."


Further, the working group recommended not having reciprocation agreements with other states that would allow someone with an out-of-state medical-marijuana card to purchase the medication here. Also, the committee could not reach a consensus recommendation on whether the bill should "sunset" or expire, forcing it to seek passage again. And while the Senate bill did not contain a sunset provision, the House bill caused the bill to expire in 2022. "Opposition to a sunset provision was concerned about the appearance of medical marijuana being a temporary program," the report states. "As such, there was a fear that businesses may be hesitant to invest significant money to set up operation."