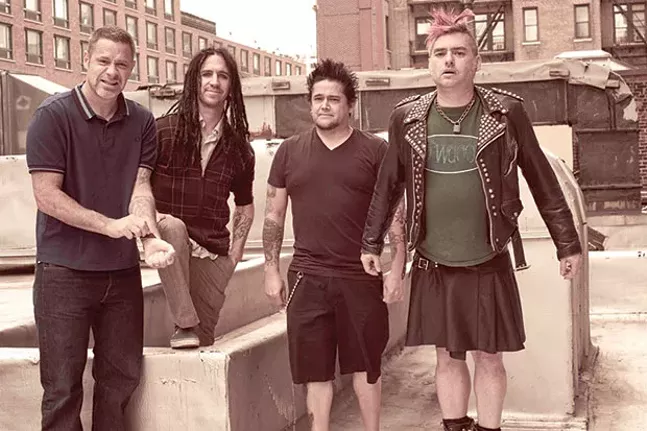 On May 20, a craft beer and punk festival named for NOFX's 1994 album Punk in Drublic will come to Pittsburgh.
The festival was born when Cameron Collins, a punk rock fan and co-founder of Brew Ha Ha Productions made a call to Fat Mike, the lead vocalist and bassist of NOFX, and suggested a collaboration.
"I didn't choose craft beer, it chose me," says Fat Mike, who only goes by his stage name. "He wanted me to come on board and make it as fun as possible."
The festival will feature five major bands: NOFX, Bad Religion, Mad Caddies, The Interrupters, Bad Cop/Bad Cop and more than 100 different beers. Bands will play all day and beer will be tapped and poured from 1 to 4 p.m. After 4 p.m., cocktails, beer and non-alcoholic drinks will be available for purchase.
Fat Mike and Stone Brewing collaborated to create a special beer for the festival: Stone & NOFX Punk in Drublic Hoppy Lager. This is Stone's first collaborative can release with a musician. Other breweries represented will include locals like Arsenal Cider House, Couch Brewery, North Country Brewing Co. and Hop Farm Brewing Co.
Originally Collins wanted to theme it as a 21 and over event with 21 bands, but Fat Mike wanted a more low-key affair after years of doing shows with huge bills like Warped Tour. The event is still a 21-and-over but the musical focus is more defined.
So far, the tour has stopped in Fort Worth, Texas, Richmond, Va., Philadelphia, Pa., and Brockton, Mass., and will wrap with "Camp Punk in Drublic" in Thornville, Ohio in the first weekend of June.
"From what we've seen it's just been super mellow and a really good time. Not having kids around sounds kind of elitist but it's kinda nice. You don't feel like you're the oldest person at the show," Fat Mike says laughing.
NOFX has been playing Pittsburgh for a long time, starting in the late '80s at the former Electric Banana space in Oakland. Fat Mike is looking forward to playing classics from Punk in Drublic, the band's fifth album, which sold more than a million copies and was named the 11th best pop-punk album by Rolling Stone in 2017. But he's more excited to play new material. "People want to hear new songs," he says. "Our newest record has gotten better reviews than we've gotten in over 10 years."
As for Fat Mike's brew of choice, he says he'll be sticking to vodka. "You can't drink a case of beer every day," he says. "I'd really be bigger than fat Mike. I'd be gigantic Mike."