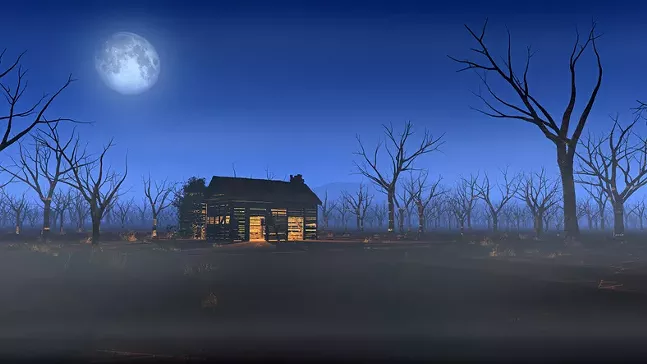 I typically use this column for levity: hyperbolic stories about things most people don't concern themselves with that I use in an attempt to brighten your day. Selfless, I am, in trying to make you feel better about whatever bad situation you might be experiencing. Well, this is not a typical column. There's no happy ending this time. There's no sugarcoating. This column is a warning.
Follow me down Corridor E of the Appalachian Development Highway System and join our story already in progress. I speak of Garret County, Md. – a pastoral gem of mountains with a lake they call a creek and many charming but ultimately disappointing local boutiques.

But I speak of this hamlet not with fondness, but with fear and respect. For I have seen and experienced horrors the likes of which I hope, my devoted readers, never befall you or your family.
The holiday was Thanksgiving, the temperature, brisk; and the banter was jovial. Old people sat around fires discussing the mental and physical maladies du jour. Some drank spirits, some sparkling waters. But what they'd all end up guzzling from was an unholy grail of regret and repentance. And the worst part? They had no idea it was coming.
It started innocently enough. A young, responsible woman of 15, filled with so much promise and potential retired to her basement quarters with an upset stomach. Vomitus was not far away, and it came swiftly.

But there's no hubris like vacation hubris, and the fools left standing continued to snack, drink, and work on a hot-air balloon puzzle that mocked revelers with knowledge of this plague-ridden cabin beyond Albert Camus' expertise.
You'd think when the second victim fell, preventative measures would be put in place. But even after a vomited-upon toilet entered the fray, some took liberties washing hands, few secured their drinking glasses, and no one used a toothpick to get cheese. Instead, they pawed at appetizers with perceived impunity.
The rest of this macabre tale is a blur as the third victim fell, as that victim was me — just a humble writer with great fashion sense. But I don't ask for your pity.

Though all of my fellow vacationers escaped Garret County, only two remain untouched by "the sickness." Pity them. They are the ones who require your prayers and well-wishes. The beast has only increased in its ferocity with each of its prey. As the text messages and bodies pile up, the question is not if, but when. Or maybe, "poop or puke?" If you're lucky, you'll only have to repeatedly do one.
<!———EndFragment———>