Recently, Carnegie Mellon School of Art students Max Hawkins and Robb Godshaw designed and built a giant white plastic bubble held up only by the output of a large air-blower. Not about to let a good thingamajig go to waste, a clutch of Carnegie Mellon Drama students calling themselves bubble:PGH have invaded the contraption and are presenting Jean-Paul Sarte's classic drama No Exit.
As novelties go, the bubble's a fairly interesting one. The space is roomy and comfortable ... even if you sometimes feel like you're sitting inside a condom. And, all things considered, the bubble hardly detracts from the terrific production happening inside.
In case you don't know, No Exit is a one-act set in what we come to learn is hell. The piece opens with the arrivals of: Garcin, a writer shot for desertion; Inez, an unpleasant woman who has killed herself; and the flighty and vain pneumonia victim Estelle.
Each enters terrified to meet his or her pitchfork-bearing torturer; because of sins committed during life, they've assume an eternity of torment is in the cards. There is, but not quite in the way they think.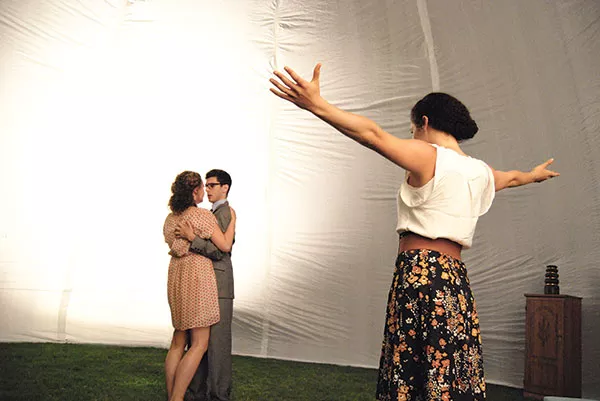 No Exit's most famous line, "Hell is other people!," sums up Sarte's cynical and amusingly sarcastic point: There are no instruments of torture or programs of unspeakable pain, and the only demons are the ones already in the room. Garcin, Inez and Estelle are each other's tormentors, locked in this airless chamber and condemned to psychologically flay each other for all time.
Thanks to director Alex Tobey's concise and clear direction (which overcomes a fusty and stilted translation by Stuart Gilbert), and to spot-on performances by Benjamin Edelman, Madeline Wolf and Rosemary McInnes, this production is a wonderful opportunity to examine the economy and skill of Sarte's playwriting talents.
He imbues each character with the exact sort of personality absolutely designed to drive the others mad. Inez (Wolf's blend of sadism and need is palpable) is in love with Estelle (whose tyrannical self-regard McInnes perfectly captures). And Estelle craves the adoration of Garcin (a whining man/boy whom Edelman turns into a fully realized creation). Garcin's collapsed sense of self can be reversed only by Inez's regard, but she hates him because Estelle wants him, and her desire means nothing to Garcin, but is a betrayal to Inez ... etc.
Tobey's control of the play's thrust, thanks to the solid performances he gets from his actors, is first-rate. Of course, directors these days feel they haven't done their job if they haven't tacked on some extraneous "bit" heralding their vision. Tobey's added a number of dumbshows silhouetted onto the bubble walls: When the three characters talk about past events, these shadows act them out for us. And that, unfortunately, yanks us out of the claustrophobic, inescapable prison which Sarte has constructed so brilliantly.
It's a serious miscalculation on Tobey's part, but the only one in an otherwise tremendously enjoyable evening.