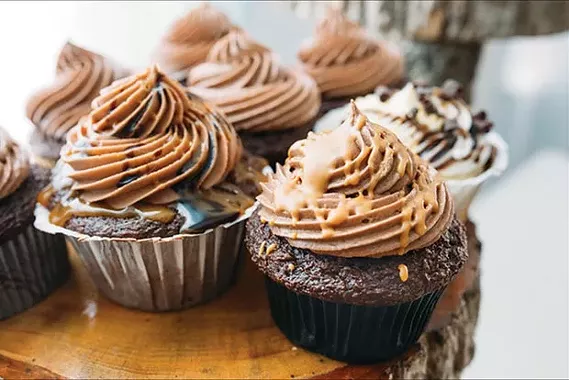 Who doesn't love a cupcake? They're tasty, cute, versatile and relatively easy to make. Throw a candle on it, and you've got a hand-held birthday cake.
But cupcakes have always been missing a certain something: the element of surprise. A new delivery service from a local bakery has finally rectified this situation.
In March, Nizhoni Bakery, in Carnegie, debuted its new "secret" delivery option, which allows customers to send fresh cupcakes to friends, colleagues, partners, or possibly even enemies, on the sly.
"Since I don't have a storefront (only a commercial kitchen where I bake my products), I had to think of a creative way to market my business," bakery owner Danielle Skiles wrote in an email to City Paper. "Since I was delivering most of my orders anyway, the option to send cupcakes to your friends and colleagues in the same way as you'd send flowers or an Edible Arrangement just kind of came to me."
How it works: Skiles requires two to five days' notice for a surprise delivery. Flavors vary: Naturally, there are the basics, such as chocolate, vanilla and almond, but also premium flavors like salted caramel macchiato and the Pittsburgh Mud Puddle. The Mud Puddle offers chocolate and peanut-butter cake, filled with peanut-butter cream, and topped with peanut-butter/chocolate buttercream frosting and peanut-butter drizzle.
The minimum for delivery is a dozen, and customers can mix and match flavors for an extra fee.
You can order up some covert confections of your choice at the website, but best to get it done soon: In its first three weeks, the bakery has been booked to capacity.