Open Stage Theatre is in the middle of its season, and in the middle of reinventing itself. It's also in the midst of rehearsing The Mineola Twins, by acclaimed playwright Paula Vogel. Unlike Vogel's Pulitzer Prize-winning How I Learned to Drive, it's no straightforward drama. Rather, Twins mixes outlandish satire, farce and theatrical gamesmanship (like cross-gender casting) with emotional undercurrents exploring the country's political divides.
Twins is also a bear to stage. "There's always a curveball that's coming out of nowhere," says the show's director, Lofty Durham. The play was chosen by Open Stage's new artistic director, David Maslow -- the sort of left-field pick the energetic Maslow intends to announce a fresh start for the small but established company. Still, on a rainy night in early January, the challenge of making the play's Pittsburgh premiere work on stage falls to Durham and two of his actors.
The 1999 play follows ideologically antagonistic twin sisters, Myra and Myrna, through four decades, from their teen-age Eisenhower years through the culture wars under the first President Bush. Tonight, it's three weeks until the show opens -- early rehearsals when the words in the script are about the only thing not still up for grabs. Durham and the actors -- Jessica Kennedy, who plays both conservative Myrna and radical Myra, and Diana Ifft, in a variety of roles -- are still nailing down things like character motivations, all while searching for both moment-to-moment credibility and the thematic arc of the play.
Open Stage's performance space is half of a Strip District warehouse. With the rain drumming on the roof, boyish, sandy-haired Durham puzzles out an early scene in which teen-age Myrna's older boyfriend, Jim, surprises her after hours at the diner where she waitresses. In one exchange, Myrna recounts a crude joke she's just heard about Myra's sexual encounters with high school jocks. Jim (played by Ifft) laughs, then asks Myrna: "What if the captain of the football team glances your way?" Myrna relates it all back to her libertine sister: "[H]e's already scored a touchdown at my sister's goalpost."
Kennedy, eyes twinkling in her heart-shaped face, banters kittenishly, her Myrna enjoying the game with the taller Ifft's stolid, square-shouldered Jim. But Durham is dissatisfied. "It's not hitting my ear right," he says: Myra should be upset here, not sportive.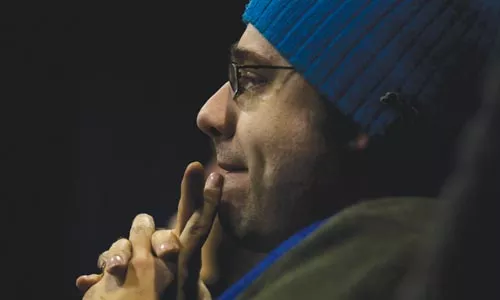 Kennedy and Ifft replay the scene. Ifft's teasing acquires a meaner edge, and Kennedy's responses channel Myrna's passive-aggression. "Good -- now you're saying these things to get back at him in some way," Durham tells Kennedy. "I just want to make sure that it's got the right dynamic."
Finding the right dynamic is also a big challenge for Open Stage. In its 16th season -- and following the retirement of its co-founder, and first and only artistic director, Ruth Willis -- one of Pittsburgh's oldest small theater companies is at a crossroads. It boasts beefed-up funding, a newly expanded board of directors, and dreams of further growth.
And Maslow raised eyebrows with this season's adventuresome opener: Suzan-Lori Parks' The America Play, a decidedly experimental take on race and history. Mineola Twins, which continues the season's thematic exploration of American identity, is offbeat too -- a further gambit to carve a niche in a town full of live-entertainment options. "We want to play with the big boys," says Mahnaz Harrison, who became board president in 2006.
But can a small theater company -- one that rents its headquarters, and sells only a few hundred tickets per nine-performance run -- experiment and grow at once? Can it, something like Vogel's twin sisters from Mineola, reconcile its respectable, even conservative image with a more daring future? That's still an open question.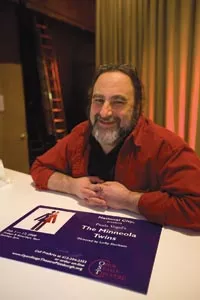 Discovering The America Play
Open Stage was founded in 1992 by Willis, a longtime theater professional, and three friends. Named for its willingness to collaborate and perform new plays, the company made its first home the social room of a North Side church. Despite the informal setting, Open Stage often did high-quality work, with solid acting and skillful direction by Willis and others. A characteristically literary highlight was Lucia Mad, Don Nigro's haunting play about the unstable daughter of James Joyce.
Over the years, some things changed: In 2002, Open Stage began broadening its talent pool by hiring union actors from Actors Equity; it also moved around some, at one point renting four homes in six years before landing, also in 2002, at the Smallman Street warehouse. Not every show worked, but while even Willis admits that the quality fluctuated, the group's aesthetic identity remained remarkably stable. Too stable, maybe. Perhaps the Pittsburgh Post-Gazette's Chris Rawson captured it best when he wrote, in a 2005 review of another Nigro historical play, My Sweetheart's the Man in the Moon, that "Open Stage sometimes seems to aspire to be the PBS of Pittsburgh theaters."
David Maslow, who was then free-lancing for Open Stage as a director and set designer, says Rawson's quote got under his skin. "I remember reading it and going, 'Oh, really?'" says Maslow today. Then he agrees, "Open Stage tended to have a little Masterpiece Theater in its blood for a while."
My Sweetheart's, for example, evidenced a tilt toward costumed period fare. The previous few seasons had also featured Oscar Wilde's comedy The Canterville Ghost (which Maslow directed), Sinan Unel's Pera Palas, Tina Howe's Pride's Crossing and Nigro's Love's Labours Wonne, about Shakespeare. The plays were often about art and theater, and could feel isolated from broader contemporary concerns. They included, for example, a one-man show about legendary stage actor John Barrymore, and the art-world satire As Bees in Honey Drown. Still to come, in 2006, was Burton -- another one-man show about a dead actor.
And Maslow felt that Open Stage's choice of plays didn't distinguish it from bigger companies, who could stage similar plays much more lavishly.
"I would far rather see us experiment and take a shot at stuff, even if it doesn't succeed, rather than making the safe choices," says Maslow today. "The small theaters have to be the place to try stuff."
Maslow, 44, is short and stocky, with dark hair in a long pony-tail and a full, flaring beard, the goatee going white. He often wears his glasses perched atop his head, like a coronet. He has bushy eyebrows and an explosive laugh, and gives the impression of bouncing on his toes even when he's standing still.
Last season, during Willis' swan song as artistic director (and with her approval), Maslow became the company's managing director and associate artistic director. When he got the chance to pick plays, Maslow wanted to make it clear change had come. This past October, as artistic director, he opened the season boldly -- some might argue too boldly.
The America Play was Open Stage's first-ever work by an African American, says board president Mahnaz Harrison. The 1994 play was also a precursor to Parks' Pulitzer-winning Topdog/Underdog. Its central character is The Foundling Father, a black man who exploits his resemblance to Abraham Lincoln to work in a sideshow, posing as the president in his seat at Ford's Theater, where patrons mock-assassinate him for a penny. In Act II, the other main characters -- the Foundling Father's wife, Lucy, and son, Brazil -- dig in the dirt for clues to the now-dead man's identity.
The play is set someplace Parks calls "an exact replica of the great hole of history" -- embodied at Open Stage as an artfully cluttered stage with floorboards that open up for Act II's dig. Eschewing conventional narrative, America Play is more Beckett than August Wilson: a lyrical exploration of race, culture, family and the past. One critic called the work "[not] so much a play ... as a poem, a jazz riff, a curiosity shop." It was, to say the least, a departure from Willis' final season, which had included Camino Real, a Tennessee Williams play that is seldom staged -- for good reason, many critics contend -- and an adaptation of The Scarlet Letter.
In fact, Maslow's presentation of America Play to the board as the season-opener "sort of jolted some of the folks around the table," says Harrison. "But he defended his case nicely.
"Those [board members] who were agents of change got behind him heavily," she adds.
Some Open Stage board members still seem uncertain. Asked recently about Maslow's choices, Matt Jackson, a retired attorney who joined the board in 1995, says, "I welcome his viewpoint." Jackson says he's upbeat about the company's future.
But what does he think of the plays? "I'm not sure," he says.
"The plays are a little bit more contemporary, or even political," he notes, and then adds, "It's not really a concern."
And the production worked: Maslow and the cast, led by Pittsburgh-based actors Garbie Dukes, Rita Gregory and Nathan Jedrzejewski, handled the difficult material to powerfully poetic effect. Critics praised the show, even while acknowledging it could be hard to grasp.
Some in the audience empathized. "There are definitely people on the board who went, 'What the hell was that? I didn't understand it,'" says Maslow.
Harrison says that at one performance, during intermission, she approached an older couple, familiar patrons, and told them, "'It's OK not to understand it ... just go along with it. It's not a linear play.' They went, 'Phew, thank you.'"
For her part, Harrison says The America Play "was one of the tightest, best-performed productions of our company I've ever seen. Maybe the best. ... It was something that I was proud of. Very, very proud of."
"I take the dichotomy [of opinion] as good," says Maslow. America Play is "self-indulgently artsy on a certain level. I like that. I like art that stands up and says, 'Hello, I'm not television!'"
How much audiences like it is open to interpretation. The show's nine performances drew about 400 paying customers -- comparable to what other small, struggling companies here might draw. It also sold more tickets than two of the company's three shows the previous season. (America Play's attendance, however, was boosted by a pair of student matinees, the result of another new initiative.) Still, while Harrison calls the show's attendance "phenomenal," Maslow says "it was not as well attended as I had hoped."
In any case, Maslow's programming caught the attention of both critics and Pittsburgh's theater community. Continuing his themed season (another novelty for Open Stage), he is following American Play with the tragicomic Mineola Twins (Feb. 1-17) and then Lydie Breeze, by Pulitzer-winner John Guare (Six Degrees of Separation). The last is, ironically, the work most like a traditional Open Stage production -- a lyrical, two-part historical mini-epic that deals with tragedy and disillusion in a utopian community.
"He's asking people to take Open Stage Theatre, a company that's been a known quantity, and redefine it," says Lofty Durham, the Pitt grad student and instructor who's directing Mineola Twins.
Actor and Bricolage theater company founder Jeffery Carpenter calls Maslow's picks "a huge breath of fresh air," both for Open Stage and Pittsburgh.
"He's picking these writers that are considered at the forefront of the American [scene]," agrees Andrew Paul, artistic director at Pittsburgh Irish & Classical Theatre (where Maslow has worked as a set designer). "This is all exciting."
"I believe in rock 'n' roll on stage, at a certain level," says Maslow. Open Stage has done great work, he emphasizes, but "none of it involved the level of deep formal experimentation that I think someone like Suzan-Lori Parks represents. And it's my intention to take us there."
Opening Up Open Stage
Around 1997, the year he co-founded Pittsburgh Irish & Classical Theatre, Andrew Paul recalls, he checked out an Open Stage show. "I was like, 'Wow, these guys are good,'" he says. "I just assumed they were going to be the next big thing."
Indeed, 1997 was a particularly bright year for Open Stage: It relocated from its North Side church to the City Theatre's 100-seat Lester Hamburg Studio Theater, which had proper theatrical lighting and sound and sat amidst South Side's nightlife scene. But Paul's prediction never came true.
Instead, Pittsburgh theater's next big thing became PICT itself, now arguably the most acclaimed company in town. Or maybe it was Quantum Theatre, the troupe Karla Boos founded in 1990 that made its name staging polished, provocative plays in unpolished spaces such as cemeteries and warehouses. Both PICT and Quantum have even taken productions overseas.
What held Open Stage back? One stumbling block was its housing crisis: In 2001, Open Stage became the first victim of a new City Theatre policy barring outside companies from renting performance space. Open Stage promptly moved to the University of Pittsburgh's Stephen Foster Memorial, but its audience didn't follow, and ticket sales plummeted.
Attendance recovered after the 2002 move to the Strip, and indeed its current venue is among Open Stage's best assets. The performance area's upholstered seats (salvaged from a synagogue) sit on wooden risers; the theater can be configured to mimic a traditional proscenium arrangement, a theater-in-the-round, and anything in between. The flexibility facilitates a variety of staging approaches, as well as sub-leasing to other performance groups. Still, Open Stage was still missing something.
"We knew that we were struggling," says Mahnaz Harrison, an elegant Iranian émigré with dark hennaed hair and a penchant for silver jewelry. The former head of the Jewish Association on Aging's assisted-living program, Harrison has a background in nonprofit management and a full plate of board memberships for groups including the United Jewish Federation. Open Stage, she felt, lacked a sense of mission, of what set it apart from other theater groups.
So when Harrison was asked to stand for board president in 2006, she agreed on one condition: "We need to answer the question of 'Who are we, who would miss us, and why are we here?'"
In the fall of 2006, the board engaged Susan Blackman, director of arts programs for the Greater Pittsburgh Arts Council. Via a free GPAC consulting program, Blackman met with board members and concluded that the company's troubles boiled down to this: Open Stage wasn't open enough about its intentions.
The problem was rooted in the nature of the company. While Open Stage under Willis had achieved some remarkable things -- not least simple survival -- it was something of a club. Though it had always paid its cast and crew, Open Stage had no paid full- or even part-time staff. (Willis volunteered her services.) Moreover, its board was a close-knit group of eight to 10 friends, and funding relied largely on individual contributions from them and their friends and family. Occasionally, that funding arrived just in time to avert disaster. As Blackman politely puts it, that's "not a sustainable protocol."
With Blackman's help, Open Stage clarified its mission: to stage plays that would distinguish it from other companies in an intimate and almost uniquely flexible performance space. Then the company launched a two-year retrenching plan. Essentially all at once, it intended to professionalize its operations, grow the board and seek new funding. And for its 2006-07 season, it hired its first paid staffer: Maslow.
When Harrison had joined the board a decade ago, "We used to be able to sit around a dining-room table." Today there are 21 directors, and they meet in a big room in the Fox Chapel home Harrison shares with her husband, Ross, a retired corporate executive. Members include not only long-time Willis associates but also freshly recruited corporate-communications types, plus retired TV producer Sheila Kaufman, professional storyteller Jacqueline Jonas and Danielle Ducré Rawls, a 27-year-old associate with law firm Reed Smith LLP.
A bigger board means a broader social network, and with its new paid staff -- which also includes a part-time administrative assistant and a part-time bookkeeper -- the company needed more funding. Because few arts groups survive on ticket sales, playbill ads and other earned income alone, it sought new friends with money, including its first-ever corporate sponsors for individual shows.
While Harrison discounts the idea that Open Stage's benefactors are "all friends of Mahnaz," as she puts it, her influence is unavoidable. Like most arts groups, Open Stage has dozens of individual, corporate and foundation funders. But The America Play, for instance, was sponsored by UPMC, where Harrison has connections. (Mineola Twins is brought to you by National City.) And perhaps the company's key new donor is John Ghaznavi, the glass-container magnate who is Harrison's friend and fellow Iranian. Ghaznavi was also honorary chair (read: chief fund-raiser) of Open Stage's 2007 gala, which raised about $45,000. That's nearly one-fourth of this year's projected budget of $193,500 -- a 23 percent bump from 2006-07, when revenue had already jumped by nearly 50 percent over the prior year.
That's still well below, say, PICT, with its $1 million-plus budget. But it's a huge difference from just a few years back, when Open Stage typically subsisted on $50,000 and less.
Harrison has also reached out to Open Stage's neighborhood. The company has begun a theatrical-arts education program with Lawrenceville-based Career Connections Charter School, and built bridges to neighborhood groups and businesses. Open Stage "is busy trying to become known, and [Harrison is] doing a nice job of it," says Larry Rosen, CEO of Strip District-based Pressure Chemical Company.
"We have tightened up our mission," says Harrison. "No longer [do] people say, 'What theater? Where are you?'"
Some patrons have noticed. "I have a sense of them on an upward spiral," says Judy Robinson, a poet and educator who's an Open Stage subscriber.
But recognition doesn't guarantee an audience. Neither do good productions, for that matter. Harrison notes that there's much more local competition for a theater-goer's dollar than there was when Open Stage was born.
"Open Stage is at one of those points in an organization's life cycle where they need to add more administrative resources," says Blackman. "That's where they are now: trying to figure out how to ratchet up to the next level."
Multiple Roles
"My first education in theater," says Maslow, "was watching my father sell stuff. He could sell anything. ... He didn't lie, but he -- spun things. He made things seem compelling. He meandered around the point until people couldn't help but do it."
Blending storytelling and salesmanship might have worked in the Manhattan furniture-frame store Maslow's grandfather founded. But achieving the right mix at Open Stage could prove tougher.
Maslow has hands-on experience -- literally --with theater. While he grew up mostly in suburban Westchester, he worked as a teen-ager in the family woodshop: "I was always building stuff. I just love the smell of it." His skills came in handy on stage crews and in the prop shops of places like Boston's prestigious American Repertory Theater, where he had a decade of on-and-off gigs after college. And along with his still-calloused handshake, Maslow has a master's degree in directing from the University of Iowa.
"He's a jack of all trades," says Anita Stewart, executive and artistic director of Portland Stage Company, in Maine. She worked with Maslow at ART, and taught at Iowa during his years there. "He's a great thinker, but he's also great with building props and making things work mechanically."
Maslow moved to Pittsburgh in 1999, when his wife, Cari, enrolled in graduate school at Carnegie Mellon. (They live in Stanton Heights with their two young daughters.) He tracks his taste for experimentation to his undergraduate days at upstate New York's Hamilton College, where he studied under Zbigniew Cynkutis, the one-time right-hand man of Polish theater legend Jerzy Grotowski, and where projects included a stage version of T.S. Eliot's "The Wasteland."
While Maslow has taught theater classes at several Pittsburgh-area colleges, his first professional break here was designing and building sets for Pittsburgh Irish & Classical. PICT's Andrew Paul remembers a 2001 production of Chekhov's The Seagull, in which Maslow's set did double-duty as indoors and outdoors, birch trees mingled with living-room furniture. "It worked beautifully," says Paul.
Maslow, says director Lofty Durham, is "a producer that really has the soul of an artist in a lot of ways."
But playing both roles is a challenge. One job is about making good plays, the other's about running a business. When he'd free-lanced there as a director, Maslow found that Open Stage provided little production assistance; he had to assemble his own technical crew, for instance. When he became managing director, he had minimal administrative experience. The one show he directed that season, The Scarlet Letter, was critically hammered and poorly attended. Maslow acknowledges the production was badly under-rehearsed.
"I had [to learn] how to wear more than one hat," he says. "It was a hard lesson."
This season, he's leaving more prep time. Rita Gregory, whom Maslow directed in The America Play, says the show was the first in which she ever spent a couple days just talking with a director and cast about the play before rehearsals formally began. "He allowed for actors to just expose themselves," she says. "We would just dissect the script page by page." Maslow has also assembled a top-notch production crew at Open Stage, including scenic and lighting designer Jeremy Rolla and costumer designer Beth Steinberg.
Moreover, as a manager, "I've learned more about [Microsoft] Excel. ... I'm a Word kind of guy," he jokes. "It requires being a whole lot of grown-up."
One grown-up responsibility is the warehouse space, which Open Stage shares with a linen-rental firm. Inside, a high false wall separates the stage and seating area from the half of the space that's piled with costumes, props, a drill press; another walls blocks out a small lobby with a ticket counter.
But the theater's lighting is brighter -- the space had been "the black hole of Calcutta," says Maslow -- and so is its newly lit parking lot. There's also improved signage on Smallman: Before, it had been hard to even find the theater, in its nondescript cinder-block box. The space now even boasts, at last, in-house phone service.
Renters like Unseam'd Shakespeare company and the Pittsburgh New Works Festival seem to like the space -- though Open Stage would like a couple more tenants to defray $1,000 in monthly rent, plus the kind of utility bills common to a high-ceilinged Pittsburgh warehouse.
And that's when the utilities are working. "Coffee-makers tend to be what kills us," says Maslow, heading for the circuit-breaker after the lights go out during an interview at the theater.
Open Stage seems particularly needy when it comes to selling itself. "I don't think they've solved the marketing issues yet," says Susan Blackman, the GPAC consultant. "Getting information out in a more timely fashion would help a lot."
But some observers caution that Maslow's biggest challenges might include selling his vision to his own board members and audience.
"Boards are very risk-averse," says PICT's Paul. In recent years, PICT has successfully staged two plays by bad-boy contemporary playwright Martin McDonagh. It wasn't easy, since McDonagh's swear words, gore and dark themes risked alienating some of PICT's core audience. But "I think that I've finally got the audience to give me permission to do it," says Paul. "It's a trust thing.
"David almost has a childlike energy about him," Paul adds. "He's excited by challenges."
Some of the future rides on how well received both Mineola Twins and the season-closer, Lydie Breeze, are. Yet even after the controversy over America Play, Maslow thinks Open Stage's board is with him -- though that may depend on how adventurous he tries to be with next season's opener. "Nobody said, 'Don't go there again,'" he says. "On the other hand, people said, 'Are you really sure you want to lead with that next time?'"
And what about the audience?
"It remains to be seen if we're scaring the old people off yet," Maslow quips -- somewhat daringly, considering how heavily live theater relies on older patrons. But, he quickly adds, "I'm not trying to drive away what was. I'm simply trying to let it grow."
Open Stage Theatre presents The Mineola Twins, by Paula Vogel. Directed by Lofty Durham, with Jessica Kennedy, Diana Ifft and Adam Pribila. Feb. 1-17. 2835 Smallman St., Strip District. $20 ($18 students/seniors). Opening night: $25. 412-394-3353 or www.OpenStageTheatrePittsburgh.org