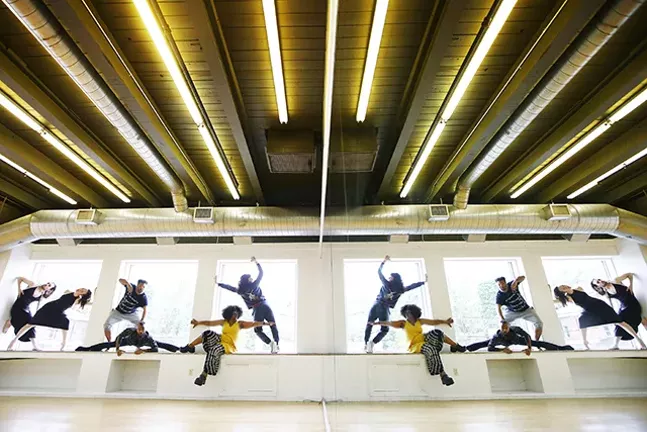 Expect daring, cutting-edge performances by people of color and emerging talent in this year's newMoves Contemporary Dance Festival. For its 10th anniversary season — running May 9-12 — the festival will feature a variety of live shows, workshops, and other events focused on using dance to foster connectivity and address social issues.
Kelly Strayhorn Theater's executive producer George Lugg says newMoves, first launched at the theater in 2009, encourages artists to "engage in dialogue about the creative process and for the community to have a conversation about making dance in Pittsburgh."
"The dance community in much of Pittsburgh is going through the excitement of growing pains," says Lugg. "There's a lot of energy and people coming to Pittsburgh. I think there are incredible dance programs that have been producing really powerful artists and dancers."
But the challenge, he says, lies in taking the local dance scene to the next level by advancing artists and expanding their reach beyond the city. One of the ways newMoves does that is by showcasing local acts in the festival. Previous installments have introduced new works by notable Pittsburgh dance artists like Sidra Bell, Kyle Abraham, Marjani Forté, the STAYCEE PEARL dance project, and Bill Shannon.
National and international acts are also invited to bring their work to Pittsburgh and network with local dancers and choreographers. Featured this year is Ananya Dance Theatre, a Minnesota-based contemporary Indian dance company founded by choreographer Ananya Chatterjea. Consisting of dancers and collaborators representing the many cultural communities in its home state, including South Asian, Chinese, Hmong, African-American, Pacific Islander, and Latinx, the group works to combine art and social justice, particularly women's issues.
"A lot of the festival examines art as a community builder and connector, and as a site for social change," says Lugg. "Ananya has deeply done that work in Minneapolis for many years, both as a community organizer and in her dance making."
For newMoves, Ananya Dance Theatre will present
Shaatranga: Women Weaving Worlds
, a 90-minute performance from the company's five-year series based on the theme "Work Women Do." A press release describes
Shaatranga
(which means "seven colors" in Bangla and is pronounced
SHA-trong-uh
) as exploring relationships around the globe linked by Indian Ocean trade routes that pre-date colonization and slavery by using two primary metaphors —– indigo, an important resource on these trade routes across Asia and Africa, and blue jeans, a ubiquitous product in global commerce.
The performance is meant to shed light on the multifaceted stories of women around the world whose economic contributions throughout history remain largely ignored.
Lugg adds that the performance demonstrates Ananya's innovative approach to dance by integrating classical and Indian styles, as well as martial arts and yoga. He also praises her use of large-scale ensemble dynamics, percussive rhythms, and powerful imagery achieved through fabrics and video projections.
Besides the performance, newMoves will present workshops designed to help guests better engage with Ananya's goals and creative process. In one, the group will present an introduction to Yorcha, its signature yoga-influenced style anchored by social justice and Dakini, a sacred female spirit in Vajrayana Buddhism traditionally defined by destruction, chaos, and, ultimately, transformation. For the second workshop, Our Indigo Stories, Chatterjea and other members of the group will lead a series of improvisational exercises related to the
Sari Jeans
installation that accompanies Shaatranga.
Lugg also views the festival as a chance to showcase the diversity of the current Pittsburgh dance scene, with artists working in hip hop and other forms of street dance, as well as more traditional styles of contemporary dance. On Fri., May 10, local artists Nick M. Daniels, Mita Ghosal, Trevor C. Miles, and Anna Thompson and Taylor Knight of slowdanger will meet in Kelly Strayhorn's Alloy Studios space for a program featuring excerpts from in-progress pieces. A second program will take place on May 11 with Kaylin Horgan, Maddison Manolis and Alison Vitale of MVment, Cherish Morgan, Staycee Pearl, Laura Stokes, and Frances Tirado.
Another workshop will feature Pearl, Shannon, and Michelle de la Raza in a panel discussion about producing new dance in Pittsburgh, which will be moderated by Kelly Strayhorn senior producer, Ben Pryor.
A recent transplant to Pittsburgh, Pryor spent much of his career in New York as a curator and producer, including for events like the American Realness dance and performance festival. He sees newMoves as an opportunity for people who, like him, are just becoming familiar with the city's arts scene.
"I'm really just trying to immerse myself in the full scope of the artistic landscape here across disciplines," says Pryor. "This is a great crash course for me in terms of starting to understand the dance scene here."
The festival will also spotlight the local dance community through the conversation Systems of Solidarity and Communities of Support and the workshop, Moving Your Experience of Loss. The first event invites dance artists and community leaders to speak on injecting Black aesthetics into dance production and presentation in Pittsburgh and throughout the U.S. Moderated by Kelly Strayhorn Theater's executive director, Janera Solomon, the conversation includes Jawole Willa Jo Zollar of the Urban Bush Women and the UBW Choreographic Center Initiative, Greer A. Reed, head of the Chicago High School for the Arts dance department, and Garfield Lemonius, chair and associate professor of Point Park University's dance program.
Trailer: Ananya Dance Theatre | "Shaatranga: Women Weaving Worlds" from Ananya Dance Theatre on Vimeo.
Moving Your Experience of Loss provides a healing space for participants to address inner turmoil and grief through artistic movement, sound, and objects. Led by musician Li Harris, poet S. Brook Corfman, and choreographer Joan Wagman, the event includes activities adapted from rituals and ceremonies found in religious traditions.
Regardless of how you approach the festival, Lugg believes all the events serve to highlight the array of inventive ways local artists use movement in their work.
"If you want to know what's going on in dance in Pittsburgh right now, this is a great opportunity to dive in," says Lugg.