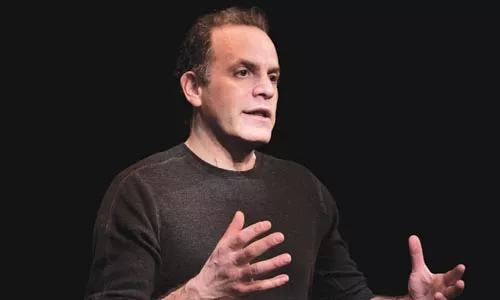 In pop culture, the Buddha is depicted as pot-bellied, gold-skinned and god-like. He was, in fact, none of these things, says writer/actor Evan Brenner.
Brenner knows the Buddha better than most: He wrote and stars in a one-man play about him.
"He was an extremely practical person who wanted to be sure he was seen as no more than man," says Brenner, who lives in New York City.
Buddha -- Triumph & Tragedy in the Life of the Great Sage premiered in March, in Boston, and is now touring North America. It comes to Pittsburgh Fri., Aug. 14, stopping for one night only at Shadyside's First Unitarian Church.
"Unlike Jesus, about whom almost nothing [personal] is known, the Buddha's life was recorded in its entirety in the Sutras," says Brenner. "He considered his own life to be instructive."
Brenner lifted passages directly from the Sutras to tell the Buddha's story, including a rarely discussed end-of-life tragedy. Set in a modern apartment, the play opens with Brenner reading from the scriptures. But he tells the Buddha's story in first person, beginning with his early years as Siddhartha Gautama.
Born into luxury in India, around 500 B.C., as a young man the Buddha became disillusioned with the material world, and sought spiritual reconciliation by engaging in ascetic practices. "I enumerate these sometimes funny, sometimes sickening practices in great detail," says Brenner. He also acts out some of Buddha's conversations with the Devil, switching between the two characters.
The Boston Herald, in its review, called Brenner "a subtle and masterful storyteller"; the Boston Globe called Buddha "enchanting."
Brenner, who studied religion in college and is himself a Buddhist, says he became curious about the religion because of its iconography, but more fully embraced Buddhism in his 40s, when he began to re-examine his life.
"We're in this kind of merry-go-round of birth, life, sickness and death that we only get one shot at," says Brenner. "It seems like kind of a bum plan to me. I was drawn to [the Buddha's] proclamation that there is an end to suffering."
Buddha -- Triumph & Tragedy in the Life of the Great Sage 8 p.m. Fri., Aug. 14. 605 Morewood Ave. $20. 800-838-3006 or www.thebuddhaplay.com.