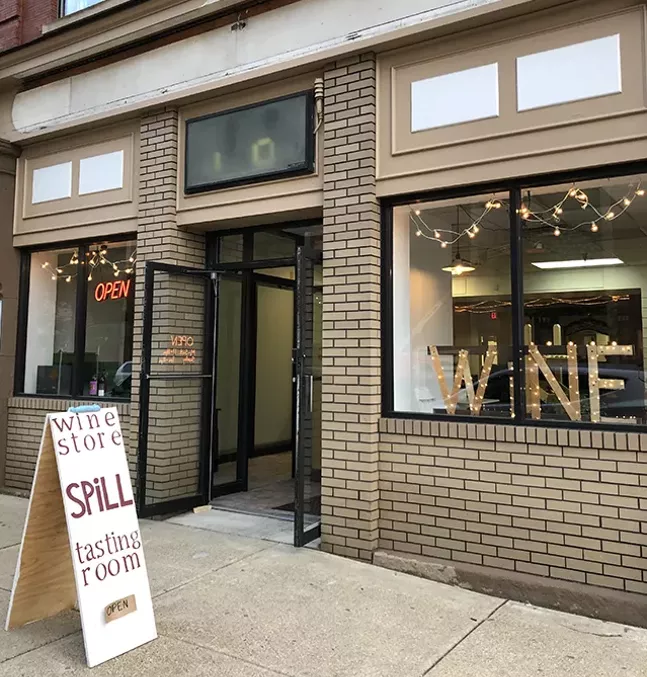 SPiLL The Wine Bar on Liberty Avenue is easy to miss. New to Bloomfield, the retail wine shop and tasting room sits on the corner next to Lombardozzi's, marked only by a homemade sandwich board perched outside and the word "wine" illuminated in the front window.
But SPiLL should not be overlooked.
Still in its soft-opening phase, SPiLL gives Pittsburghers a fresh place to buy wine in an intimate, easygoing setting. Instead of heading to the state store and picking up the usual, guests can sample and purchase wine from Italian and Australian wineries that might not otherwise be available in the area. Right now, SPiLL offers selections from Collefrisio, Danimi, and Casali Maniago wineries.
Owners Jim and Robin Sattler greet visitors with warm smiles. While the outside is a work-in-progress, the inside radiates coziness. In the front is a grab-and-go bottle area, the middle section a collection of handmade tables and chairs — thanks to the Sattlers' friend, Sam Whitney. In the back of the space is the bar built by Jim and Whitney, which is covered in photos from past and present Bloomfield businesses, taken from Janet Cercone Scullion's Images of America Bloomfield.
The Sattlers opened SPiLL to not only educate visitors about wine but to learn more themselves. The point is to show that anyone can be knowledgeable about wine.
"Before we opened this store, I had a lane that I stayed in with whites and I never veered from it," says Robin while uncorking a bottle of Casali Manigo Pinot Grigio for my friends and me to sample. "This has been fun for me personally because I'm finding so many whites that I love."
I usually stick to reds when drinking wine but decided this would be a good venue to experiment with whites. She catered to my group, and it felt like we had a personal wine tasting at a family member's house. And being able to try different whites, one after the other, brings out the nuanced flavors. SPiLL helps pinpoint and explore your personal flavor preferences without pretension.
Some wine, like the Collefrisio Chardonnay or Collefisio Bianco, will always be available to enjoy by the glass at SPiLL, but every week or so, Robin plans to rotate in different selections as bottle specials because, as she says, "I haven't even tried them all." The Sattlers are growing and learning, right alongside customers. And that's what makes the experience so inviting and relaxed.