The coming of winter means many good things: holidays, gifts, deliciously spiced alcoholic beverages. But for golfers in the Pittsburgh area, winter sucks. It's cold and wet, and sunlight is limited, so hitting up the links is hardly attractive.
But the folks at Cool Springs Sports Complex, in Bethel Park, have winter golfers covered. Their driving range has eight platforms where golfers can hit balls onto the range, complete with heaters and an overhang for rain protection. And newly improved technology can even simulate the experience of playing on a real course.
Cool Springs' Toptracer driving range uses two cameras to track the distance a golf ball travels down to the inch, so golfers can analyze their shots. A computer monitor displays the ball's flight trail, how high it flew and its speed, and estimates how the ball would roll after hitting the ground. Toptracer also has games that help golfers improve.
Cool Springs' PGA pro Jeff Ellis says the technology makes hitting balls at the range addicting. He adds that with all the information that is given in real time about each shot, using Toptracer can "enhance your practice."
"There is no better way to practice golf," he says.
When Pittsburgh City Paper visited, Ellis demonstrated just how this works. Once the ball flies off the driving-range mats, two cameras track the ball until it flies out of view. Ellis says balls can be tracked at night and in the rain. The only time the cameras will have trouble following the ball is in "heavy snow." Ellis says the cameras are so accurate they can pick up and monitor up to 20 balls at a time.
For one shot, Ellis hit the ball straight into the driving-range pond. But because he was playing Toptracer's "closest to the pin" game, the screen located his shot at only 23 feet from his intended target. The simulator even allows for friendly competition between players all over the country, as long as they're playing on the system. Ellis says Cool Springs' system has been in place since 2015, but Toptracer has added new features, games and more accurate statistical tracking every year.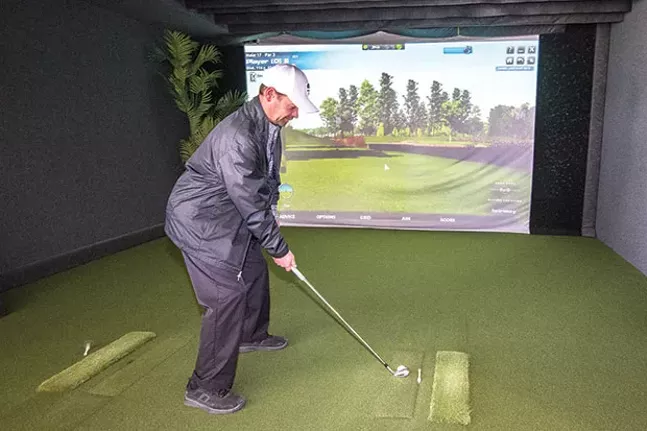 "It's pretty amazing," he says. "It's actually recording the golf ball."
Ellis says that by simulating a game, Toptracer can also help replicate the pressure that comes with playing on an actual course. "People always tell me, 'I hit it great at the driving range, but not on the course,'" says Ellis. "Well here, you have to challenge yourself."
Ellis is hoping to raise the profile of the Toptracer technology and convince golfers to give it a try in the winter. He is organizing a virtual tournament at the range in January with the tentative title "Freeze Your Balls Off." He also wants to throw a charity golf-a-thon, where participants strike golf balls for 24 hours straight.
"We can do things that you really can't do because of night-time and winter weather," says Ellis.
Toptracer costs an additional $5 for each bucket golfers hit at the range. Golfers can also pay $48 for a round of 18-hole virtual golf, which includes the price of balls and can be split between up to four golfers.
On really nasty-weather days, Cool Springs also offers two indoor golf simulators, where golfers still hit real golf balls, but do so into a flexible screen that estimates the ball's flight, and then displays it on the screen. (This is similar to a video game, but Ellis says the technology is highly accurate.) Golfers using the simulators can play famous courses like Pebble Beach and TPC at Sawgrass. An hour on the simulator costs $48.
Beyond the benefits winter golfers might see from Cool Springs' technology, Ellis hopes the system can attract more young people to golf.
"We got to get the kids out here, and have them get some exercise," says Ellis. "As a PGA professional, my goal is to grow the game."