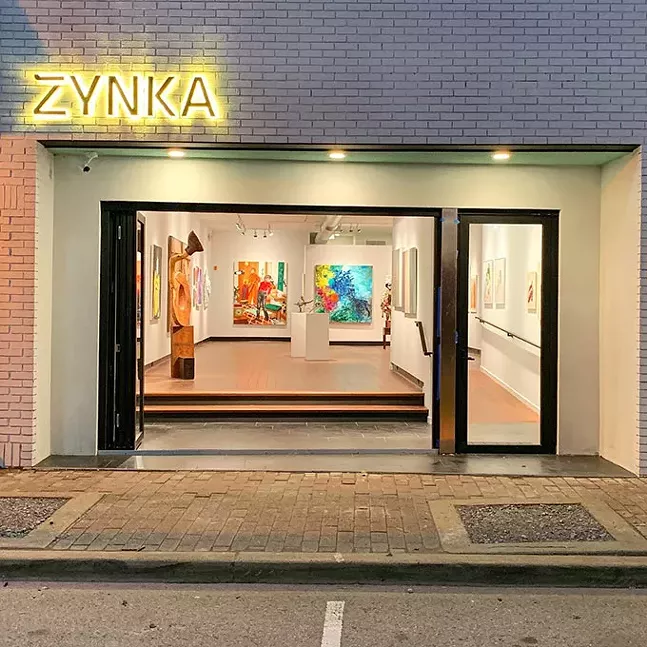 There are three meanings to the word "current" and Zynka Gallery, a new art space in Sharpsburg, employs them all in its opening exhibit, Current: The Art of Now in Pittsburgh. Gallery owner Jeffrey Jarzynka was inspired by the proximity to the river, as well as the modernity of the pieces in the exhibit. "And then the idea of electrical current," says Jarzynka. "There's something vibrant here. You can feel it."
The opening exhibit features 17 artists and showcases a variety of media including sculpture, paintings, ink drawing, and textiles. The exhibit opened along with the gallery on Nov. 16 and will run through Sun., Dec. 29.
Jarzynka, who studied graphic design and painting in college, didn't think he had the knack for becoming a full a time artist, so he went into advertising and design for 25 years. But he had a nagging feeling that he wanted to be doing something more artistic. When his dad was diagnosed with cancer, Jarzynka left his day job to take care of him and realized "how short and precious life is." He curated several pop-up exhibits around town over the last couple of years, including Cara Livorio's B(L)OOM at Artists Image Resource earlier this year.
After hunting for gallery spaces in the East End, Jarzynka settled in Sharpsburg, pulled in by the borough's growing momentum and because that's where he found an affordable space. He found the gallery's building while watching a news story on TV about St. Vincent de Paul closing one of its stores in Sharpsburg. He got in to see it the next day.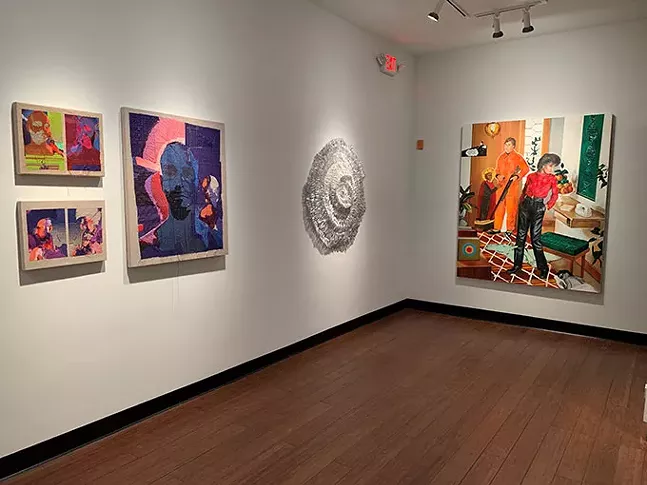 The exhibit, which is supported in part by the Andy Warhol Museum, doesn't necessarily have a theme connecting all of the pieces, but Jarzynka says they are all a high standard of quality. Current features a sculpture by Vanessa German (on loan from Concept Art Gallery), mixed media collage works by Gavin Benjamin, abstract neon thread work from Terry Boyd, and the visually mesmerizing three dimensional paintings of Su Su, who extrudes globs of paint through mesh.
Many of the pieces in the exhibit go for several thousand dollars, and Jarzynka says part of the goal with his gallery is to help artists make money so they can make more art. "Artists are amazing creators and craftsmen, but they often lack the business and marketing skills for themselves, so I was able to take everything I've done and everything I know career wise and sort of become this art promoter," he says. "I'd much rather see an artist in their studio creating work than struggling to promote it."
While the opening exhibit boasts over a dozen artists, Jarzynka says future collections will feature solo shows, or a collection of two to three artists in exhibits that run for around six weeks at a time.
"The gallery will always strive to put itself in a position that it works with artists at a certain level in quality," says Jarzynka. "I think there are so many artists in Pittsburgh doing amazing things."