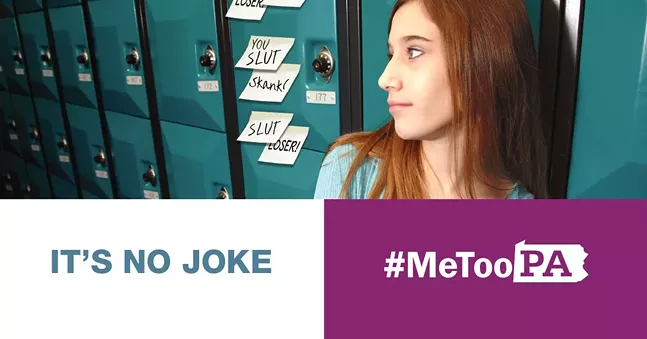 The
Women's Law Project
, a Pittsburgh-based public law center with a focus on women's rights, is announcing a helpline for people in Pennsylvania facing sexual harassment and assault in the workplace or at school.
The service, titled "#MeTooPA" will provide free and confidential legal consultation to low-wage workers as well as students enrolled in K-12 schools or a college or university. The Women's Law Project will officially announce the helpline, which is funded by a grant from the Heinz Endowments, on the 31st floor of EQT Plaza downtown at 9:30 a.m. Thu., Jan 17.
Several people will speak at the event, including Grant Oliphant, president of the Heinz Endowments, Sue Frietsche, Esq., Senior Staff Attorney at the Women's Law Project, a high school student, and a charging party in the recent sexual assault case against the Mattress Factory.
More attention has been directed towards workplace harassment and assault since the #MeToo movement became widespread in 2017. A Dec. 2018 analysis of Equal Employment Opportunity Commission data by the Center for Employment Equity found that an estimated 5 million employees are harassed in the workplace every year, but an overwhelming majority never file charges, often due to a lack of resources or understanding of the law.
According to another analysis of EEOC data by the Center for American Progress, the majority of workers that do charge files come from low-wage service jobs in industries dominated by women, particularly women of color, such as fast-food and retail.
Reports of sexual harassment and violence at schools are also on the rise. The National Center for Education Statistics reported a 262 percent increase at colleges and universities from 2001 to 2015, and an investigation by The Associated Press uncovered 17,000 reports of sexual assaults by students in K-12 schools between 2011 to 2015.