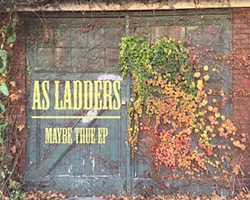 As Ladders
Maybe True
(Self-released)
asladdersmusic.bandcamp.com
Listen to many of today's indie-folk acts, and you'll note the tendency to romanticize the early 20th century, an era that few people today were alive to experience. Local four-piece As Ladders, on the other hand, looks no further than a decade or so back, to the hazy days of the mid-2000s. The shiny, clear production of this three-song EP — as well as the very modern-sounding electric guitars and frontman Mike Berginc's reedy vocals — most readily recalls I'm Wide Awake, It's Morning-era Bright Eyes. As Ladders might sound like a band caught in the not-so-distant past, but in contrast to the old-time nostalgia of much of today's popular folk music, that's not a bad thing.

Standard Broadcast
All Comes Back To You
(Self-released)
www.standardbroadcastband.com
Even though it's only for brief moments, Standard Broadcast's vocalist/pianist Nathan Jay's voice reminds me of the '90s, when gruff grunting and odd vocal tics were accepted hooks. (Think Better Than Ezra's "wah-how!," Collective Soul's "yeah," and countless others.) On "Me Without You," the standout track on Standard Broadcast's debut EP, All Comes Back to You, Jay's growling resembles something from a parallel universe where Eddie Vedder is the vocalist of Coldplay. "Me Without You" is buoyed by a rough cello riff, probably the best moment on this brief EP. This bass-less group mixes angst with piano and cello-driven grooves, and although it's refreshing to hear groaning vocals over something other than crunchy nu-metal guitars, in this case I have to admit that I sort of miss them.