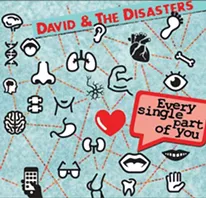 David & The Disasters
Every Part Of You
[Self-released]
www.davidandthedisasters.com
It's difficult to pin down what genre label might describe David & The Disasters. This band of charmingly goofy middle-aged men certainly has a new-wave influence, particularly on the title track, where Dave Lesondak's dressed-down voice and twinkling keyboards recall The B-52's. The band's genre-hopping abandon brings Ween to mind — albeit a kinder, gentler, less immature Ween — and the crisp production and witty yet stilted lyrics are reminiscent of The Magnetic Fields. Ultimately, David & The Disasters is best described as "dad rock," but not in the sense of bands like The Rolling Stones or Chicago. These men all seem like dads, regardless of their actual paternal status. It's the winking sense of humor, the knowing admission that they aren't "hip," and the somehow totally DIY vibe that is more This Old House than punk rock.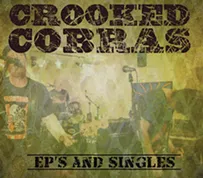 Crooked Cobras
EP's and Singles
[Self-released]
crookedcobras.bandcamp.com
Some rock bands try something new, some rock bands emulate what's come before. Crooked Cobras does a very good job of channeling '80s hardcore punk, with all its hallmarks: tough-guy lyrics; shouted gang vocals; repetitive, distorted guitar chords; fast, pummeling drums; chugging breakdowns; pick-slides; messy guitar solos; and the occasional metal/crossover riff. One could certainly mistake this compilation for a lost '80s California hardcore band. These guys are clearly indebted to Black Flag and — though some might say that Ray Kolcun is a guitarist superior to Black Flag's Greg Ginn, or that vocalist Jeff Miles has a tougher-sounding voice than Henry Rollins — that makes Crooked Cobras a band of imitators, not innovators.
Editor's Note: An earlier version of this review listed the lead singer of Crooked Cobras as Loose Jim.