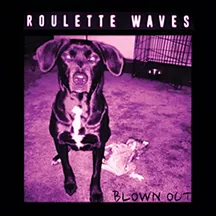 Roulette Waves
Blown Out
(Self-released)
roulettewaves.com
Consciously or not, it's natural to look for clues to an unfamiliar band's sound in its name: Roulette Waves suggests a wild, dangerous emotionality, and wild emotion is something this catchy, grungy, slightly gothy release has in spades. Singer-guitarist Heather Donovan walks a thin line between clean pop precision (think: Metric's Emily Haines), and visceral abandon. The record's best moments come when she's unleashing her inner Courtney Love. With the just-scruffy-enough production, everything sounds full and close. When Donovan sings softly, it's like she's whispering in your ear, making the occasional warmed-over lyrics ("I want to feel you inside of me") sound almost too intimate for public listening.
ROULETTE WAVES ALBUM-RELEASE SHOW 9 p.m. Sat., Aug. 1. Spirit, 242 51st St., Lawrenceville. $5. 412-586-4441 or www.spiritpgh.com


Six Speed Kill
Six Speed Kill
(Self-released)
sixspeedkill.
bandcamp.com
It doesn't take long to pick up on this band's sense of humor —the band bio includes lines like "using a fine tooth to remove bits of week-old pizza from his beard." But rest assured, Six Speed Kill is as sonically heavy as it is lighthearted (or as lighthearted as a band with a song called "Love None Hate All" can be). Featuring members of Silver Tongued Devil and The Atomic Drops, Six Speed Kill mines familiar territory and owes great debts to Lemmy (who doesn't?) and Phil Anselmo. There are a couple throwaway tracks — I could live without the jokey "Hardcore Song"— but this is a solidly head-bangable listen.
SIX SPEED KILL ALBUM-RELEASE SHOW 10 p.m. Fri., July 31. 31st Street Pub, 3101 Penn Ave., Strip District. $5. 412-391-8334 or www.31stpub.com