Klaymore
Justifiably Pissed
(Self-released)
klaymore.bandcamp.com
Thrashy metal from the local four-piece; this EP was released earlier in 2014. Good, aggressive, riff-driven stuff that's tight musically, and at times super-catchy. After the album starts with snarling, almost Lemmy-like vocals, I hoped for more, but most of the singing throughout is smoother and higher pitched, in Bruce Dickinson-Geddy Lee range. Either way, the lyrics are very metal without being overly corny. (Perhaps the only misstep is the talk-singing interlude in "Caught in Your Web," which pans back and forth in a pretty distracting manner, on top of being a little too consonant-heavy to be delivered so fast.) Energetic, cleanly recorded music with a spot-on rhythm section (and that rare metal drummer who uses, but doesn't abuse, the double-kick).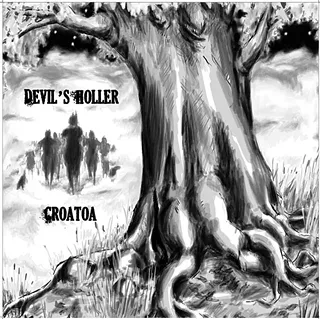 Devil's Holler
Croatoa
(Self-released)
devilsholler.bandcamp.com
A recent full-length from a new project by veteran local songwriter Rob Gray. This one is mostly downbeat, dark folk, with guitar work inspired by American folk and sometimes perhaps the related John Fahey-Leo Kottke school. Gray's songwriting is high-quality here, and his vocals — with Elliott Smith-style multi-tracking done quite well on many cuts — are comforting and sweet. Introspection, and ruminations on life, with lots of nature imagery; at times Gray recalls Wooden Wand's James Jackson Toth (a high standard to aspire to), or Jackson C. Frank (as on "Sun Across the Sea"). Spooky stuff at times, but in a genuine way, and not overdone. Good work.