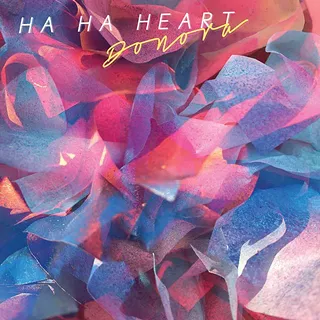 Donora
Ha Ha Heart
(Rostrum Records)
donoramusic.com
On its third release, Donora stays hip while retaining the high-energy pop sensibility that has made it a local (and to some extent national) favorite since the band formed in the late '00s. Even for a band that has always seemed best suited to a confetti-filled environment, Ha Ha Heart is a kind of aural explosion of glittery hearts. This is mostly a good thing: Pro-positivity, sing-along opener "I Might Have a Worry" brings to mind a less-world-music-y Tom Tom Club, as does the record's best track, "American Cars." The rest of the album is likely to invite comparisons to recent efforts by indie-poppers like Tegan and Sara and Jenny Lewis, and, actually, some of these songs wouldn't sound out of place on the new Taylor album (and I mean that as a compliment). Over the span of 11 tracks, the relentless energy can start to feel a little manic. There are some breaks, though — on "Memory," Donora showcases a knack for dreamy electro-pop, which I hope they will explore further.
— Margaret Welsh
DONORA LISTENING PARTY/ACOUSTIC PERFORMANCE with TOWNSPPL, WAY YES. 6 p.m. Sat., Dec. 6. Club Café, 56 S. 12th St., South Side. $10. 412-431-4950 or www.clubcafelive.com
Jason Davis
Live + Loud on Lincoln Avenue
(Self-released)
jasondavis.bandcamp.com
A blistering 50 minutes of live tracks from the Pittsburgh expat now living in Utica, N.Y. The music spans from heavy stoner rock to aggressive power-pop and post-grunge; the upside is that there's something from everyone, but the downside is that listeners with a particular sense of what kind of rock appeals to them might only like a couple tracks. The live energy is captured exceedingly well, and Davis is a talented songwriter for sure.
— Andy Mulkerin